Triple Trojan earns fourth USC degree on journey from El Salvador childhood to Los Angeles County leader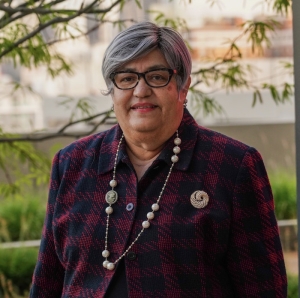 Laura Trejo came to Los Angeles from El Salvador at age eleven, speaking no English, and immediately set her sights on attending the University of Southern California, a goal she has now achieved in spades. Trejo is a triple Trojan, with a BA and MS in Gerontology and a Master of Public Administration (MPA), and is receiving her fourth degree from USC in 2022, a Doctorate of Social Work (DSW), making her among the elite few to achieve this distinction.
"I was this girl living in the southeast of Los Angeles and I said, 'I'm going to go to that school and if they don't accept me, I'm going to get a job and I'm going to keep applying until they do. I really was not applying anywhere else. That was high-risk behavior for a Latina girl on the Eastside," Trejo recalled with a laugh. "I got to USC and I never looked back. It was the best decision I ever made."
Achieving a DSW is only one outstanding career milestone for Trejo this year. In December 2021 she was named executive director of the newly formed Los Angeles County Department of Aging and Community Services by the Los Angeles County Board of Supervisors, and tasked with building the first-ever senior services department for Los Angeles County. Trejo brings over 36 years of experience serving older residents of Los Angeles to her new position. The department is part of an overall focus on age-friendly initiatives to meet the dramatic projected growth in the older adult population of Los Angeles County over the coming years, with the goal of making the Los Angeles region the most age-friendly in the world.
Did she need another degree?
With three USC degrees under her belt and decades as an outstanding leader in gerontology, Trejo was not looking to go back to school. It was a friend and colleague of almost 30 years, María Aranda, professor at the USC Suzanne Dworak-Peck School of Social Work and executive director of the USC Edward R. Roybal Institute on Aging, who first suggested it. Aranda had been listening to Trejo's goals and challenges and she had the answer: the DSW program. "She told me, 'This has your name on it, this is what we were talking about.' and she was right," Trejo said. "Because it targets mid- to late-career professionals, the DSW supported and expanded my existing skills and knowledge. It's been an incredible journey."
The DSW is an advanced practice doctorate in social change and innovation for agency and community leaders and entrepreneurs. It prepares experienced professionals to develop practical, applied solutions to large-scale social challenges that directly impact vulnerable, marginalized or otherwise disadvantaged populations.
Soon after Trejo began the program, the pandemic struck, and expectations everywhere were upended. However, for Trejo and her cohort of fellow DSW students, all working professionals with a variety of backgrounds across the country, it proved to be the impetus to escalate their capstone project implementation and test them in the real-world environment of COVID-19.
"Of course, I did not anticipate a worldwide pandemic that would destabilize all of our lives, but believe it or not, it actually provided real focus," Trejo said. "It also provided an incredible network. I felt so connected and so 'in community' with my colleagues because we were all experiencing these incredible challenges together, as professionals, as people and as students." 
Trejo's capstone project had immediate application: a virtual financial account for seniors experiencing homelessness, which was critical for many to receive government assistance and stimulus, as well as to reduce the safety risk of carrying cash on the streets. The project brought together Trejo's expertise in gerontology with her interest in finding innovative solutions to address the growing number of older adults experiencing homelessness, the very reason she had chosen to pursue her DSW.
Encouraging education in her neighborhood
Trejo has never let challenges deter her from a goal. In high school, when Trejo asked her guidance counselor for an application for USC, he told her that a state college would be better for her. She insisted, telling him she would get in trouble if she did not come home with it. "It was a complete lie, but I got the application," Trejo said. "To this day, I still remember my mother telling me, 'The streets in America are not laid in gold, but their schools are. It's up to you to go get it.'" 
After she began attending USC, Trejo became a success story in her working-class Los Angeles neighborhood. She would hold "office hours" for local families who wanted to find out how she had done it and she would advocate for the importance of college and help them fill out their applications.
On one occasion she returned home from her first job to find a father from the neighborhood sitting in the living room with her mother. "Show him your paystub," Trejo recalled her mother saying. "I thought it was a joke, but she was serious, so I got it and showed him. And my mother said, 'If my daughter can make this kind of money, imagine what your son can do.' She was playing off his machismo." Trejo helped his son with his college applications, and he went on to become a chemical engineer. His is just one success story from the mentoring Trejo has done over the years.
Driving real world, macro-level change
One of the attractions to the DSW program for Trejo was that it is an applied degree with a pragmatic focus but entrenched in cutting-edge theory that made an immediate impact on her real-world job performance.
"The fact that the program is imbedded in a contemporary, macro social problem-thinking structure is powerful and important. The challenges are very exciting because they're real," said Trejo. "It's about polishing ourselves as professionals and elevating the level of our work, and what, in turn, we give back to the communities we are so passionate about. It really does elevate how you think, how you approach, and how you problem solve."
Because of her long experience in city government advocating for older adults, Trejo was able to work with Los Angeles Mayor Eric Garcetti and his office to launch her capstone project, called Interconnected, first as part of the mayor's policy addressing economic insecurity and now as an official program of the City of Los Angeles under the Department of Aging. She has been able to make a meaningful and immediate difference in the lives of the older adults experiencing homelessness, whose unmet needs were her inspiration to pursue her DSW. She is currently exploring opportunities to expand the program beyond this initial implementation for even wider community impact.
Looking back on her decision to go "all in" to attend USC, and then come back again and again to build on what she started, Trejo has no regrets. "I've always made decisions based on my passions, I'm that kind of person. I've always known where I stand very clearly. Being at USC has been inspiring and enlightening," Trejo said. "The DSW provided me the freedom to explore my interest in aging, homelessness and economic insecurity. I would do it over again and twice on Sunday."
To reference the work of our faculty online, we ask that you directly quote their work where possible and attribute it to "FACULTY NAME, a professor in the USC Suzanne Dworak-Peck School of Social Work" (LINK: https://dworakpeck.usc.edu)