Technology Enables Scholarly Exchange Across Institutions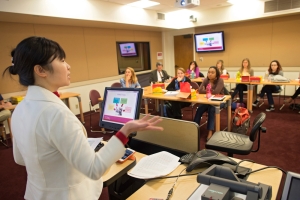 Scholars at the USC School of Social Work are taking advantage of innovative technology to engage with faculty and doctoral students at two other leading universities without ever leaving campus.
As part of an interuniversity colloquium with colleagues at UC Berkeley and UCLA, doctoral students and faculty members have been sharing their research and exchanging feedback on topics of aging, organizations and management, and child development using videoconferencing technology offered by the school's Virtual Academic Center.
"It gives our students exposure to experts in other schools. It's wonderful," said Michàlle Mor Barak, director of the PhD program at the USC School of Social Work, where she also serves as the Lenore Stein-Wood and William S. Wood Professor in Social Work and Business in a Global Society. "That's what scholarship is all about, breaking down barriers and creating scientific collaborations."
USC students and professors gathered recently in a classroom at the School of Social Work for the second meeting of the three-part series, during which doctoral students from each university gave short presentations on their research initiatives and sought advice and comments from other participants.
Hsin-Yi Hsiao, a USC student who successfully defended her dissertation just days before the gathering, said the opportunity to interact with her peers and researchers at other institutions was valuable.
"It's good to get feedback from different perspectives," she said. "When I finished my study and looked at the findings, it was sometimes very hard to interpret them from my own mindset."
Her research on cultural and gender differences in work and family conflict across 24 countries resulted in some counterintuitive findings. For example, national family leave policies did not seem to protect women from experiencing stress and conflict between family and work responsibilities after giving birth.
Hsiao said advice from scholars during the meeting allowed her to reconsider how she interpreted the results of her work, in addition to broadening her perspective and providing some guidance for future research. In particular, one student from UC Berkeley suggested exploring the effects of subsidized child care on work–family conflict.
"That is one thing I had never thought about," Hsiao said, "but it's a very important element I should consider in the future."
Students at the other universities also received suggestions for how to strengthen their research. Sara Pilgreen, a first-year doctoral student at UCLA, is just beginning to develop her dissertation on why nonprofit health services organizations flourish in some low-income neighborhoods but fail in others.
She plans to examine sociodemographic variables, social perceptions, political influence, gang activity and other factors in an effort to determine why nonprofit organizations seem to thrive in the Los Angeles neighborhood of Boyle Heights but struggle in Watts, another region of South Los Angeles.
Erick Guerrero, an assistant professor at the USC School of Social Work who has focused his research on similar issues surrounding substance abuse treatment in low-income communities, offered some suggestions to Pilgreen on how to frame the study, including a recommendation to consider the role of government funding.
"Intellectually, it's very stimulating," Mor Barak said of the colloquium series. "Having doctoral students and faculty from the three schools together in the same environment is fantastic."
She noted that a similar collaborative effort had taken place years ago between scholars at USC and UCLA, but they met in person, a more time-consuming approach that would be difficult for institutions located farther apart. During a recent conference on doctoral education, Mor Barak connected with Jill Duerr Berrick and Laura Abrams, who lead doctoral programs at UC Berkeley and UCLA, respectively. The trio decided to test a virtual exchange.
"Our goal was mostly to give doctoral students exposure to presenting their work to other schools and getting some feedback," she said. "It's also an opportunity for the schools to scout potential talent and for students to see what their future employment options might be."
She credited the USC School of Social Work's embrace of emerging technology, particularly through its web-based master's degree program known as the Virtual Academic Center, for making it feasible to seamlessly share video and audio feeds across three sites.
Mor Barak noted that there is interest in developing more scholarly exchanges, and not just among the three universities participating in the current colloquium series.
"It's a terrific way of creating an intellectual community around a certain topic, freeing us from physical limitations," she said.