Social Work Leaders Come Together for Candid Discussion on Racial Equity within the Profession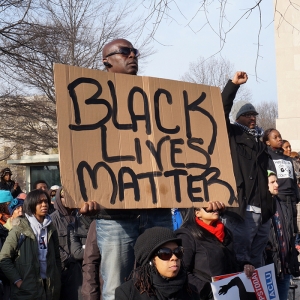 On August 14, 2020, the Social Work Leadership Roundtable held a virtual Town Hall on Racial Equity, streamed via Facebook Live and hosted by the National Association of Social Workers (NASW), one of the nine social work organizations that comprise the Social Work Leadership Roundtable membership.
According to Mildred "Mit" Joyner, NASW president, the Social Work Leadership Roundtable began years ago as a way for members of all the social work organizations to collaborate, prioritize and understand what each organization is doing. The Town Hall was an historic event as it was the first time that all members came together to discuss a pressing issue facing society and the social work profession as a whole. Ten social work leaders from national and international organizations were ready to talk about actions needed to tackle the deep roots of systemic racism in U.S. society and its institutions. 
With the world protesting the continued and senseless deaths of Black men and women by the police, and the disproportionate impact of COVID-19 on communities of color, the Town Hall event entitled A Conversation about Black Lives Matter: What are Social Work Organizations doing to Advance Anti-Racism? drew more than 4,000 live viewers from the social work community and beyond. Organizers from the NASW noted that the event reached more than 25,000 people, a number that continues to increase as more people share and watch the video.
"We need to get to the root causes of racial inequity that are so seriously harming our society," said Sarah Gehlert, dean of the USC Suzanne Dworak-Peck School of Social Work and president of the American Academy of Social Work and Social Welfare (AASWSW). The AASWSW aims to inform social policy by serving as a frontline source of information for social workers, elected officials and others.
"This work is more critical than ever with the clear need for local, state and national policy changes in many sectors, from employment to health care to education," she said.
Social workers aim to meet the moment
The two-hour Town Hall assembled the leaders into two panels for candid and direct conversations about racism, not just within society but within the practice and education of social workers. Recent events placed the social work community's anti-racism efforts in the spotlight.
Each organization's leader spent a few minutes describing their recent efforts to review race-related policies and procedures, that have been in place for years, to ensure that they are, in fact, inclusive and effective in bringing new voices to the table. For the Association of Social Work Boards (ASWB), a nonprofit association of social work regulatory bodies in the U.S. and Canada, this has meant an internal examination of hiring and membership practices within the organization and its licensing boards. For the National Association of Black Social Workers (NABSW), it is an unwavering commitment to Black leadership and leadership of color at all levels of government and nonprofit organization, that stems from its founding in 1968. All of the organizations represented at the Town Hall are confronting the issue in multiple ways.
NASW CEO Angelo McClain put it succinctly: "We're trying to use this as a tipping point where we can look back a year or two years from now and say this is the moment when things really started to change. We know it will take a lot of work to do that."
Law enforcement and social work
As communities debate what policing and law enforcement should look like through an anti-racist lens, more and more people are talking about the roles social workers play now and what they should be in the future.
"We know you can't arrest your way to public safety," said Melissa Haley, NABSW president. "What is wrong with our systems that result in a disproportionality where 13% of the population can represent more than 40% of those incarcerated? We have to look at the systems that cause this disproportionality."
Examining the systems also means an uncomfortable look at social work's own contributions, positive and negative. For Gehlert, this means acknowledging that the social work profession may have sat idly by while police policies were proposed and enacted that tipped the balance of power to law enforcement agents from those suspected of crimes.
"I'd like to see social workers participate more in prevention instead of trying to pick up the pieces after," Gehlert said. "Social workers have to pay attention to these policies as they're being developed and work together to nip them in the bud." She noted that social work research also has a role in finding the roots of social problems so that they can be targeted for change.
Good trouble on campus and beyond
Since Congressman and civil rights leader John Lewis' death in July 2020, his principle of getting into "good trouble" has been invoked by many as a form of nonviolent protest against injustices. The social work leaders at the Town Hall recommended the same for the profession's students and practitioners. Key to that is the ability of social work educators to create a safe space for students to get into good trouble — on campus.
"We need to help our students challenge us at the schools, as deans, as faculty, in ways that they can use in the broader world," said Luis Zayas, dean of the Steve Hicks School of Social Work at the University of Texas at Austin and president of the Society for Social Work and Research (SSWR). Social work instruction must include the importance of advocacy, and where better than school to learn those skills. "It may mean a little civil disobedience, or a lot, but we must teach them to be responsible," he said.
Easier said than done, however. It takes courage and strength to allow students to challenge authority, especially for faculty or deans who might wind up as targets of enthusiastic good trouble. Above all, it is a balancing act.
"We've got to encourage students to participate and to express their anger, but also help them understand that expressing their views, especially if not done properly, may cause consequences," said Catherine Gayle, president of the Association of Baccalaureate Social Work Program Directors and chair of the social work department at Savannah State University. "We have to let them know that just because the larger population may not accept them where they are, they still have the right to go out."
Darla Coffey, president and CEO of the Council on Social Work Education (CSWE), took it one step further, citing the role of social work school faculty and staff to stir up good trouble within their own colleges and institutions.
"We can put pressure on the recruitment and retention of students of color within social work and within higher education more broadly," Coffey said. "We often pat ourselves on the back when recruitment yields a pretty good mix of diversity. But it is so much more important to make sure that we're providing the kinds of continuous supports and checkpoints to retain those students as well."
One diversity class is not enough
Having a course on diversity and inclusion is a great start and often exposes white students in particular to their own biases. However, said Martell Teasley, president of the National Association of Deans and Directors of Schools of Social Work (NADD) and dean of the University of Utah College of Social Work, that one course "does nothing to really correct underlying problems of thought and practices that they have or gear them for anti-racist practices." 
Mo-Yee Lee, social work doctoral program director at The Ohio State University and president of the Group for the Advancement of Doctoral Education in Social Work (GADE), also noted that the one class model does not work. "Being able to infuse the social justice ideal of diversity, inclusion or anti-racism across many different courses is key," she said.
But it is not just about the curriculum. "It is really about who is teaching that course," Lee said. "Is the faculty member or instructor able to inspire students and help them think critically about the issue?" Joyner agreed that faculty were key to the success but that the job of teaching these courses often defaulted to the professors of color in any given school who bring in issues of bias just with their presence in the classroom.
In reality, there should be lots of different people teaching about diversity, inclusion and anti-racism, not just people of color. "It surprises me that so many schools structure their curriculum in such a way that there is a single diversity course," Coffey said. "If you're not hearing about race and racism in your research class, in your policy class, in your practice class, there is something wrong."
Social work licensing
Viewers of the Town Hall sent in questions for the panelists, and there were several submitted about racial equity and bias in the testing and licensure of social workers by the ASWB. "I am a member of NABSW and I do have my license, but I know that many Blacks struggle with the testing," wrote viewer Yvonnette Powell. "Have you examined the questions that are used for biases?"
Acknowledging that any standardized testing often has outcome disparities, ASWB CEO Dwight Hymans explained the extensive system in place to create and monitor questions to ensure they are fair and equitable for all. "By the time a question becomes a live item on our exam, it has probably gone through eight or nine different steps and been examined in a variety of different ways, including for bias," Hymans said. "We don't stop there. Once it is live, we continue to look at its statistics and if it begins to show bias in one direction or another, it is pulled."
The robust question and answer segment around licensing and testing uncovered other possibilities for social workers to apply pressure and make their views known about how these systems are working for those in the profession. For example, social workers are invited to apply to become question or "item" writers for the ASWB. A call for applications typically goes out on the ASWB website at the end of each year.
Joyner also encouraged those who would like to see ASWB begin to track outcome and pass rates for different ethnic groups to reach out the organization's board members and make their views known. The ASWB is currently in discussions with NASW, CSWE and NADD on this topic, so now is a good time to amplify views on the importance of tracking the data this way.
Undoing the legacy of racial theory
While several of the organizations had set actionable, measurable goals around anti-racist agendas, individual responsibility and a willingness to confront deeply held biases was seen as critical to collective effectiveness.
"We have to think anew about what we are doing," Teasley said. As a thought experiment, he floated the idea of changing licensing examinations to include questions on critical race theory, Afrocentric and Latino-centric practice, and the principles of Nguzo Saba. "Then we would place the people who currently struggle to pass the test at an advantage and require other folks to have to study up on those topics."
Turning what some call "racial common sense" on its head is one way to expose the workings of systemic racism in people's brains. During the panel, Haley drew a strong contrast when she described the reality of a Black man on trial with 12 white jurors, a white judge and a white prosecutor. Imagine it the other way around, she said: a white man on trial with 12 Black jurors, a Black judge and a Black prosecutor. It never happens. Gayle prompted the same kind of realization when she urged schools to think beyond hiring the one or two Black professors and consider hiring 10 or 20 instead. Moving beyond racial tolerance to try to undo the legacy of racial theory will take a lot of individual soul-searching. Thinking differently and honestly might just be the key to making real and lasting change this time around.
The hope for the participants and viewers is that open and challenging dialogue like the Town Hall creates a starting point for change. Joyner noted that the plan was to have more Town Halls on this subject in the future.
"Just having the conversation helps us see where we need to go," Gayle said. "And you cannot be accountable without having that conversation and knowing the topics that you need to talk about. So having that conversation and being accountable for it, I think it goes a long way."
To reference the work of our faculty online, we ask that you directly quote their work where possible and attribute it to "FACULTY NAME, a professor in the USC Suzanne Dworak-Peck School of Social Work" (LINK: https://dworakpeck.usc.edu)