Scholarships: Turning Dreams into Reality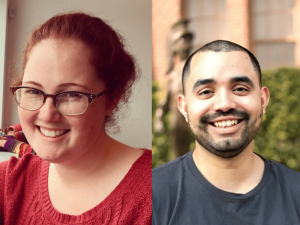 For most students, receiving a scholarship can make a critical difference to their choice of school, ability to focus exclusively on their studies, or even the chance to pursue an advanced degree at all. The USC Suzanne Dworak-Peck School of Social Work is committed to increasing its capacity to help ease the burden of debt to our students and ensuring that we continue to provide opportunities for the best and brightest to become part of the Trojan Family, regardless of financial circumstances.
Here are stories of three students for whom receiving a scholarship changed the trajectory of their academic experience.
Bonnie Johnson
Matthew Holland Scholarship for Social Work
Dissatisfaction with society's strict adherence to the systemically unequal status quo is what motivated Bonnie Johnson to come to USC from her home state of Tennessee to study social work.
"I could no longer sit on the sidelines," Johnson said. "USC is one of the few schools in the country with a developed macro social work program. I want to help change the harmful aspects of our society on a larger scale."
Johnson is the recipient of the Matthew Holland Scholarship for Social Work, awarded to MSW students who have demonstrated a commitment to lesbian, gay, bisexual and transgender issues through academic accomplishments, community involvement or other personal contributions.
"The LGBT community still faces an immense amount of legal and social discrimination despite the marriage equality victory," she said. "Many people do not understand that coming out is a constant process in our heteronormative world. Every time I enter a new setting, I have to assess the safety of my situation and my own energy level to decide if I want to reveal this important part of myself."
Receiving this scholarship reinvigorated Johnson, who no longer felt as though she were shouting into the void about the plight of LGBT people. It made her feel less alone and inspired her to keep fighting for a more accepting world.
"I plan to return to Tennessee and study law in order to become the most effective and impactful social worker and advocate I can for marginalized populations in the American South," she said. "An equal America is not just a fantasy – it is a reality that we can create together.
Ceasar Mejia
Los Amigos De La Humanidad Endowed Scholarship
Ceasar Mejia is the oldest of four children and the first in his family to attend college and to pursue a master's degree. He has always had a passion for helping others and decided social work was the best way he could contribute to the betterment of society.
Mejia chose USC because he believed it would be the best school to challenge him and reach his fullest potential as a social worker.  
Receiving the Los Amigos De La Humanidad Endowed Scholarship, awarded to Latin American/Hispanic MSW students with demonstrated academic achievement and financial need, meant more than his own personal accomplishment.
"In my family, we have a culture of unity," Mejia said. "If one of us struggles, we all struggle. If one of us succeeds, we all succeed. This scholarship has not only helped to ease the burden of tuition for myself but for my family as well."
Mejia's concentration was in children, youth and families with an emphasis in mental health, and he hopes to become a licensed clinical social worker.
"Long-term, I envision myself running my own private practice and giving back to the profession in any way I can," he said.
Yong (Ronnie) Eo
Gary Sinise Endowed Scholarship
After serving 11 years in the U.S. Army, including tours in the Middle East, South Asia and East Asia, Yong (Ronnie) Eo decided to make a career change and become a social worker.
In the Army he piloted helicopters, but instead of transitioning into civilian aviation he chose social work because he imagined he could help more people as a social worker than a pilot.
"As my wife, newborn daughter and I transition into civilian life, receiving a scholarship has relieved us of some financial stress and allowed me to complete my studies," Eo said. "Transitioning from active duty has been a more difficult process than I expected. Being recognized and receiving an award as a civilian is very meaningful for me. I feel validated, humbled and proud."
The Gary Sinise Endowed Scholarship is awarded to MSW students who have served in the military, been wounded or disabled in military service, are children or family members of fallen service members, or are from an active military family. Recipients of the scholarship will focus on helping their fellow veterans by working with active duty service members, veterans and military families.
One of the main reasons Eo chose to pursue his MSW from USC was its reputation as an institutional leader in military social work. He focused his studies on social work in policy-level community and corporate environments, and hopes to effect change in government on military issues by learning how to work in current systems.
"Empowering others gives me a sense of fulfillment," Eo said. "My fellow students who sat in classrooms with me are going to be those with whom I have an impact on the nation and the world."
Make a gift to an existing scholarship. If you are interested in creating a new scholarship fund, contact Asha Jayasinghe, executive director of individual giving and alumni engagement.