Reflecting a Family Legacy to Effect Change in Criminal Justice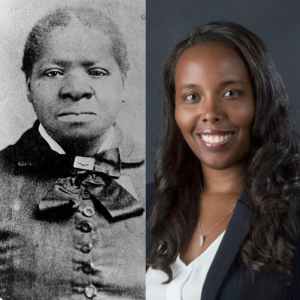 When Robynn Cox, assistant professor at the USC Suzanne Dworak-Peck School of Social Work, was a young girl, she constantly searched for fairness in life. She would beseech her mother with, "But that's not fair!" In response, Cox's mother used the power of their family's legacy to urge and embolden Cox to change the unfairness.
That family legacy began with Bridget "Biddy" Mason, a slave who won her freedom in a Los Angeles, California district courtroom in 1856. Mason is Cox's fourth great-grandmother. "The court system granted her freedom and then what she was able to do with that was extraordinary," Cox said. "It provides a lesson for me, for us as a country, about what we could achieve if we did ensure that all Black lives do matter."
Mason was a pioneering midwife, real estate entrepreneur and philanthropist in Los Angeles, widely regarded as a founding member of the city's Black community, and a primary founder of the First African Methodist Episcopal (F.A.M.E.) Church of Los Angeles. She fought for social justice and administered aid to those in need, even when others would not. This aid included providing medical attention for incarcerated individuals at great risk to her own personal health. Her lifetime commitment to equity and social justice was honored with a posthumous induction into the California Social Work Hall of Distinction.
Cox's mother, Linda Cox Brown, taught her two daughters about the importance of their family's legacy for helping others, and to embody a proverb of their "Grandma Biddy": "If you hold your hand closed, nothing good can come in. The open hand is blessed, for it gives in abundance, even as it receives."
Influencing policy
Cox believes her family orientation toward social justice and her desire for fairness is what led to her career in social work research. "Early on, I understood the power of research," Cox said. "Through experience, I realized that trying to win people over through moral arguments didn't always seem to be enough. It's important to also understand and to investigate at a more general level, to understand what the data is saying. It is much harder to argue with the data."
The life course approach of Cox's research is focused on three areas: understanding racial disparities and contact with the criminal justice system; how this contact impacts the individual, families and communities; and, in particular following incarceration, how to successfully transition back into society.
For Cox, this research allows her to obtain a bird's eye view of systemic barriers and challenges, and then act on behalf of social justice. "I'm hoping that I am able to influence policy and contribute to the conversation in a positive way where it's helping to remove systemic barriers and shed more light on problems that maybe we aren't aware are there, or need greater attention," Cox said.
In a recent study published in the Journal of Policy Analysis and Management, Cox and her research partner, Jamein P. Cunningham at the University of Memphis, examine how the federal government began intervening with local law enforcement through federal grants. Specifically, they look at the discretionary portion of the Edward Byrne Memorial State and Local Law Enforcement Assistance Grant Program (EBMGP), the major funder of the "war on drugs." One of the law enforcement innovations that came out of that federal program was the creation of multi-jurisdictional drug task forces.
These task forces brought about an improvement in police communication and tactical response, as well as a substantial increase in drug arrests. However, some of the task forces employed egregious and racist methods in their delivery of services. One example involves the raiding of primarily Black public housing in Hearne, Texas in order to obtain the drug arrests required to continue to receive funding. Cox explains that many of the Blacks arrested pled out for lesser time, even though they may not have committed the crimes they were accused of, because they did not feel they had a chance of winning through the court system.
The paper also investigates the effect of participation in the grant program, or "treatment," on police personnel and efficiency ― whether more police were hired, what impact it had on crime, and what impact it had on arrests. Again, there were significant and disproportionate increases in drug sales arrests. While these arrests increased for both Blacks and whites, the racial disparities over time also grew.
From the study, Cox found "the implementation of the EBMGP led to an immediate increase in drug sales arrests for Blacks. According to the results, drug sales arrests of Black Americans increased by 26% one year after treatment, reaching a maximum increase of 30% two years after treatment. Relatedly, the post-treatment effects imply an immediate 9% increase in the number of white Americans arrested for drug sales."
Cox's research investigates further as to whether the behaviors observed in Hearne and other parts of Texas can be causally linked to the funding received through this grant program in other cities, examining its broader impact on racial disparities in drug arrests. "Is this something that is happening across the board?" Cox said.
Looking at 223 cities, the research provides evidence that racial disparities in arrests worsened, on average, in other cities receiving the discretionary grant. As stated in the paper: "The results of this study have two policy relevant implications. First, although the EBMGP was a color-blind policy initiative, it was not race neutral in its implementation… Second, effective criminal justice reform should not only consider addressing state and local policies that have driven the criminal justice system's expansion, but also federal policies aimed at altering the behavior of state and local authorities to support national crime control policies."
Valuing life and continuing a family legacy
"Breonna Taylor was killed by the War on Drugs. When you think of Black Lives Matter, at the core of this movement is equal value under the law," Cox said. "Essentially every time there's a verdict that makes the decision that killing an unarmed black person is okay… it shows the systemic differences that various groups face when dealing with the criminal justice system, which inherently places value on life."
Racial disparities and outcomes, and not holding people accountable when there is a wrong done through the law, all suggest that society is not holding one life to the same value as another. "Starting from an early age, with suspensions in schools for example, marginalized groups get messages that their lives are not valued in the same way," Cox explained. "That their group should be controlled rather than nourished."
"It's a self-fulfilling prophecy," Cox said. "How many Biddy Mason's have we overlooked, or who have not been able to flourish because of these inequities? This is something that should go into a cost benefit analysis of criminal justice policies in general, and incarceration in particular. You have this waste, so to speak, of human capital. With my research, part of what I hope to do is identify the social costs, the externalities and the structural racism operating through the criminal justice system."
To reference the work of our faculty online, we ask that you directly quote their work where possible and attribute it to "FACULTY NAME, a professor in the USC Suzanne Dworak-Peck School of Social Work" (LINK: https://dworakpeck.usc.edu)