Reflecting Beauty and Greatness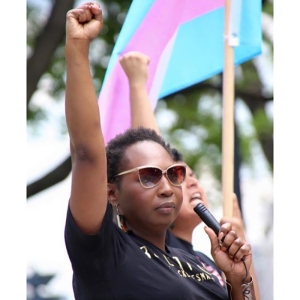 In January 2020, Lourdes Ashley Hunter was contacted by the Library of Congress. An archivist told Hunter they wanted to archive her website, including the entire body of work contained within it, as part of their mission to preserve and provide access to a rich, diverse and enduring source of knowledge.
When Hunter asked what she needed to do, the archivist replied, "Nothing at all. You've already done it."
Hunter, who finds gender binary destructive and whose pronoun is goddess, is the Founder and Executive Director of the Trans Women of Color Collective ("TWOCC"), an incubator for critical thought and social justice innovation. Goddess is a community organizer, speaker, researcher and innovator of social justice.
"I'm excited," Hunter said. "This little black girl from Detroit. I'm just living life, trying to make a difference and be passionate about social change, and for that to be recognized is amazing."
Hunter and TWOCC's work centers on those in their community who have not had access to resources, opportunities and support systems. They focus on the critical need for transgender youth of color-led initiatives, working to shift the narrative of surviving to thriving.
Over the coming year, a team of researchers will be scouring all things Hunter has written and done around social justice and innovation.
Hunter's professional life has been centered around the belief that when those at the bottom are lifted up, everyone rises — a theme of abolitionist feminist theory. While the TWOCC is focused on the Black trans community, particularly Black trans women, it is designed to benefit everyone.
Inclusion of Hunter's work in the Library of Congress will allow trans youth of the future to see all that goddess has done to further social justice for the trans community, and will be a legacy left for them to understand they are part of an amazing movement and that change is possible.
"Considering the violence that happens to Black trans women — violence, poverty, homelessness, death, all of these things — to now be able to be a reflection of something so beautiful and great, I feel like this is my purpose," Hunter said. "This is my mission and I'm seeing it come to fruition before my eyes."
Addressing the world's wicked problems
Hunter has a bachelor's degree in social theory, structure and change and a Master of Public Administration. Goddess has led national and global policy efforts with the United Nations Human Rights Council, The White House Anti-Violence Task Force, Office of National AIDS Policy and the Federal Bureau of Prisons. Additionally, goddess has lectured and presented research at universities, rallied supporters at the Women's March in St. Louis and other protests and published research, government and social justice policy briefs.
Hunter has conducted anthropological studies and cultural exchanges in over 15 countries, and last year was in Kenya with LGBTQ refugees and asylum seekers escaping death and violence in Uganda. Goddess led capacity building seminars and storytelling using art and media.
Upon returning home, Hunter was awarded an honorary Doctorate of Humane Letters from the Starr King School for the Ministry, in Berkeley, California. Soon after, goddess was accepted into the Doctorate of Social Work (DSW) program at the USC Suzanne Dworak-Peck School of Social Work.
"I think I will be the first Black trans woman to have an honorary doctorate and an earned doctorate," Hunter said.
The DSW program uses innovation to address what Hunter calls the world's wicked problems. "We are actually creating something in real time to address real issues right now," goddess said.
Hunter's grand challenge capstone project for her DSW degree is focused on improving the longevity and productivity of Black trans women. It is aligned with the work of the TWOCC. "We're creating that reflection so that generations to come can see themselves doing wonderful, great, transformative things," goddess said.
Writing clinics, cultural arts events, community teach-ins and advocacy workshops allow community members to engage in healing work to process and heal from trauma, enhance their skills as community organizers and become policy proficient to expand their social justice efforts.
The DSW program is challenging Hunter to move further and deeper within social justice work, and solidify a body of work that is important and critical.
"That is why I chose this program," Hunter said. "To further create that reflection of Black trans brilliance… It's important for me and my personal ecology and self-efficacy, to be able to thrive, because I've been told that I'm not supposed to."
Demonstrating what is possible
Many trans people feel that they are not even entitled to breathe.
"When I say that every breath you take is an act of revolution, it is an act of defiance," Hunter said. "It is an act of saying I belong and you're not going to take anything away from me. We can't go to restrooms, we can't go to school, we're not affirmed on the political stage, we're not affirmed in our homes. It's important to know that simply breathing is a rejection of this narrative that your life is not valuable."
There was a time when Hunter was homeless, was forced into street-based sex work to survive and experienced domestic violence and discrimination. During those times Hunter wondered what the purpose of goddess' life could be if no one was there to love goddess. But, Hunter eventually found inner love and goddess' reflection in others, and those were the catalysts for pursuing goddess' dreams.
"Right now I'm sitting poolside at the Houdini Estate, hosting a healing retreat for Black trans women to come for a week so that they can see themselves reflected in greatness," Hunter said. "Who says a Black trans woman can't rent a huge mansion in the Hollywood Hills?"
Hunter believes that the journey from a supportive home to homeless shelters to being archived in the Library of Congress, was necessary so that goddess could inspire others. Because Hunter had these lived experiences, goddess can speak about them and relay the message that on the other side of these situations there will be greatness.
"I have parents of trans kids call me all the time. They tell me they fear for their child's life and they are terrified of what is possible, of what can happen to their child," Hunter said. "But when they see me and the work of TWOCC, they see it is possible for the child to have a lovely, wonderful, transformative future and life. For that, I am grateful."
To reference the work of our faculty online, we ask that you directly quote their work where possible and attribute it to "FACULTY NAME, a professor in the USC Suzanne Dworak-Peck School of Social Work" (LINK: https://dworakpeck.usc.edu)