A Public Health Crisis Arises Out of Climate Change — Can Local Organizations Save the Day?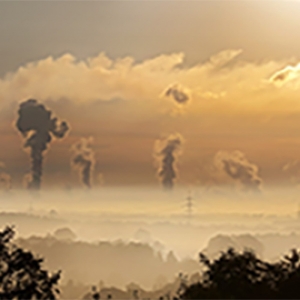 As climate change becomes an ever-present reality, communities across the globe must find new ways to address the environmental and socioeconomic repercussions. Can local organizations help at-risk populations fight back? 
It has been well-established that the concept of climate change does not exist in a nebulous, theoretical sense — it has a tangible influence on ordinary people, from the negative health effects of pollution to the damage wrought on communities in the wake of an unprecedented superstorm. It has now become imperative that social workers are trained in the planning of responses to environmental events brought on by climate change. 
As co-lead of the American Academy of Social Work & Social Welfare's (AASWSW) Grand Challenge on Strengthening the Social Response to the Human Impacts of Environmental Change, professor Lawrence Palinkas developed a three-tier model through which social workers can organize communities to effectively minimize the negative effects of future environmental disasters, based on findings that confirm the human origins of climate change. 
A Growing Global Crisis
In recent years, industrialization has led to a spike in the amount of carbon dioxide in the environment, which is at its highest level in 400,000 years. The heat from the sun is continuing to become trapped in the atmosphere and the oceans are getting warmer and more acidic, threatening the sustainability of marine life. 
The effect of carbon dioxide on the oceans is forcing residents of coastal areas to relocate, as evidenced by communities along Alaska's Bering Sea coastline and Louisiana's Gulf Coast. Island nations such as Tuvalu and Fiji may find themselves in dire circumstances due to rising sea levels over the next century.
With 66 percent of the world's population expected to have clustered in cities versus rural areas by 2050, it is important to understand the devastating impact that urbanization has had on climate change as well. Air pollution, water pollution and heat stress are rampant in cities — just look at how much energy New York City uses every day. California's air pollution levels alone affect citizen health and cost the state $28 billion annually, according to a study by California State University, Fullerton. 
An increase in the population of big cities means existing infrastructural systems are stretched to the brink. As a result, tightly confined residential structures and transportation systems are ill-equipped to handle both manmade and natural disasters that are being wrought by the growing cities themselves. Moreover, social inequality puts poorer communities at a much higher risk for property destruction and loss of life — as we've seen during tragedies like Hurricane Katrina — due to inadequate response structures within these under-resourced neighborhoods.
The Human Cost of Climate Change
Trauma that is endured by individuals after environmental disasters is as real as climate change itself. Obviously, disasters cause physical trauma — errant debris and loss of access to essentials like food and water. But the physical toll of tragedies often obscures the psychological trauma that comes along with it. Many survivors report anxiety, depression, and even post-traumatic stress. A reported 27 percent of Superstorm Sandy survivors claimed to suffer from moderate to severe mental health problems, and 17 percent of New Orleans residents displayed signs of serious mental illness after Hurricane Katrina.
More subtle, long-term forms of trauma resulting from environmental change exist in the form of disease, famine and heat-related ailments, to name a few. As temperatures rise, instances of mosquito-borne illnesses such as malaria increase as well, partly due to limited access to clean water. Changing chemical makeups of soil render larger areas of land infertile and result in famine. 
Small-Scale Solutions, Huge Impact
Disasters tend to fragment communities and create tension between high- and low-income neighborhoods. Minimizing those conflicts is important for sustaining healthy communities. Our three-tiered model can be applied to disaster preparedness and response for both natural and manmade disasters, and focuses on holistic services that target the eco-social impacts. 
First, it addresses biopsychosocial impacts, or the direct consequences of damage to the physical environment. Then, it focuses on interpersonal impact, which includes the reduction of social support and increase in social conflict and uncertainty. Finally, it addresses intrapersonal health impacts, such as mental health symptoms and behavioral problems.
This model was applied by the USC Suzanne Dworak-Peck School of Social Work in the Philippines after Typhoon Haiyan, which was one of the strongest storms to ever hit the country and impacted over nine million individuals. After a successful initial training session, the team was invited back to provide evidence-based disaster response training to all schoolteachers and Peace Corps volunteers across the nation, organizing communities in accordance with the three-tier model. 
The versatility of the three-tier model has been proven and applied to training programs aimed at helping social workers identify communities that are at risk of experiencing the adverse effects of climate change. The model has paved the way for strategies to mitigate risk and affirm the enormous potential for community-based organizations to reduce the negative impact of climate change.
 
To reference the work of our faculty online, we ask that you directly quote their work where possible and attribute it to "FACULTY NAME, a professor in the USC Suzanne Dworak-Peck School of Social Work" (LINK: https://dworakpeck.usc.edu)