Pride of coming out is in service to others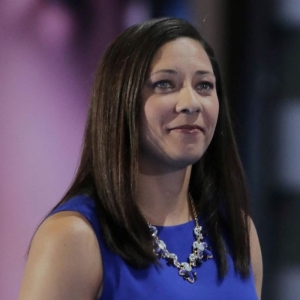 October 11 is National Coming Out Day, celebrated on the anniversary of the first National March on Washington for Lesbian and Gay Rights in 1987. For many in the LGBTQ+ community it serves as a reminder of the power of coming out. For social work alumna Kristen Kavanaugh, sharing her story in service to others is what resonates for her on this day.
In September 2023, Kristen Kavanaugh, MSW '12, was a featured panelist at the Out & Equal Workplace Summit, an annual LGBTQ+ equality event. She began her remarks by sharing a story about when she joined the United States Naval Academy (USNA) in 1998. At that time, she was presented with the infamous Don't Ask, Don't Tell (DADT) memo and required to sign it if she wished to continue to pursue military service.
DADT policy, authorized in 1993 during the Clinton Administration, allowed gay and lesbian citizens to serve in the military as long as they did not make their sexual orientation public, and commanders were prohibited from inquiring about a service member's sexual orientation provided they adhered to this policy.
Kavanaugh took the Oath of Office at the USNA to become a midshipman, and vowed to uphold the honor code. Part of that honor code explicitly states that midshipmen are persons of integrity who stand for that which is right, tell the truth, ensure that the truth is known and do not lie. But under DADT, Kavanaugh was forced to remain silent about herself while swearing an oath to live by the highest standards of honor, courage and commitment.
She graduated from USNA in 2002, and then served five years in the U.S. Marine Corps, including a combat deployment to Iraq.
"I think a big part of the military that veterans value is the camaraderie and the relationships that you build," Kavanaugh said. "I felt like I couldn't have that in the Marine Corps because my fellow Marines didn't know me. So, I feel like I missed out on a lot of those bonds. I was living a double life."
A very public coming out
Kavanaugh completed her military service in 2007, and in 2010 began pursuing her Master of Social Work (MSW) at the USC Suzanne Dworak-Peck School of Social Work. In her first-year social justice class, she was chosen to lead a group project based on her proposal to advocate for LGBTQ+ veterans during the repeal of DADT. At the time, there was a strong movement in the country for repeal of this policy, but also much opposition claiming LGBTQ+ people would infiltrate and ruin the culture of the military. Kavanaugh and her classmates produced a video, providing a counterargument to that narrative. She and her MSW classmates interviewed LGBTQ+ veterans about their service, the reasons they chose to serve their country, their experiences, and finally revealing their sexual orientation to make the point that LGBTQ+ service members have been successfully serving alongside heterosexual military personnel all along.
"The message was twofold," Kavanaugh said. "First, to help service members and veterans start the healing process to recover from the trauma of being in the closet during their service and the shame and guilt associated with that experience. We wanted to give them the chance to be proud of their service. Second, to educate the public about who LGBTQ+ service members and veterans are and that we are no different than anybody else that chooses to serve. We're just like you."
The video project won a Champions of Change Award from the White House. Kavanaugh, her fellow classmates and the service members who appeared in the video all flew to Washington, D.C. to be honored. Kavanaugh proudly displays the award signed by President Obama in her office today.
In the course of advocating for the repeal of DADT, Kavanaugh was interviewed by James Dao of the New York Times. What started out as a simple interview about her work turned into her very public announcement.
"We were talking about how the repeal was going, and then he flipped it on me at the end of the interview and asked about my personal service experience," Kavanaugh said. She answered honestly. The piece in the New York Times was her official "coming out" to all of her USNA classmates and those with whom she had served in the Marines.
Kavanaugh says she received many calls of support following the New York Times story. Most expressed regret and sadness over what their relationship might have been, or the support they could have provided her, if they had known earlier. 
"It was a public process, but a very healing process, with those folks who I had just been afraid to talk to for nearly a decade," Kavanaugh said. "Those conversations were very cathartic."
DADT was repealed on September 20, 2011.
Using her experience to inspire others
For National Coming Out Day, Kavanaugh says it is important for individuals to not feel pressured to come out, but to do so at their own time and on their own terms.
"At times community members can feel pressured to come out and speak out to be a visible member of the community," Kavanaugh said. "But those of us that can and are ready, should — to give others space and time to join us when they are ready."
Currently, Kavanaugh serves as vice chair for the U.S. Department of Defense Advisory Committee on Diversity and Inclusion, advising the secretary of defense on how to create a more diverse and inclusive  workplace. She is helping to ensure that the largest employer in the world continues to develop a more diverse and inclusive culture. 
"My career feels like it has come full circle, Kavanaugh said. "I attribute that to the impact of sharing my story, very publicly at times. My willingness to share has put me in a position where I can really use it for good, to make an even larger impact on the institution."
She also works with USC alumni through the Lambda LGBTQ+ Alumni Association, serving on the student engagement committee. With growing anti-LGBTQ+ sentiment in the country, Kavanaugh is determined to ensure LGBTQ+ students receive the support they need, and to fight those in power who threaten to reverse LGBTQ+ rights and push the movement backwards.
Kavanaugh stresses that her MSW education is an invaluable tool that serves her in many different contexts — community, business, government — where her work often deals people facing systems of oppression and marginalization.
"All of the effort that I spent studying systems theory from a clinic perspective — looking at client systems holistically — prepared me to use those same skills to address challenges in complex organizational systems, " Kavanaugh said. "It's all really thinking about how big social systems interact and what you can do to address root causes to make them better."
A few days after she shared her DADT experience with the audience at The Out & Equal Workplace Summit last month, Kavanaugh received an email from a person who took a different path and chose not sign the infamous DADT memo. Hearing Kavanaugh's experience under DADT gave them a sense of closure and a step toward healing that they did not realize they needed.   
"In my mind, National Coming Out Day isn't necessarily a call for people to come out," Kavanaugh said. "I think it's a reminder that there are people who have come out and been successful, and are continuing the fight as our community faces stiff headwinds. And we're ready for folks to join us when they are ready and able."
To reference the work of our faculty online, we ask that you directly quote their work where possible and attribute it to "FACULTY NAME, a professor in the USC Suzanne Dworak-Peck School of Social Work" (LINK: https://dworakpeck.usc.edu)