Our Graduates Become Pioneers: Celebrating Social Work Month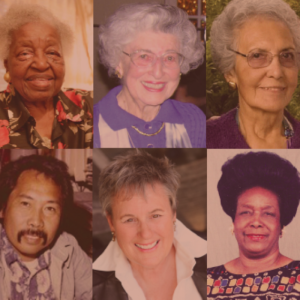 The National Association of Social Workers (NASW) honors members of the social work profession whose contributions have enriched and evolved the profession. The NASW Social Work Pioneers® program recognizes individuals whose unique dedication, commitment and determination have significantly improved social and human conditions.
NASW Social Work Pioneers® are role models whose contributions will continue to influence and shape the direction of the social work profession for generations. Their groundbreaking work is accomplished through practice, teaching, research, writing, program development, administration, advocacy, legislative policy and election to public office.
The USC Suzanne Dworak-Peck School of Social Work has educated 22 alumni, spanning its 100 year history, who have been named Pioneers. This is a significant honor and reflects one of the highest levels of career achievement through research and practice.
Learn more about our graduates who became NASW Social Work Pioneers®.

Chauncey Alexander, MSW '50
Advanced the NASW through his leadership as executive director from 1969 to 1982, creating programs to elevate social work in education and politics, developing specialty professional publications and standards, and represented social work in federal, state and local governments. 
Janet Black, MSW '71
Championed social work as a cooperative network of programs, agencies, faculty, staff and students by increasing collaboration in curriculum development, training and treatment delivery systems. She was part of a national distance education grant that enabled social work programs to be accessed in California's rural and more remote urban areas.
Millie Charles, MSW '58
Founded the Southern University of New Orleans School of Social Work at the height of the Civil Rights Movement, providing opportunities to countless Black students. Her ability to transfer social work courses taught at the nearby, predominantly white, University of New Orleans and develop fully accredited BSW and MSW programs is considered somewhat of a miracle in New Orleans.
Rev. Bernard Coughlin, MSW '59
Made unparalleled contributions as an institution-builder, civic leader, university president, social work administrator, scholar, and advocate of human rights, social service and social responsibility. He developed the country's first doctoral program focusing on social development.
Teresa DeCrescenzo, MSW '78
Founder of GLASS (Gay and Lesbian Adolescent Social Services), the first milieu-based residential treatment program for gay and lesbian teens in the country. As executive director, she led 5 group homes, a foster family agency, a school, a mobile medical outreach unit and a day care program for teens. 
Ismael Dieppa, PhD '73
An educator, dean and tireless advocate for recruiting underrepresented students into the social work profession. He was the first executive director of the East Los Angeles Chicano Mental Health Training Center that helped Latino social workers to serve in their own communities, and was an early supporter of the California Social Work Education Center (CalSWEC).
Suzanne Dworak-Peck, MSW '67
Dedicated her career to expanding the scope and scale of the social work profession. She has lobbied Congress, influenced international social policy, presented at the United Nations, negotiated business deals and shaped a primetime television show. She served as president of the NASW from 1986 to 1989, and president of the International Federation of Social Workers (IFSW) which represents more than 500,00 social workers in over 80 countries, and is the IFSW's first and only honorary ambassador.
Frances Feldman, MSW '40
Prolific researcher on the psychological, social and economic meanings of money and work in American families, and her publications on the subject still constitute the seminal work in this field. Her research on the work experience of persons with cancer health histories was the first of its kind funded by the American Cancer Society. She was instrumental in establishing the first industrial social work curriculum in the western U.S., and the model for employee counseling programs throughout California. 
Douglas Glasgow, DSW '68
Led faculty and students at Howard University's School of Social Work to create the first comprehensive, accredited, graduate-level curriculum modeled from a Black perspective. He  helped found community-based and national organizations such as the Black Men's Development Center, the National Association of Black Social Workers, and the United Black Fund/United Way.
Bernice Catherine Harper, MSW '48
Greatly influential in health care policy and the development of hospice services in the United States and overseas. She was instrumental in creating long-term health care programs for continuity-of-care, including community, institutional, and psychosocial components, as well as one of the first oncology social work programs. She published the definitive book on the needs of of health care workers in coping with their job-related stress, and is the founder of Global Partners in Care, a hospice foundation in sub-Saharan Africa.
Nancy Humphreys, MSW '63
Founder and director of the Institute for the Advancement of Political Social Work Practice (IAPSWP) at the University of Connecticut School of Social Work, training hundreds of social workers to become involved in campaign politics. Appointed by President Jimmy Carter to his National Advisory Committee on Women's Issues, and the second woman elected president of the NASW, serving from 1979 to 1981.
Shanti Khinduka, MSW '61
Established several groundbreaking centers for research and training, pushing social work education to emphasize evidence-based practice, economic and social development, and capacity building for individuals and communities. He published extensively, and worldwide, on social action, social work education, community and social development, globalization, international social welfare and ethnic conflict, and founded the Journal of Social Service Research in 1977.
Maryann Mahaffey, MSW '51
The first woman elected president of NASW and founder of Women in Social Welfare. As a member of the Detroit City Council for 32 years, she helped create a rape crisis unit, pushed for legislation that regulated homeless shelters and apartment rentals, and expanded health care benefits to include LGBTQ+ couples. She was instrumental in the precedent-setting lawsuit in Michigan establishing a woman's right to run for office using her birth name, opening the doors of the Detroit Athletic Club to women, and enacting an ordinance prohibiting sexual harassment of city employees.
Robert A. Mays, Jr., PhD '85
Studied and treated the effects of stress, trauma, substance use, family violence, natural disasters and incarceration, and used his training to influence policy on the delivery of mental health services crisis. He served in leadership positions at the National Institute of Mental Health, developing global mental health and rural mental health research. As a result of his experience as a "mental health first responder," he was appointed civilian medical expert in mental health to NATO. 
Royal Morales, MSW '56
Premier social worker who made inestimable contributions to the Filipino and Asian Pacific Islander communities in Los Angeles and throughout California, and to social work nationally. A community organizer and activist on human and social services issues, particularly around at-risk youth, mental health and equality issues for Filipino Americans and Asian Pacific Islanders. He founded the nonprofit Search to Involve Pilipino Americans (SIPA) to enhance quality of life for Filipinos throughout Los Angeles County. 
George Nickel, MSW '32
Enhanced public welfare services for populations most in need during the Great Depression and World War II, serving impoverished California communities and helping displaced children after the war. He was particularly involved in the improvement of foster home placements and childcare centers, and developing innovative projects to relieve economic stress on individuals and families. He was instrumental in the passage California's social work licensing legislation, the first in the United States. 
Juan Ramos, MSW '60
Moved the effort to for the National Institute of Mental Health (NIMH) to allocate fiscal support for social work research at five universities, known as the Social Work Research Initiative, which created a central organization to advance social work research nationally. Part of the senior executive service at NIMH for 35 years, developing social work research pertinent to mental health and mental illness, and facilitating clinical and research training pertinent to minority populations.
W. June Simmons, MSW '70
Heralded nationally for her innovations and leadership in crafting high quality and affordable services in mental health, hospice and palliative care. Founder of Partners in Care Foundation, an evidence-based, cost-effective program providing care and prevention education to communities at risk, older populations and clients facing end of life issues. The first MSW at Huntington Memorial Hospital, creating a senior care center, a child abuse and trauma center, a sexual assault center, and a court guardianship assessment center.
Faustina Solís, MSW '54
Public health educator who developed health care services for California's migrant farm workers,  collaborating with Cesar Chavez. Due to her extensive background in public health, she was the first full professor at the University of California, San Diego (UCSD) School of Medicine without a medical degree or doctorate, introduced ethnic content into the medical school curriculum and established public health coursework for undergraduates. She became the first Latina provost of the Thurgood Marshall College at UCSD.
Barbara Solomon, DSW '66
Social worker and academic, who for more than 50 years focused on social service delivery systems, especially to underrepresented minority families. At USC, she created the Neighborhood Academic Initiative, a program to increase minority students on campus by preparing local secondary school students for higher education. Introduced the concept of Black empowerment as a framework for social work practice, and was the first African American to hold a deanship at USC when she became dean of the Graduate School. 
Marleen Wong, MSW '71
Internationally recognized as the architect of school-safety programs, developing mental health recovery programs and crisis disaster training worldwide. As director of the school mental health unit for the Los Angeles Unified School District she created and co-developed two evidenced-based interventions: The Cognitive Behavioral Intervention for Trauma in Schools and Psychological First Aid: Learn, Listen, Protect, Connect. Developed mental health recovery programs and crisis disaster training for school districts and law enforcement in the United States, Canada, Israel and Asia.
Josephine Yelder, MSW '53, DSW '75
Helped remove academic racial barriers at Pepperdine University in Los Angeles, first as a professor of sociology and then as one of the first African Americans to become tenured faculty.  As a scholar, she produced the groundbreaking study on generational relationships in Black families, which catapulted her into significant work related to underrepresented aging populations covering income maintenance, health, mental health and housing.
To reference the work of our faculty online, we ask that you directly quote their work where possible and attribute it to "FACULTY NAME, a professor in the USC Suzanne Dworak-Peck School of Social Work" (LINK: https://dworakpeck.usc.edu)