A Nurse Practitioner Brings Her Clinical Experience to Life for FNP Students
Students
Giving
Practice
Research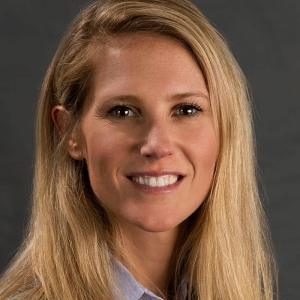 <p><em>With nearly a decade of experience as a family nurse practitioner, Clinical Assistant Professor Michelle Zappas offers students an inside look into what it's like to practice in the real world.</em></p>
<p><a href="https://sowkweb.usc.edu/faculty/michelle-zappas">Michelle Peters Zappas</a> is a clinical assistant professor in the Department of Nursing at the USC Suzanne Dworak-Peck School of Social Work, where she instructs students in the clinical management of adult patients. She also serves as a per diem nurse practitioner at the Saban Community Clinic in Los Angeles.</p>
<p>In honor of National Nurse Practitioner Week, we spoke with Zappas about her career and how she uses her breadth of practical experience to influence and inspire her students.</p>
<p><strong><em>USC Suzanne Dworak-Peck School of Social Work: </em></strong>Where did you start your career as a nurse practitioner, and what types of patients did you treat?</p>
Michelle Zappas: I've been a nurse practitioner since 2009. I started out in the South Bronx in New York, working with children and adults in a family practice. We generally treated patients struggling with social determinants of health or other psychosocial issues. For example, many of my patients were managing intravenous drug use, along with comorbidities like diabetes, hypertension, HIV or Hepatitis C. I eventually became an HIV specialist, in part because I loved working with patients but also because the physician who oversaw my work was incredibly supportive of nurse practitioners.
USC: Where did you go from there?
MZ: I worked at Columbia Medical Center, which is where I went to graduate school. I initially worked in Student Health — the polar opposite end of the spectrum as far as patient issues were concerned. These were medical, nursing, dental and public health students who were young and healthy, mostly dealing with stress and related medical issues. I enjoyed working there, but I still kept up my chronic disease management on Saturdays in the Bronx.
After a couple of years at Student Health and a decade in New York, I moved to Los Angeles and began working here as a professor for USC's new Family Nurse Practitioner program. At Columbia University, I had started teaching a course or two with a clinical preceptor but was mostly a full-time clinician. Here, it's flipped — I'm mostly a professor and do a little bit of clinical practice. I love teaching, so it's been great so far.
USC: What courses do you teach at USC?
MZ: I teach in Dr. Granger's course: Theory of Management of Adult Patients, and I designed and teach the clinical practicum that goes along with that course. I'm also working on the theory and clinical practicums for Family Integrated Primary Care, which is the last course in the program. It's exciting to see students at the beginnings and the ends of their education as nurse practitioners.
USC: How has your past clinical experience informed your approach to teaching?
MZ: I definitely pull from my clinical experience, particularly from my work in the South Bronx. I think students want to know how the things they're learning will be applied in their professional lives. Maybe this is their first clinical practicum, and they're learning the theories of how to diagnose and manage, but they also want to know what the day-to-day looks like and how the scope of practice is different in primary care versus inpatient care.
In class, I share interesting cases or talk about how to navigate difficult situations with patients. I point out the differences between theory and clinical practice, and highlight the nuances of working with patients and their families. Clinicians must know the limits of their expertise and be able to identify situations that require escalation or collaboration.
USC: When you were right out of school and working as a nurse practitioner for the first time, what were some of the things you learned on the job that weren't taught in class that you really aim to highlight for your students?
MZ: The beauty of being a student is that your preceptor is ultimately responsible for the care of his or her patients. When you start working, though, assuming that responsibility is intimidating. I found myself realizing how much I didn't know. Primary care providers and nurse practitioners are taught to be generalists — we know a little about a lot of things. But initially, I didn't feel like I knew much about anything. I tell my students, especially as they're going through their first clinical practicum, that it's normal to feel that way. A little nervousness shows they're taking this transition seriously.
USC: A fun bit of background that people might not know – you studied animal physiology in undergrad. How did you make the transition to nursing from there?
MZ: Yes, I did animal physiology and neuroscience. I always loved biology and the sciences, and I always had an interest in health. My curriculum gave me the chance to study animals alongside human anatomy and neuroscience. Humans are animals too, after all, so it's not as big of a leap as you'd think.
To reference the work of our faculty online, we ask that you directly quote their work where possible and attribute it to "FACULTY NAME, a professor in the USC Suzanne Dworak-Peck School of Social Work" (LINK: https://dworakpeck.usc.edu)