MSW Graduate Named White House Fellowship Finalist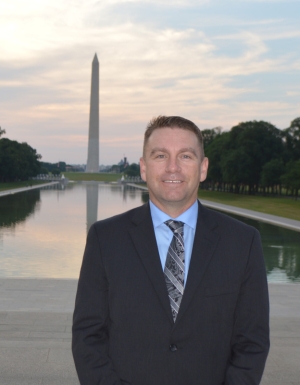 To most Americans, a social worker among politicians in Washington, D.C., may be an unfamiliar sight. But U.S. Army Battalion Sgt. Maj. Eric Chastain is not like most Americans.
A graduate of the USC Suzanne Dworak-Peck School of Social Work, Chastain, MSW '15, was selected earlier this year as one of 30 finalists -- from a pool of about 4,000 -- to be part of the White House Fellows program, working alongside the president's cabinet.
Although Chastain was not ultimately chosen to serve as a White House fellow in this round, his storied career in military social work and status as an enlisted soldier are testaments to the success of his social work education.
"The White House Fellowship is the premiere leadership development program sponsored by the U.S. government. Enlisted soldiers represent 86 percent of the Army, but officers get 100 percent of the fellowships. It's time for enlisted soldiers to start getting those opportunities," Chastain said.
Created in 1964 by President Lyndon B. Johnson, fellows spend a year working as full-time interns to top-ranking government officials. Fellows participate in an education program consisting of roundtable discussions with renowned leaders from the private and public sectors, and trips to study U.S. policy in action both domestically and internationally.
To be considered for a fellowship, prospective candidates must have a record of remarkable professional achievement early in one's career, a bachelor's degree and a demonstrated commitment to public service -- most of which a typical enlisted soldier such as Chastain would not have accomplished.

"I've always been actively involved outside of the Army, and I want take that to the next level," he said. "I thought that going to serve as a White House fellow would help me understand the development of policy so that when I come back to my home in Washington state, I could engage that better on a state level."
Supporting his family and country
Originally from the small town of Beaumont, California, Chastain's journey to the White House fellowship nomination was anything but easy. He attended UCLA for three and a half years until the incarceration of his father forced him to put school on hold and join the Army to support his mother, sister and brother. Since joining the military, Chastain has been deployed three times to Iraq and has spent numerous years overseas fighting terrorism.
Chastain eventually completed his bachelor's degree in psychology at St. Martin's University in Washington. He also earned a Master of Public Administration from the University of Texas at El Paso, where he worked as an on-call counselor for Families of the Fallen, an organization that helps families struggling with family members in the military.
He now serves on the board of directors for the Washington branch of the National Alliance of Mental Illness (NAMI), where he also performed his MSW field placement, tallying 1,600 hours of work in the past three years, including annual participation in Washington state's Lobby Day on behalf of mental health and veterans treatment courts. At NAMI, he used his unique perspective and experience to develop a suicide support group for military families.
"I think there's probably a misperception that soldiers are [the only ones] damaged coming out of war. People who have the hardest trouble are the families who are not trained to be resilient with these kinds of things, who are not trained to overcome physical disabilities," he said.

No stranger to resiliency himself, Chastain watched 22 of his closest friends lose their lives overseas. But it was when Pvt. Justin Garcia was killed in an IED blast in downtown Baghdad, Iraq, in 2006 that Chastain's military career and life were forever changed.

"When I met [Garcia's] body in Dover, Delaware, and escorted him home, it was something I was unprepared for as a soldier. Meeting his family made me realize there was a gap of care from the soldier to the healing of the family," he said. "That was probably the single incident that played the biggest role in me focusing on that as a major and heading into a career of social work, particularly post-Army."
Proving himself
Even during a year that would feature two different presidential administrations, the White House fellowship still emphasizes an unbiased interview approach and features all types of professions and candidates who sit on both sides of the political aisle.
"When I got there, the diversity of backgrounds was amazing -- there was an astrophysicist from Harvard standing next to me and a neurosurgeon from UCLA," Chastain said. "I think that's one thing I learned from the White House fellowship was they didn't care what your educational background was from, all they worried about was input and ability."
In the end, while he was not selected to be a fellow at the White House, Chastain is thankful for the opportunity to represent the enlisted corps and social workers in one of the most competitive fellowship groups the White House has seen in recent years.
"One of the panelists said, 'So, Mr. Chastain, you have an MSW...We don't see a lot of social workers apply for the White House Fellows program. How do you think this MSW prepares you for Washington, D.C.?' My response was, 'Sir, if there was ever a place that needed the skillset that a social worker brings, it is Washington, D.C.'
"It got quite the laugh."