MSW Graduate Creates Advocacy Position to Help Victims of Domestic Violence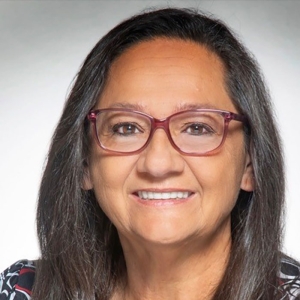 In Russellville, Arkansas, when the police respond to a domestic violence call during the week between 4 p.m. and 11 p.m., they now have Linda Bankston riding with them. As the new victim advocate, she starts every interaction with the individuals at the scene in the same way: "I'm Linda. I'm sorry that this happened. Do you need a hug?"
Bankston helped create a partnership with the Russellville Police Department as part of her Master of Social Work (MSW) internship at the USC Suzanne Dworak-Peck School of Social Work. As a Class of 2023 graduate of USC, she receives her MSW degree in May.
Two years ago, Bankston was working as an outreach advocate at River Valley Shelter for Women and Children, and a substance use counselor at Lake Point Recovery and Wellness. At 53 years old, and already a first-generation high school and college graduate, she decided to pursue an advanced degree in social work.
"I did some research into social work and found out it's a lot about advocating for people, and that's something I already do a lot in my life," she said. "Making changes, helping people stand up for their rights; and I said, 'oh, that's me!'"
Tina Fietsam, adjunct professor at USC Social Work, believes what stands out most about Bankston is her genuine passion to help others. "She treats each client as if they were a family member," Fietsam said. "She invests a lot and expects nothing in return. She is the true definition of a social worker, making the world a better place."
Blending social work with police work
Bankston was able to transition her role at River Valley Shelter into a practicum placement for her MSW degree, focusing on a special project the director of the shelter was interested in — building relationships within the local police department. Bankston researched programs that placed victim advocates within police departments and helped the shelter apply for a grant to fund this type of program within their own community. When the grant was approved, Bankston set her sights on becoming the victim advocate for the new program.
"This program is my baby," Bankston said. "But I went through the full application and interview process because they wanted to make sure they partnered with someone that everybody felt comfortable with. And the chief of Russellville PD thought I'd be a good fit!"
As the victim advocate for the Domestic Violence Liaison Program within the Russellville Police Department, Bankston reviews all case reports related to domestic violence and rides with police officers on domestic violence-related calls. She arrives on scene with all the resources a victim might need, including a protection order, reparation for damage forms, descriptions of their legal rights, applications for legal aid and phone numbers for local resources.
After her initial contact with a victim of domestic violence, Bankston also supports them through court appearances, helps secure transitional housing, works with the school district, assists with resources for food and utilities, and collaborates with local nonprofits for any additional needs.
What is most important for Bankston is for the victims know up front that she is there for them. In the few short months since her position was created, she has increased the follow-through rate for protection orders to 54% from a previous average of 5-7% before a victim advocate was in place. This dramatic increase, according to Bankston, represents a decrease in repeat calls for the police officers and, most importantly, individuals and families don't have to relive the traumatic event over and over. Beginning in May 2023, Bankston will also serve as a victim advocate with the neighboring Yell County Police Department.
Expanding the role of advocacy
Already thinking ahead to how she wants to expand her work in advocacy, Bankston has attained an Advanced Alcohol Drug Counselor, International Certification & Reciprocity Consortium (IC & RC), applied for an Alcohol and Drug Counselor (LADAC) license for the state of Arkansas, and is studying for the exam to become a Licensed Clinical Social Worker (LCSW). She is also a social worker at the Dardanelle Regional Senior Behavioral Health Unit, in addition to her work with the Domestic Violence Liaison Program.
She would like to grow the victim advocate program with River Valley Shelter to include more interns and LCSW's to counsel victims. Eventually, she hopes to create an addition to the program that provides trauma counseling to individuals in the local jails that have been incarcerated for domestic violence offenses, helping them to understand that their criminal activity is often a symptom of past trauma in order to alleviate repeat offenses.
"For me, I'm just doing what's right and what is a passion," Bankston said. "I didn't have to apply for this job once I helped create the program, but I wanted to because I love it and I want to see where it's going."
To reference the work of our faculty online, we ask that you directly quote their work where possible and attribute it to "FACULTY NAME, a professor in the USC Suzanne Dworak-Peck School of Social Work" (LINK: https://dworakpeck.usc.edu)