MSW Alum Uncovers Passion for Medical Social Work through Mentorship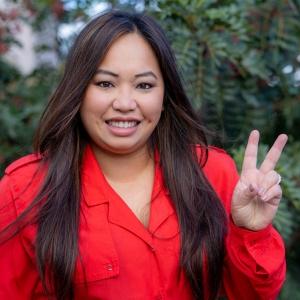 There are moments in many people's lives when a medical matter changes everything. A debilitating injury. A mental health crisis. A move into hospice or palliative care. An organ transplant.
For Noreen Lindell, MSW MPH '12, being there for the patients and their families at those moments of transition is a calling and a passion she first uncovered during her Master of Social Work (MSW) studies at the USC Suzanne Dworak-Peck School of Social Work. Today, as assistant department administrator of social medicine, geriatrics and palliative care at Kaiser Permanente, she works to help patients and their families as they prepare for life beyond the hospital.
Medical social work, as the field is called, was not something Lindell had in mind when she first began her career after undergraduate studies. "Originally, I wanted to work in community organization and planning," she said. She took a job at Operation Jump Start, a nonprofit helping at-risk youth in Long Beach after earning her bachelor's degree in human development and family studies at California State University Long Beach.
Lindell had been considering MBA programs as a next step, thinking that a business background would provide a good foundation for a future career in nonprofit administration. Operation Jump Start's Executive Director Dara Cerwonka suggested she check out the different concentrations within the MSW program at USC.
Lindell took the advice. "I must have asked a thousand questions," she said. "Then I found my home at USC."
It was a class on aging populations and geriatric health taught by adjunct associate professor and social work practitioner, Monika White, MSW '74, PhD '80, that first sparked Lindell's curiosity. She remembers approaching White, the former president of the Center for Healthy Aging, after class one day.
"I told her I was interested in everything she was saying about promoting geriatric health," Lindell said. The two sat down for coffee to talk about Lindell's past experience and career interests. The conversation led to an internship—and a mentor relationship that continues today.
Just as Cerwonka's advice guided her to an MSW program, White's cultivation of her interests in geriatric health helped her find a rewarding career path. "I was a wanderer back then," Lindell said. "Professor White honed in on the kind of work I would value."
After graduating with her master's degrees in social work and public health, Lindell began her career as a medical social worker with positions working with geriatric health departments and emergency care. She practiced alongside medical and psychiatric staff to address psychosocial issues and provide support to clients and family members through discharge planning, psychosocial counseling, grief counseling, case management and referrals.
It is important work. "For most families, this medical event may be the most difficult thing they have to go through," Lindell said. "Everything is upside down for them."
Though medical social workers may interact with families only briefly during these times, Lindell knows the work has an impact that reverberates beyond the days of crisis.
"When patients and families are faced with complex or difficult health decisions, they are always grateful that someone was there to sit with them and listen," she said.
Last year, Lindell left her position on the front lines of medical social work to join the department's administration. The shift to the macro work of developing workflows for how patients are screened in emergency care for issues such as suicide or domestic violence prevention builds on her years spent working one-on-one with families. It also brings its own rewards.
As part of the Kaiser Permanente Family Violence Prevention Program, Lindell is helping providers identify people at risk and become more comfortable talking to patients about the issue. She is also working on piloting abuse screening tools to increase awareness and provide support to patients and families.'
"We're always trying to make sure patients and families are at the center," she said.
The work is challenging and sometimes can feel like running on a treadmill, Lindell said. "Then, out of the blue, sometimes we get a handwritten thank you card from a family member or patient," Lindell said. The impact of her job—providing a listening ear or a shoulder to lean on—is made clear in those moments and she is glad her mentors helped her find this path.
To reference the work of our faculty online, we ask that you directly quote their work where possible and attribute it to "FACULTY NAME, a professor in the USC Suzanne Dworak-Peck School of Social Work" (LINK: https://dworakpeck.usc.edu)