Meeting the Mental Health Needs of Children and Adolescents through Virtual Therapy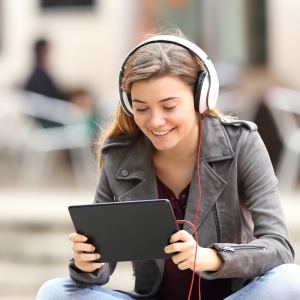 The Telehealth online clinic at USC offers mental health services to youth struggling with trauma and substance abuse throughout California. During Children's Mental Health Awareness Week, May 7 - 13, it is important to discuss why access to mental health services for children and adolescents matters and how it can play a critical role in their overall development.
Hannah Thomson and Marissa Enriquez, both assistant professors of clinical practice at the USC Suzanne Dworak-Peck School of Social Work, embody a passion for children's mental health and USC's core value of commitment to service. They are faculty members at Telehealth, a virtual, outpatient behavioral and mental health clinic that uses video conferencing technology to provide evidence-based care. This platform connects youth with qualified mental health professionals from wherever they are located within California.
USC Suzanne Dworak-Peck School of Social Work: Could you walk us through the basics of Telehealth's Los Angeles County Department of Mental Health (LADMH) pilot program for youth? When and why was it first established?
Hannah Thomson: It all started with a simple idea: that we could provide quality mental health services to young people through video conferencing technology. After Senator Mark Ridley-Thomas' office conducted a study into child welfare services, a few new initiatives were launched, including our pilot program, which was founded in connection with the Los Angeles County Department of Mental Health. We got the green light in April 2016, and started gaining clients within a few months.
USC: What types of clients do you serve in the LADMH pilot program, and how do they generally get connected with Telehealth services?
HT: We run LA County-approved evidence-based practices, and the main modality we use right now is called "Seeking Safety," which is a recovery model for trauma and substance use. Clients can participate in up to 26 sessions under that model. As far as our clientele, it's fair to say problems among these youth vary. But in general, we see trauma, PTSD, depression, anxiety, substance use and interpersonal relationship problems.
To connect with clients, we've done a lot of recruitment in partnership with community groups and school districts and through other branches of Telehealth. If anyone in the 12-21 age range has called the clinic seeking services, our clinicians will screen them for this program. If they aren't a good fit, we do our best to connect them to pro bono services at Telehealth or with other community resources. Our outreach also includes transitional-age programs for young adults experiencing homelessness.
Marissa Enriquez: To determine if a candidate is a good fit for the program, the first step is to complete an assessment, which generally takes about two to three sessions. If they're a good fit, we move forward and establish a plan for treatment.
Clients will then see their individual therapist virtually on a weekly basis. The Seeking Safety model includes around 25 pertinent topics to be addressed in those weekly sessions.
USC: What are the benefits of a virtual program versus traditional in-person therapy or counseling?
HT: Many of the youth we work with use these video conferencing platforms already, so we're tapping into a medium that is quite comfortable for them. Even many homeless youth use smartphones, so yes, it's suitable for those populations, too. Along with the comfort of technology, telehealth allows a sense of privacy. Teens don't have to leave school for appointments. When they log in from home, nobody has to know they're doing therapy. It gives them empowerment and ownership over their experience.
ME: At home, I think the only privacy issue clients may face is in securing a private space around their family. Telehealth allows clients the flexibility to participate in therapy at any time from 8am to 8pm, in any location (as long as the client's privacy is maintained). Traditional therapy is very stationary. Our model feeds into this generation's need for movement and flexibility.
HT: I agree. We worked with a young man whose parents had recently divorced. He spent alternating weeks with his mother and father, but was able to continue therapy easily even though he was moving between different parts of the city week to week. In a more traditional setting or with home visits, it would have been more challenging to sustain this weekly cadence.
USC: How has the retention rate compared to that of traditional therapy programs?
HT: We are still a new program and we're growing. But so far, the youth are responding well to our therapists and have made significant progress over the course of their sessions. What our numbers do tell us is that once we get a youth who does engage, he or she tends to stay engaged and meet their treatment goals.
To reference the work of our faculty online, we ask that you directly quote their work where possible and attribute it to "FACULTY NAME, a professor in the USC Suzanne Dworak-Peck School of Social Work" (LINK: https://dworakpeck.usc.edu)