Los Angeles District Attorney George Gascon Visits Trauma Recovery Center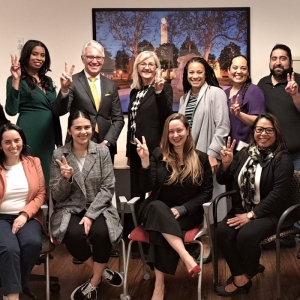 The USC Suzanne Dworak-Peck School of Social Work was honored with a visit from Los Angeles District Attorney George Gascon who met faculty and staff of our Trauma Recovery Center (TRC@USC), the first comprehensive victim recovery behavioral health clinic at USC. TRC@USC clients are referred by a variety of public safety agencies and community organization partners, including the District Attorney's Office.
TRC@USC faculty and staff provided Gascon and key staff members of his staff, Tanishia Wright, director of the Bureau of Victims Services, and Tiffany Blacknell, Community and Government Affairs Liaison Special Advisor, with an overview of how the center supports victims of crimes in receiving confidential treatment for trauma-related mental health issues and wraparound case management and social services, as well as its focus on mental health workforce development and internships for Master of Social Work (MSW) students, and goals for expanding research in this area.
Gascon, Wright and Blacknell also engaged TRC@USC in a wide-ranging discussion on issues around social and criminal justice in Los Angeles, including prevention, intervention and diversion programs aimed toward reducing or interrupting what is known as the "trauma to prison pipeline." Developing programs focused on identifying and redirecting individuals, particularly youth, before they become involved in the criminal justice system is critical to the goal of reducing crime and requires decreasing mental health and socioeconomic factors that often lead to this outcome. Gascon and his team suggested multiple potential avenues for further collaboration between the District Attorney's Office and TRC@USC that could begin to address these issues on a larger scale.
To reference the work of our faculty online, we ask that you directly quote their work where possible and attribute it to "FACULTY NAME, a professor in the USC Suzanne Dworak-Peck School of Social Work" (LINK: https://dworakpeck.usc.edu)