López Named an Urban Leader Under 40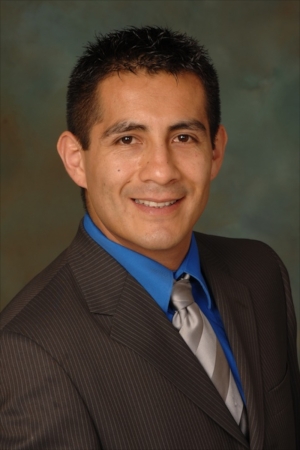 Omar López, a clinical assistant professor in field education at the USC School of Social Work, has been named an Urban Leader Under 40 by the San Diego Urban League, which annually recognizes young leaders in San Diego County who work to better the lives of underserved communities through active participation, positive influence and empowerment across all areas of life.
"It is an absolute honor to be included in this group with leaders from a number of fields in the San Diego, Orange and Riverside counties area," said López, who is based at the school's San Diego Academic Center. "As a social worker and educator, this award is a nice affirmation for the work I have valued the most during the last 15 years of my professional life."
Prior to USC, López served seven years with the Service Employees International Union (SEIU), which represents more than 2.1 million civil servants and school employees across San Diego and Imperial counties to improve workplace standards and environments. He held various leadership positions in SEIU, including serving as chapter president, and always sought to advocate and fight for the rights of working families. He also has eight years of experience working for San Diego County as a child welfare social worker and is the first vice chair for Chicano Federation, one of the largest non-profit social services agencies in the county. As the former program administrator for its foster care program La Cuna, for which he worked pro bono, Lopez helped set policy for how foster care services are delivered to the Latino population under the age of five.
As a young leader, López believes it is important to start early so individuals can discover their leadership style, identify strengths and weaknesses, and confidently hone and develop those skills. Once these young leaders are integrated into a working group, they will be able to provide new perspectives and fresh ideas.
"Democracy relies on the active participation of its citizens, so our young leaders have the responsibility of stepping up to the plate to induce responsible change," said López, who got his start in social work as a case manager for the Chicano Foundation at age 19. "I am very fortunate to be in a position where I can teach and motivate upcoming leaders in the social work profession."
Since joining USC in 2010, López has taught the leadership course for the Master of Social Work program and also interacts with students as field faculty, providing more opportunities to educate and mentor them. López's continued presence in the community allows him to mentor students such as Elliott Alcala, a 2011 MSW graduate.
López introduced Alcala to the San Diego chapter of the Latino Social Work Network, a grassroots organization that supports community involvement for which López served as chair from 2002 to 2007 and still remains an active member. Alcala also credits López for sharing his experience as a leader to help Alcala expand the San Diego membership of the Latino/a Social Work Caucus from himself to 22 students in one academic year, and coordinating relationships with local organizations and trips to mentor students in Tijuana, Mexico.
"Omar has undoubtedly been a positive role model in inspiring others to be true to themselves and to strive toward service to the community," Alcala said. "Despite being a young faculty member at USC, he is able to share his educational and life experiences and relate to students."
Alcala said that López's young age and similar background made him more approachable as a leader and helped cultivate their mentorship into a friendship, especially when it came time for Alcala to transition from graduate school to the workplace. López helped him fine-tune his resume and weigh his options when the job offers started coming in.
"Omar's door was always open to meet personally with students to provide guidance, assistance or just to talk," he said. "Seeing him able to balance his work and community service with a doctoral program has inspired me to look into similar programs. I hope to also become a social work professor to inspire up-and-coming leaders to give back what Omar has given to me."
To reference the work of our faculty online, we ask that you directly quote their work where possible and attribute it to "FACULTY NAME, a professor in the USC Suzanne Dworak-Peck School of Social Work" (LINK: https://dworakpeck.usc.edu)