LAPD Officers Design Solutions to Reduce Force, Improve Community Relations Through USC Training Program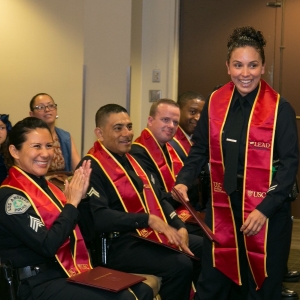 Cecilia Frausto identified a problem she came across often in her job with the Los Angeles Police Department and offered a clear, simple and easily implementable solution.
Her Southwest Division responds to an average of five domestic violence calls a day, and about 75 percent of domestic violence victims have children under the age of 18.
"The majority of juveniles who are delinquent that I have had the privilege to work with have experienced some sort of domestic violence in their household and also come from a broken family situation," Frausto said.
Through the Law Enforcement Advanced Development (LEAD) program, a partnership between the LAPD, the USC Suzanne Dworak-Peck School of Social Workand the USC Price School of Public Policy, Frausto had the opportunity to consider ways to improve the issue and have her ideas heard by department leadership.
Frausto was one of 14 officers to present capstone projects on June 2 at the COMPSTAT Room of the Police Administration Building in downtown Los Angeles. It was the culmination of the 12-month LEAD certificate program, which combines the Suzanne Dworak-Peck School's understanding of vulnerable populations with the Price School's expertise in community policing. Over the course of the program, officers learned evidence-based techniques to reduce the need for force and become better prepared to face today's complicated policing issues, such as homelessness, mental illness, domestic violence and human trafficking.
"We've been so excited to have this collaboration with USC to try something out of the box," said Luann Pannell, director of police training and education at the LAPD, at the capstone event. "We hope our officers know this is a welcoming environment. We're all here because we want to learn about your projects and what you've done, so we can springboard from the ideas you've generated and things you've already started, and look at where we can go next."
Frausto received the award for best capstone for her idea to send Youth Service Officers out of the Community Relations Office, where she used to be assigned, to take part in domestic violence calls in which children are present. She received the award and its $500 prize on June 8 at USC during the inaugural LEAD Certificate Ceremony, attended by LAPD Chief Charlie Beck.
"The Lead program facilitated an opportunity for officers to critically examine the needs of their communities and customize interventions using a holistic approach," said Rosemary Alamo, clinical associate professor at the Suzanne Dworak-Peck School of Social Work, who served as a capstone project advisor. "Hearing the innovative ideas these officers developed using their unique perspectives and years of experience to make LA communities better for everyone was gratifying."
Blending Experience with Innovation
Other capstone projects explored possible solutions to problems in four areas: building trust with the community, LAPD systematic enhancements, homelessness and youth development.
Joe Sanchez offered a solution for a problem at the core of LEAD's mission to train officers to be able to address the complex challenges they encounter in 21st century policing. He developed an operational smartphone app to assist officers with their day-to-day duties by providing them a guide consisting of up-to-date phone numbers for additional resources that might be required by a citizen or victim. The app also has a referral page from which officers can request services for citizens or victims they meet.
Sgt. Jesse Ojeda suggested the LAPD partner with the Los Angeles Homeless Services Authority to create a program, similar to the Gang Reduction Youth Development program, using formerly homeless people as advocates to provide personal perspective and re-educate those who are currently displaced.
"I liked how the officers tried to address what are common problems they're seeing," said USC Price Professor LaVonna Lewis, who attended the event in her position on the LAPD Community Policy Advisory Board. "For some of the issues, it was hard to figure what exactly is the LAPD's role, so I wanted to hear more about what could be done with partnerships, but they were important topics to talk about and put on people's radar."
Rick Ornelas, an adjunct lecturer with the Suzanne Dworak-Peck School of Social Work's Field Education department and a retired LAPD sergeant, praised the LEAD program's focus on developing police officers' ability to analyze community issues from multiple perspectives.
"The program...challenged [officers] to apply innovative methods to resolving communities' issues through effective partnerships with neighborhood stakeholders," he said. "Officers learned approaches that promote and strengthen positive relationships between police and communities."
USC Price Professor Erroll Southers, director of the Safe Communities Institute, encouraged the officers to be proud of the effort they made, dedicating time around their work schedule to take part in the inaugural offering of the LEAD program.
"I've been hearing from chiefs and commissioners from around the state who want to send their team to this program," Southers said. "One day, we're going to look back at what is a national model that started here."
The LEAD program is supported by the Anthony and Jeanne Pritzker Family Foundation and the Jay and Rose Phillips Family Foundation of California.
To reference the work of our faculty online, we ask that you directly quote their work where possible and attribute it to "FACULTY NAME, a professor in the USC Suzanne Dworak-Peck School of Social Work" (LINK: https://dworakpeck.usc.edu)