How to Prepare for a Clinical Social Work Job Interview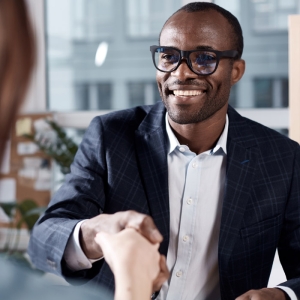 From asking questions that demonstrate your enthusiasm and expertise to answering for professional shortcomings, here are some best practices for acing any clinical social work job interview.
In the context of a clinical social work job interview, demonstrating your skill level, drawing attention to your achievements, expressing your professional interests and positioning yourself as a competitive candidate can be a daunting challenge for any interviewee.
To better understand how to overcome this challenge, we enlisted the help of USC Suzanne Dworak-Peck School of Social Work's J. Juan Macias and Grace Park. Macias, the associate director of Alumni Career and Professional Development, and Park, lead of Career and Student Development, shared their best practices for effectively preparing for an interview, presenting yourself professionally and asking intelligent questions.
1. Organize your resume with intention
In your resume, highlight the experiences and skills that are most relevant to the job for which you are applying.
"Before you attend the interview, you should have assembled a list of achievements and skills," Macias said. "Include them in your resume and be prepared to discuss them during the interview, weaving them into the conversation when an opportunity arises to demonstrate the value-adding potential of your accomplishments."
2. Set the precedent for professionalism
"You can wear the most professional attire to your interview, give a strong handshake and conduct yourself with dignity, but if you haven't established a sense of professionalism before you walk through the door, you may not be taken seriously," Park cautioned.
Address interviewers and other contacts at the organization with formal greetings and appropriate titles in all pre-interview email and phone correspondence. Ensure any of your identifying information that members of the organization may encounter via email or social media—including headshots or other photos—presents a professional image.
3. Conduct comprehensive research
According to Park, "one of the top complaints from employers across industries is that candidates don't do enough research into the organization to which they're applying."
Scour your prospective employer's site to learn not only about its target populations and types of clinical service offerings, but look into its mission and any other information that may indicate organizational evolution—including annual stakeholder reports, news and updates, or sections of the organization's history.
Consider scrolling through the organization's social media pages or looking for any press coverage of the organization, as these can often offer surprising insight into what the organization does and how it is perceived.
"Your goal should be to identify—and be prepared to articulate—two to three specific things that you admire about the organization, since your interviewers are more than likely to ask why you want to work there," Park explained.
To go above and beyond, Macias suggests arranging an informational interview with a current member of the organization before your job interview. "When I was younger, I applied for a job in a hospital, but I had no medical background. To make up for my lack of experience, I set up an informational interview so I could better understand the job and skills needed for it to more appropriately connect my experience during my job interview," he recounted. "It paid off—I got the job."
4. Prepare for tough questions
Beyond universal job interview questions about your strengths, weaknesses, interest in the organization and professional background, interviewees should be prepared to answer hypothetical scenario-based questions about clinical work.
"An interviewer may ask how you would respond in a given situation, or they may prompt you to write a progress note or identify a potential diagnosis," Park said. Consider examples from your own past clinical field work or internships and prepare answers for hypothetical cases for which you may have no applicable experience.
Macias stresses the importance of finding meaningful ways to set yourself apart from other candidates during the interview process. "Interviewing for a clinical social work job can be challenging because, unlike in other fields, there are few ways to quantify your past successes," he pointed out. "You can't always say, 'I spearheaded a project that increased revenue by such-and-such percent.' So you have to find a clear and concise way to express your unique qualitative value."
5. Ask smart questions
"The portion of the interview in which you're invited to ask questions is an opportunity to exhibit interest, enthusiasm and critical thinking," Park said. "The questions you ask are just as important as those you answer."
During the course of your pre-interview research, assemble a list of questions to ask your interviewers. If necessary, clarify any ambiguities about specific duties associated with the role.
Park also emphasized the importance of asking questions related to professional development. Every state has different licensure requirements, so if your goal is to become a licenced clinical social worker, do your research in advance, but make sure to ask clarifying questions during the interview. "Ask whether supervision is provided in the workplace, and about other kinds of professional development support that may be available to unlicensed MSWs," she suggested.
In Macias' view, it's critical to use your questions as a chance to appear enthusiastic (but serious) about the job. "One of my favorite questions is, 'What are three things that I could do today to prepare for success in this job?' It shows self-awareness and the willingness to rise to a challenge," he said.
6. End on the right note
Wrap up by asking logistical questions about the hiring process, including when you can expect a response from your interviewers and any next steps you should take.
Park recommends following up shortly after the interview with a personalized, handwritten "thank you" card for each interviewer. "Expressing gratitude for the opportunity to interview will go a long way with any employer—it comes across as genuine, professional and memorable," she said.
To reference the work of our faculty online, we ask that you directly quote their work where possible and attribute it to "FACULTY NAME, a professor in the USC Suzanne Dworak-Peck School of Social Work" (LINK: https://dworakpeck.usc.edu)