How research becomes policy (infographic)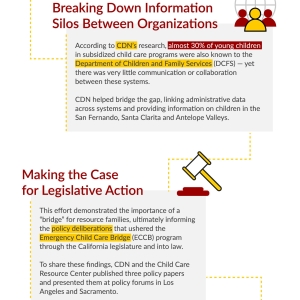 California is facing a growing foster care dilemma: In the current economy, the state's social services agencies are having an especially difficult time recruiting resource families to care for very young children after they have been removed from their homes.
Part of the problem is the high cost of child care. The Children's Data Network led the charge in gathering vital information on this issue and found that almost 30 percent of young children in subsidized child care programs were also known to the Department of Children and Family Services, yet there was very little communication or collaboration between these systems.
CDN helped bridge the gap, linking administrative data across systems and providing information on children known to both. This effort demonstrated the importance of a "bridge" for resource families, ultimately informing the policy deliberations that ushered the Emergency Child Care Bridge (ECCB) program through the California legislature and into law.
"Nobody had thought to pose these kinds of questions before. By linking administrative data, we give agencies the perspective they need to provide better services for children on the county, state and national levels," said Jacquelyn McCroskey, co-director of the Children's Data Network and the John Milner Professorship in Child Welfare at the USC Suzanne Dworak-Peck School of Social Work.