Hall of Distinction Honors USC Social Work Alumni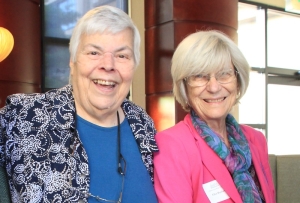 Two graduates of the USC School of Social Work, who dedicated their careers to advancing the values and profession of social work, have been inducted into the California Social Work Hall of Distinction.
Ellen Russell Dunbar, MSW '60, PhD '75, a leading voice for underserved and marginalized populations, particularly in rural communities, and Nancy A. Humphreys, MSW '63, a pioneering social work leader who advanced the profession's national vision in terms of equality, education and policy, received the honor during a recent induction ceremony.
Since 2002, the Hall of Distinction has recognized nearly 100 individuals who have made outstanding contributions to social work and social welfare in California, with a particular emphasis on practitioners, advocates and educators.
"This event is always so inspiring," said Esther Gillies, retired clinical associate professor of the USC School of Social Work and president of the California Social Welfare Archives, which maintains the Hall of Distinction. "It reminds us of the importance of social work—the capacity that we as social workers have to touch and enhance so many lives, and each in our way, to change the world."
Ellen Russell Dunbar
After earning two advanced degrees at USC, an MSW and a PhD in public affairs, Dunbar had a lasting effect on the social work landscape throughout the state, most notably as executive director of the California chapter of the National Association of Social Workers (NASW) and a leading force behind the creation of the California Social Work Education Center (CalSWEC).
During her time in Los Angeles after completing her master's degree, Dunbar worked with Special Service for Groups, a nonprofit organization focused on serving vulnerable communities. Her roles included working with street gangs and overseeing service, training and program development.
"We had the opportunity to work in various communities to get to know what the problems and strengths were, and that was a fantastic experience," she said.
Dunbar later accepted a tenure-track position at Eastern Washington University, rising through the ranks as a faculty member in the School of Social Welfare. After 12 years, she had attained the title of professor and acting dean, but was drawn back to California to join the state chapter of NASW.
Her eight-year stint as executive director left the organization on a solid financial and professional footing; it is now the largest chapter in the country with the largest fiscal reserves and owns the building where it is headquartered.
In the mid-1990s, Dunbar left the association to launch an MSW program at California State University, Stanislaus, where she emphasized the needs of underserved and marginalized populations. She noted a particular need for social workers in rural and remote areas of California.
"Nobody was graduating in those areas," she said. "People from the city didn't think they wanted to go work in the middle of the state."
She instilled a strong emphasis on integrated practice in community settings and developed a well-regarded faculty, establishing the program as a top pipeline for well-trained social workers.
In addition to her work at CSU Stanislaus, Dunbar helped strengthen the ranks of social workers in California by working with leaders from other schools of social work and county welfare directors to establish CalSWEC, a partnership designed to improve the education and training of social workers interested in working in the public sector.
The only organization of its kind in the nation, CalSWEC now involves nearly all schools of social work in the state and has produced thousands of highly competent social workers for the state's public social services system.
Nancy A. Humphreys
A self-proclaimed feminist and social work chauvinist, Humphreys led the charge to establish a new vision for NASW in the 1970s, emphasizing the need for social workers to engage in the political arena and encouraging women to seek leadership roles in social work and wider society.
"Today, the idea of social workers being in elected political office is nowhere near as foreign as it would have been even 10 years ago," she said.
After earning her MSW from the USC School of Social Work in 1963, Humphreys held various practitioner and educator roles in the Los Angeles area, including with the Los Angeles County Department of Public Social Services, USC and UCLA. She later served as dean of the School of Social Work at both Michigan State University and University of Connecticut.
However, it was her work with NASW that had the greatest effect on the social work profession in California and nationwide. In California, she played an instrumental role in merging 16 chapters into a single statewide chapter in 1970.
"Bringing together this chapter that has now managed to survive and thrive for 40 years through some of the most difficult times our state and nation has ever faced—Nancy was the leader of that effort," said Mariko Yamada, MSW '74, a former California State Assemblymember who was inducted into the Hall of Distinction in 2013.
Later as the second woman to serve as national president of NASW, Humphreys championed gender equality both within and beyond the association. Although women constituted more than three-fourths of the NASW membership, men dominated leadership roles in the organization. Humphreys ensured that gender became a permanent feature of the NASW affirmative action plan.
Her advocacy for gender equality continued in her roles as the first female editor of the journal Social Work and the only social worker appointed to the National Advisory Committee on Women's Issues by President Jimmy Carter.
"She has always been a trailblazer in that regard," said Yamada, who is currently campaigning for a seat in the California State Senate. "I wouldn't be standing here today as an elected official trying to return to the California State Legislature to bring these kinds of values to the political discourse."
Humphreys also extended her reach globally, helping to establish BSW and MSW programs in Armenia after the dissolution of the Soviet Union. In recognition of her accomplishments, she received the NASW Lifetime Achievement Award in 2003.
Throughout her career, she emphasized the engagement of social workers in policy and politics, founding the Institute for Political Social Work at the University of Connecticut to advance the core values of social work in the political world.
"Nancy pioneered the field of political social work, why it's important for social workers to be involved in both policy making and elected office," Yamada said.
Other honorees
Four other inductees joined Dunbar and Humphreys this year: Sandra Baker, a powerful advocate for children who experienced sexual abuse; Terry Jones, a champion of social diversity and justice who has emphasized educating and serving underrepresented populations; Richard O. Salsgiver, an educator, practitioner and advocate for disability awareness and rights; and honored posthumously, Kenji Murase, an avid scholar whose career focused on equality and justice for oppressed and marginalized communities, particularly Asian Americans.
The California Social Work Hall of Distinction is part of the California Social Welfare Archives, housed at the USC Doheny Special Collections Library and supported by the USC School of Social Work. The archives are tasked with identifying and preserving documents and memorabilia on social work and social welfare programs in California, including oral histories from professional and volunteer social welfare leaders.
The induction ceremony and oral history interviews are available to view online at http://www.youtube.com/USCSocialWork under the California Social Welfare Archives playlist. More information about the Hall of Distinction can be found at http://www.socialworkhallofdistinction.org.
To reference the work of our faculty online, we ask that you directly quote their work where possible and attribute it to "FACULTY NAME, a professor in the USC Suzanne Dworak-Peck School of Social Work" (LINK: https://dworakpeck.usc.edu)