Graduate certificates transform students' careers with in-depth studies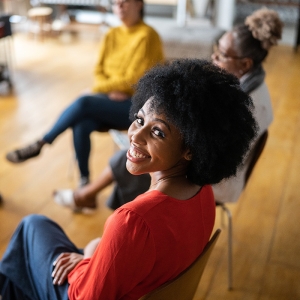 As part of a continuing expansion of lifelong learning opportunities, the USC Suzanne Dworak-Peck School of Social Work launched a university-approved graduate certificate program in fall 2022, the first comprehensive certificate program within the university. Focused on interdisciplinary advanced practice and research, each certificate program is designed to complement and enhance graduate-level training by focusing on the experiential application of concepts in relation to particular and diverse client populations, settings and systems.
USC Social Work offers graduate certificates in a wide-range of practice options: Advanced Clinical Social Work Practice; Advanced Integrative Social Work and Nursing Practice; Aging and Health; Child and Family Well-Being; Ending Homelessness; Interprofessional Education Caregiving; Law, Social Justice and Diversity; LGBTQ+ Affirmative Care; Social Inquiry for Community, Social and Environmental Justice; Social Work Administration; Social Work Practice in Addiction; Telebehavioral Health Practice; Trauma-Informed Practices in Educational Settings; Visual Social Work; and Youth Justice.
Students may opt to pursue one or multiple certificates, allowing them to strengthen their skills with cutting-edge, flexible learning options – and a short-term commitment – to advance their career goals.
Inspired by first-hand experience
Anna Darzins has worked with individuals and families experiencing homelessness in Sacramento for many years. While completing the final semester of her Master of Social Work (MSW) in spring 2023, she decided to add a graduate certificate in Ending Homelessness to her studies. It was an opportunity for Darzins to receive additional in-depth training specific to her career focus.
The Ending Homelessness graduate certificate provided Darzins with first-hand experience of the Greater Los Angeles Homeless Count the annual demographic survey and data collection which USC Social Work conducts in partnership with the Los Angeles Homeless Services Authority (LAHSA). Although Darzins was earning her certificate through the online option, she travelled to Los Angeles to participate in the count.
"It's really rare that somebody would be able to get that close of a look into somebody else's system and community," Darzins said. "It felt like such a rare glimpse. It was really exciting to get a picture of it all."
The Ending Homelessness certificate also provided Darzins with training on the beta version of a novel program aimed at helping those working in the homeless community to keep track of each other, identify hot spots for those most in need of resources in a particular area, and pinpoint where those resources are most readily available. Additionally, she received training in administering Narcan and is now certified to use it. Darzins returned to her position as director of a low barrier homeless shelter for 100 women with fresh and innovative ideas for meaningful change within the organization to better serve her clients.
Open to all disciplines and professionals
Our graduate certificate program includes interdisciplinary areas of study in partnership with the USC Gould School of Law, USC Mann School of Pharmacy, Keck School of Medicine of USC as well as the Department of Nursing at USC Social Work. Many of the certificates are open to graduate students from other disciplines and employed professionals.
Michelle Zacarias relocated from Chicago to Los Angeles to pursue a master's degree from USC Gould. In May 2023 she received her Master of Studies in Law (MSL), and a graduate certificate in Law, Social Justice and Diversity.
"This certificate was the first of its kind that really focused on the social justice, public policy, and human element of the legal system," Zacarias said.
Prior to USC, Zacarias was a journalist whose work centered around issues related to how the legal system and impacts marginalized communities. When she decided to add the Law, Social Justice and Diversity certification, Zacarias also shifted her MSL electives to focus more on public policy, and how it informs the way in which populations are able – or not able - to navigate through society.
"Everything we did in the certificate classes was with the intention of being engaged in the process of policy influence, and taking a stand on issues that were directly impacting the local community," Zacarias said. "So, every assignment was meant to lead to this eventual place of advocacy."
One of the last assignments Zacarias completed in the Law, Social Justice and Diversity certificate program was publishing an article related to the coursework. As a result, she was accepted into the inaugural cohort of the California Local News Fellowship through Berkeley School of Journalism, and paired with CALÓ News in Southern California. Zacarias will cover topics of social and political importance throughout Los Angeles County, and plans to examine the history of marginalized communities in Los Angeles to understand how best to advocate at the policy level.
Courses designed to build or expand a career
An emphasis on community, organizational and environmental justice is woven into the curriculum for all of the graduate certificate courses, and viewed through an intercultural competency lens. Most certificates are offered with on-campus (Los Angeles and San Diego) or online learning options, and some certifications may be satisfied, partly, by courses that current MSW students can complete as part of their degree.
For Katrina Kietzer, pursuing an MSW was her "plan B." She was a dance instructor for children for many years, but by her late 40s it was taking a toll on her body. Kietzer needed a career change that allowed her to continue to work with children, but in a different capacity. Along with receiving her MSW in May 2023, she earned a graduate certificate in Trauma-Informed Practices in Educational Settings and is now certified in two trauma-based interventions for social work in schools.
"There is a high demand right now for intervention skills," Kietzer said. "A lot of schools are training their current staff on these interventions, so it was kind of a no-brainer for me that this was really going to help bolster my resumé and also give me a deeper understanding of the current needs of students."
The Trauma-Informed Practices in Educational Settings certificate program provided Kietzer with a much deeper understanding of how to work with students and their families who have experienced trauma inside a school ecosystem. One of her main assignments in the course was creating a six-week social-emotional intervention that could be applied in an educational setting.
"The certificate courses really covered the impact of trauma on social-emotional health and learning, and how to support students as they're working through trauma," Kietzer said. "We looked at how to build an inclusive, culturally sensitive, safe, trauma-informed environment for students. It went from micro all the way to macro, looking at how to support the individual as well as the school system."
One of the more innovative graduate certificates offered is in Visual Social Work, which trains students to examine issues visually, drawing from social work and other disciplines, qualitative research and archival material. Students learn documentary filmmaking as an outlet for addressing and impacting complex social justice change.
Lorilyn Luong wanted to combine an art component into her social justice and activism work, and the Visual Social Work graduate certificate fit this perfectly. As a social worker, her focus is advocating for survivors of abuse, those experiencing homelessness and the LGBTQ+ population, most recently at the Downtown Women's Center in the Skid Row community of Los Angeles. Luong often incorporated her love of poetry into her work with clients, but never had the opportunity to combine that with academics in a video format.
"I am into healing, being a survivor of abuse myself, and giving a voice to that population," Luong said.
In the Visual Social Work program, there is an emphasis on looking inward and outward: inward to share and record personal stories, then outward to see others' stories through their own lens. For the documentary section of the certificate, Luong paired with a fellow classmate to produce a short film entitled "The Medicine Within" about Milagros Ruiz Bello, an indigenous woman who provides spiritual and energetic work to those embarking on a healing journey. For the media and social work section, she created a self-portrait.
One assignment required students to conduct on-camera interviews with individuals on a social justice topic, then edit the piece. "It was truly inspiring to hear everyone's stories using different platforms," Luong said.
Generous gift funds certificate in caregiving
In 2021, about 38 million Americans spent 36 billion hours caring for adults with chronic, disabling, or serious health conditions. Loretta Huahn, MSW '61, spent her career as a social worker deeply entrenched in community practice and is acutely aware of the rapidly growing need for trained caregivers in the field. The baby boom generation has now created a larger population of aging adults, and a deficit in those with the appropriate skills to provide the required care.
Through our graduate certificate program, Huahn saw an opportunity to help facilitate more training for caregivers within a model that is conducive to their, often, demanding schedules and limited resources. She made a generous gift to develop the newest addition to the graduate certificate roster, Interprofessional Education Caregiving, beginning in fall 2023.
"When you are older, no matter how much you try to keep yourself healthy, you will eventually need some level of caregiving," Huahn said. "In this country, we do not have enough caregivers and it is becoming more important as people are living longer. But they need to be trained and understand what is involved in care for older adults."
The Interprofessional Education Caregiving certificate is focused on preparing students to enter the workforce ready to engage in interprofessional team-based care that is culturally-responsive, evidence-based and trauma-informed. Today's caregivers are more culturally diverse, provide more high-intensity care for comorbid illnesses, and are more likely to hold a full- or part-time job in addition to providing care for elderly family members or friends.
"The certificate program can provide academic training and a qualification in caregiving so they are able to make a larger contribution to caregiving in the community, and have the skillset to be more effective within a complicated society," Huahn said.
To reference the work of our faculty online, we ask that you directly quote their work where possible and attribute it to "FACULTY NAME, a professor in the USC Suzanne Dworak-Peck School of Social Work" (LINK: https://dworakpeck.usc.edu)