Going Big: Erick Guerrero is Changing Systems to Make Getting Substance Abuse Treatment Easier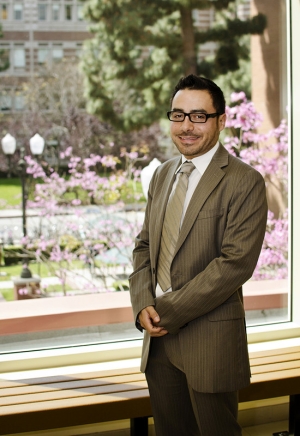 Growing up near some of Mexico City's rougher neighborhoods, Erick Guerrero became intrigued by the people he frequently saw hanging around on the corners smoking marijuana and drinking alcohol. Despite a certain level of stigma about their behavior, Guerrero noticed a sense of normalcy and acceptance by community members. These people, who were tied to the community through family, friends, or informal work, publicly displayed their struggle with addiction and mental health issues. The implications of that struggle became apparent after some of these community residents never received help and eventually disappeared. "After a few months, you started hearing stories—that someone got into an accident, someone is in jail, someone died," Guerrero said. "You start getting a sense that their drinking or their 'locura' [madness] was serious."
Later, as a doctoral student and practitioner in Chicago, he noticed that low-income communities, primarily those with racial and ethnic minorities, suffered from similar issues of low help-seeking among residents and a lacking health care system.
Now an assistant professor at the USC School of Social Work, Guerrero has dedicated his research career to finding better ways to reach those vulnerable populations in low-income communities, particularly Latinos and other minority groups that struggle to access care for substance abuse or mental health issues.
Rather than focusing on specific interventions that address a small subset of the community, he is interested in informing systemwide changes to reduce or eliminate obstacles that make it difficult for racial and ethnic minority populations to enter and remain in treatment.
"There is little research out there that documents the extent to which the current system of care meets the complex services needs of culturally diverse clients," Guerrero said. "As this is the fastest-growing population entering behavioral health services, it is important to determine how to structure and organize the delivery of services to reduce the well-documented health disparities among minorities."
A focus on cultural competency
Guerrero's childhood interest in the health and behavioral consequences of substance use prompted him to focus on issues related to family dynamics, health, and well-being during his undergraduate studies in Mexico City. After a stint as a case worker, Guerrero decided to pursue a graduate degree. He completed a master's program in clinical psychology at Governors State University in Chicago and spent the following 10 years serving court-mandated clients in community behavioral health.
As a clinical supervisor with a community-based clinic that served inner-city youth with gang affiliations, Guerrero managed a culturally diverse treatment team and handled a caseload of clients.
Although he enjoyed balancing counseling with management responsibilities, he began to notice that politics, poor use of existing resources, and an emphasis on administrative tasks played a bigger role in management decisions than the potential impact on clients.
"It just totally missed the mark," he said. "Management was totally disconnected from any potential relation to quality of care, and we did not know how to leverage our team's diverse technical and cultural skills."
Frustrated with how the uncoordinated organizational context and team dynamics prevented the team from effectively engaging with diverse clients, Guerrero decided to pursue doctoral education related to building a culturally responsive work environment.
His background in psychology, economics and management made him a solid fit for an interdisciplinary program at the University of Chicago that combined social work, business and sociology. This diverse medley of disciplines provided the basic framework and tools he now uses to explore how substance abuse treatment organizations can improve their work with minority populations.
Making it work
Guerrero's research agenda has since evolved into a two-pronged approach: an effort to document service disparities in low-income communities in terms of substance abuse treatment, and a focus on action-oriented solutions.
"The literature is really nascent on what kind of organizational and management supports are necessary for a lot of these treatment programs, many of which are small, community-based operations that can be considered a vulnerable population on their own," he said. Community service providers are open to change, he added, but often struggle with inconsistent funding, workforce challenges and less access to training resources.
As new health care legislation takes effect, Guerrero is concerned that small providers will be ill-equipped to handle sophisticated billing requirements and may be edged out by larger treatment centers, which could have a serious impact on whether certain clients seek and remain in care.
"Latinos are very skeptical about engaging in certain systems, especially if they look a lot more formalized and big and more like impersonal hospital settings," he said. "That is scary, especially for undocumented immigrants."
If individuals decide to postpone care for ongoing substance use and mental health issues, he expects to see higher costs when they show up at emergency rooms with more severe problems.
Larger programs may have strong training in evidence-based practices, linkages with universities and more resources, but Guerrero said they often struggle to achieve an adequate level of cultural and linguistic competence, negatively affecting client access and staff retention. In comparison, smaller organizations tend to have fewer resources, less technical training and staff with lower levels of education, but typically are more diverse and draw their workforce from the communities in which they operate.
Although he is interested in exploring ways to improve both models, Guerrero believes that investing in integrated community-based behavioral health treatment is the best way to improve health in communities of color.
"There's nothing more powerful than seeing your neighbor, who you saw struggling for years and years, now working as a behavioral health professional at a local treatment agency and being a good role model for others struggling with addictions," he said. "That kind of interaction at an early stage for children and youth is very powerful."
Bridging the gaps
Research projects led by Guerrero on organizational capacity to serve low-income clients have focused on access, measured as the travel distance between treatment facilities and low-income areas of Los Angeles County; how program factors influence treatment differently among various ethnic groups; and how leadership, training and cultural competence is associated with greater treatment access and retention among Latinos.
Guerrero's ultimate goal is to develop organizational interventions that help treatment providers implement and sustain culturally competent practices that result in higher rates of recovery among culturally diverse populations. It's a tricky process with many factors to consider, such as management practices, leadership styles, funding priorities, regulation issues, and staff education and training.
"If we are to change a system, we need to figure out how the system behaves, what type of incentives are necessary to encourage a system to adopt a new practice and run with it, and how we can best align policy, management and practice to achieve the best results in a system of care," he said.
Guerrero has developed close relationships with treatment program managers in Los Angeles County to ensure that his work is relevant to everyday practice.
In addition, as USC and the School of Social Work launch new initiatives to connect with countries such as Mexico, Brazil and Chile, and Guerrero is hopeful that some of the strategies he is developing in Southern California will benefit his hometown of Mexico City. He has developed projects with city officials there as they begin to create a formal substance abuse treatment system in a city of 20 million people.
"Some of the frameworks I've used here, especially in communities of color, can be translated to what is happening in some low-income communities in Mexico," he said. "It's a dream of mine to come back to the community where I was raised, whose residents continue to struggle with poor access to behavioral health care, and be able to develop a sophisticated infrastructure for prevention, treatment and recovery from substance use and mental health disorders."
To reference the work of our faculty online, we ask that you directly quote their work where possible and attribute it to "FACULTY NAME, a professor in the USC Suzanne Dworak-Peck School of Social Work" (LINK: https://dworakpeck.usc.edu)