Expanding Diversity in Social Work Education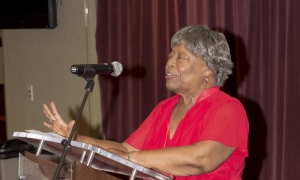 When Barbara Solomon joined the faculty of the USC School of Social Work in 1961, the times…they were a-changing.
The next two decades would find social workers on the front lines of the war on poverty, assisting veterans returning from Vietnam and, of course, fighting for the civil rights of African Americans.
"The social work profession had begun to define institutional racism; it is really responsible even for the concept," Solomon said. "The school was recognizing the need to have more minority social workers in the minority communities because most of the problems were coming out of those communities, and most of the social workers were white."
In the 1980s, she became dean of the USC Graduate School, the first African American to hold a deanship at the University of Southern California.
Around this time she was approached about establishing a scholarship to encourage more minority social workers. As Solomon was the pioneer who had introduced the concept of black empowerment as a framework for social work practice, it was felt it should be named the Barbara Solomon Scholarship.
"I resisted at first because the scholarships I knew of in the university were named for people who were either rich or dead, and I was neither of those!" she said.
She conceded on the name and, more importantly, concurred to speak with others about making a commitment.
"The school felt that my support would help generate funding from the community, the goal being to increase the number of students committed to the same kind of empowerment that had always been the focus of my research and teaching," Solomon said.
She has made a generous pledge of $25,000 to the scholarship fund and feels its relevancy has never wavered.
"I think some problems that we felt strongly about in the field of social work have only recently become part of the national conversation," she said. "We're in a very different place now, and I think it has catapulted the social work profession into a position where it can be a more powerful force. I see the need for African-American social workers, who understand the communities and can communicate with the residents, as even greater now than it has ever been."
The Barbara Solomon Endowed Scholarship is awarded to African-American students pursuing a Master of Social Work at the USC School of Social Work with an express interest in working within the African-American community.
Natasha Cole: Recipient of the Barbara Solomon Endowed Scholarship
In 2014, Natasha Cole had a very difficult decision to make. She wanted to complete her final year of study to receive her MSW from USC. However, to do so would mean stepping away from her job of the past 12 years as a case manager for the North Los Angeles County Regional Center working with children with developmental disabilities. Leaving steady employment is a daunting prospect for anyone to consider, but Cole had an even greater reason for pause – her 8-year-old daughter whom she is raising on her own.
"When you're 19 or 20 it's not the same as when you're a non-traditional student, and you're stepping out on a lot of faith to pursue this degree," she said.
She needed an advanced degree to move to the next level in her social work career. "I want to work in a hospital, but they won't consider you without an MSW," Cole said. "I approached the scholarship office for the School of Social Work and told them I'm a career-changer, I'm a single mom, I'm going to need to leave my job to be able to finish the program, and I need some additional resources to be able to do that."
As the focus of Cole's MSW study was to work with the aging African-American population, it was suggested that she apply for the Barbara Solomon Endowed Scholarship. "[With this scholarship] I was able to successfully complete my last year at USC," she said. "I did my internships in South LA, Culver City and Inglewood helping older African-American adults gain access to services and address what services are lacking in these communities." 
This past May, Cole received her degree and proudly became a member of the Class of 2015. "The USC School of Social Work was the only school I applied to, and it was very important to me to finish the program and be a part of the Trojan Family as a whole."
Cole feels that receiving the Barbara Solomon Endowed Scholarship is an opportunity for her to pay-it-forward. "Being able to receive a scholarship like this and complete my studies, now I can go out into the community and help others," she said.
To reference the work of our faculty online, we ask that you directly quote their work where possible and attribute it to "FACULTY NAME, a professor in the USC Suzanne Dworak-Peck School of Social Work" (LINK: https://dworakpeck.usc.edu)