Erick Guerrero Named 2012 Emerging Scholar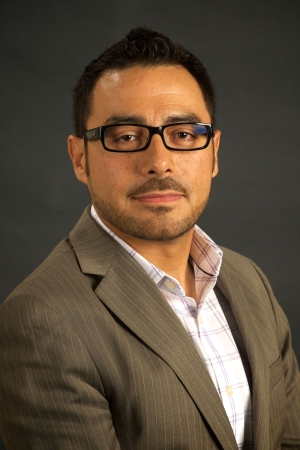 Erick Guerrero, an assistant professor at the USC School of Social Work, has been named the 2012 Association for Community Organization & Social Administration (ACOSA) Emerging Scholar for his work in organizational research, cultural competence, and racial and ethnic service disparities.
"I was elated when I heard I had been selected for this year's ACOSA Emerging Scholar award," Guerrero said. "The selection process was rigorous, and the award is highly coveted among top scholars both nationally and internationally."
ACOSA is an organization that provides networking and professional advancement opportunities for social work activists, nonprofit administrators, community builders, policy practitioners, students and educators. Its main focus is to encourage the development of community and administrative practices that work toward improving the well-being of vulnerable communities. The ACOSA Emerging Scholar award acknowledges the contributions of early career scholars.
"ACOSA is not only an organization making great strides in the areas of policy, advocacy and research, but it represents an eclectic mix of high-caliber scholars, practitioners and on-the-ground community organizers doing great work to improve community-based outreach," Guerrero said. "It is extremely validating to have an organization of this stature look at my work and give it the ultimate seal of approval."
Haluk Soydan, associate dean of research at the School of Social Work, nominated Guerrero for the award.
"Dr. Guerrero is exactly the type of highly talented and promising researcher that the ACOSA award was designed to honor," Soydan said. "His numerous publications in high-ranking journals, his developing path in competing for federal funding, and his commitment to training social workers in health and social services administration and research made him a strong candidate."
Guerrero joined the School of Social Work in 2009 as a post-doctoral fellow and was promoted a year later to assistant professor. His research focuses on the implementation of culturally responsive and evidence-informed health service models that relate to health care management policy, organizational change, and Latinos' social and health outcomes. Guerrero has also consulted for national and international non-profit organizations on diversity management and program evaluation. And as a licensed clinical therapist, he has provided bilingual and bicultural clinical services at psychiatric and substance abuse treatment settings for more than a decade.
This year, Guerrero was also selected by the National Network for Social Work Managers to receive the Mark Moses Distinguished Fellowship Award for his work on finding evidence-based solutions for social work managers. He was one of two recipients of the award, which honors exemplary practitioners and academics working in the field of social work management.
Guerrero's nomination for the ACOSA award was also backed by Jeanne Marsh, who served as dean of the University of Chicago School of Social Service Administration while Guerrero was in the PhD program there.
"There is perhaps no other scholar in our field – emerging or established – whose work is making such an important contribution to improving access and effectiveness of social services for Latinos in the U.S.," Marsh wrote in her letter of support.