Equality at the Forefront of New Equity, Diversity and Inclusion Committee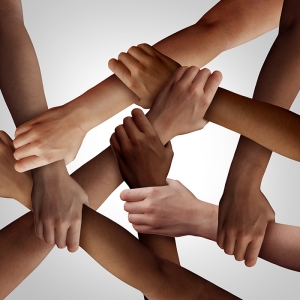 The USC Suzanne Dworak-Peck School of Social Work is making new strides in its advancement of equity, diversity and inclusion through a new committee charged by Dean Sarah Gehlert to set policy and help measure progress of this transformational work.
Chaired by Renée Smith-Maddox, clinical professor and diversity liaison for the school, the Equity, Diversity and Inclusion (EDI) Committee launched in October 2020 as an advisory committee and resource to Dean Gehlert as well as a body tasked with policy development and performance measurement.
Equity first
An early signal that the committee would try to break new ground was the mindful placement of equity first and foremost in its name, a shift from the more traditional designation of diversity, equity and inclusion.
"The order of the words in the committee's name was shifted for a reason. Placing equity before diversity and inclusion focuses on the belief that without equity, efforts to promote diversity and inclusion are laudable, but not sustainable. To enact equity is to provide all people with fair opportunities to attain their full potential," Smith-Maddox said. "The way forward is to create opportunities for systemic change. To do this type of transformational work we have to be strategic and intentional. It starts with looking more closely at our policies and practices, the investment in equity, and how we engage in equity work."
The group has met several times since its announcement in October, including one meeting with Dean Gehlert where she set the charge for a future-focused committee. Her commitment to bringing challenging issues to the forefront impressed EDI committee member Yehudah Pryce, Master of Social Work (MSW) student and chair of the school's Unchained Scholars group for students who were formerly incarcerated, justice-impacted or allies. Pryce was also impressed with the dean's willingness to step back and let the committee direct the agenda.
"Dean Gehlert encouraged us to create a space in which committee members drive the process and the change we want to see," Pryce said. Though it is still early, he is optimistic about the work ahead and how the school can create an environment that embraces aspirational values and ethics related to equity, diversity and inclusion.
New leadership, new era
The school laid the groundwork for this effort through its previous five-year Diversity, Equity & Inclusion Strategic Plan which defined diversity broadly as race, ethnicity, language, culture, gender, sexual orientation, age, religion, abilities/disabilities, socioeconomic status, geographic region, thought and ideas, and more. Understanding a variety of perspectives and lived experiences is a key part of the committee's early work.
"We're exploring the issues because we are all coming from different places," said Tracie Kirkland, clinical associate professor in the school's Department of Nursing. "We're assessing how we can go from this embryonic process to something big, like a think tank that creates ideas."
A foundational step, Pryce said, will be creating an approach to problem-solving that is non-hierarchical and equitable. It may be that the subcommittees composed of staff, faculty and students will tackle certain issues to ensure a wide range of voices contribute to solutions. But decisions about specific processes are a bit further down the road for the committee. What Pryce hopes to achieve is an approach to equity, diversity and inclusion that uses the framework of trauma-informed decolonization to address institutional policies and broader societal culture that permeates at every level and may negatively weigh on those from marginalized backgrounds.
"What we want to do is shape the academic environment so that it is conducive to learning, socializing and the individual growth of students, faculty and staff," Pryce said. "Time will tell, but we are all motivated and feel like we're on the right track."
As representation is integral to equity, diversity and inclusion efforts, ensuring the committee appropriately represented stakeholders was key. A call for nominations went out in July and August 2020, drawing 34 applicants from the school's faculty, staff and students. Ultimately, 11 members were selected ― five faculty, five students and one staff member ― each representing different programs and faculty lines within the school:
Megan Castillo, Master of Social Work student, on-ground
Aubrianne Cho, Master of Science in Nursing student
Annalisa Enrile, clinical professor, teaching

 

Bo-Kyung Elizabeth Kim, assistant professor
Tracie Kirkland, clinical associate professor, nursing
Onaje Muid, Doctorate of Social Work student
Yehudah Pryce, Master of Social Work student, online
Ron Rubalcaba, staff
Leslie Schnyder, PhD student
Melissa Singh, clinical associate professor, field
Shanéa Thomas, senior lecturer
The committee's formation brought renewed calls for racial justice and equity following the senseless murder of George Floyd, Breonna Taylor, Ahmaud Arbery and so many African Americans throughout U.S. history. It highlights the school's commitment to change. It also signals the dawning of a new era for the school under the leadership of Dean Gehlert, who joined the school in April.
Kirkland applied to join the EDI committee hoping to raise awareness of a diversity of perspectives related to school policies and practices. She also chairs the Diversity & Inclusion Committee within the Department of Nursing and believes that bringing people together to address the needs of vulnerable populations, as well as the recruitment and retention of faculty and students, is critically important. "I think it's pretty phenomenal to see where we are in society today, especially as a result of George Floyd's death. I think that created a movement," she said.
Smith-Maddox, Pryce and Kirkland are all optimistic that the committee has the right people on board and the right level of enthusiasm, care and humility to tackle the issues in an honest and inclusive way.
It is a collective responsibility to make the school an inclusive school environment that fosters engagement, excellence, and productivity. "In doing this essential transformational work, we have to ask ourselves, what does an inclusive work environment require?" Smith-Maddox said. "Will I be an ally (supporting the principles of EDI) or accomplice (willing to take the necessary steps to disrupt racism and achieve equity)? Will I create the conditions for active and meaningful engagement in order to translate the school's progress into a sustainability strategy?"
Moving forward, it is clear that there is a role for everyone to play in this important work.
"With new leadership, we have an opportunity to think about new ways to elevate our EDI work and to operationalize it so that it is innovative, transformational, inclusive, process-oriented and outcome-based," Smith-Maddox said. "As a school community, we get to make a commitment to positive change and ensure that the EDI goals and work are actionable, measurable and evidence-based."
To reference the work of our faculty online, we ask that you directly quote their work where possible and attribute it to "FACULTY NAME, a professor in the USC Suzanne Dworak-Peck School of Social Work" (LINK: https://dworakpeck.usc.edu)