Empowering Individuals to Write Their Own Stories: Two Social Workers Discuss Their Experiences Providing End of Life Care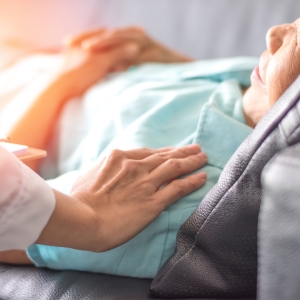 Dawn Joosten-Hagye, clinical associate professor at the USC Suzanne Dworak-Peck School of Social Work, and Elizabeth Semanova, director of operations at Integrated MD Care, specialize in end of life care, and share why it is so critical to provide comfort for terminally ill individuals and their loved ones.
Everyone has a different idea of where their path will take them and how they will lead a distinctive life. This remains true even as the end of life draws near, and no two end of life experiences are the same—nor should they be.
For individuals suffering from chronic illnesses or declining health, receiving end of life care is one way to make the experience more comfortable. Providing comfort, support, treatment and logistical assistance in the last few days, weeks, months or even years of someone's life can ease this often difficult time for the individual and their loved ones.
What is End of Life Care?
End of life care refers to a variety of services offered to individuals who are living with a chronic illness or medical condition for which there is no cure, or when all other viable treatment options have failed. The end of life period can be as brief as a few days in hospice, or as long as a year or more. End of life care providers are responsible for making the individual as comfortable as possible during medical treatment, while also providing services like psychiatric care and support, assisting with end of life planning or in some cases even guiding patients and their families through the aid-in-dying process.
Dawn Joosten-Hagye is a licensed clinical social worker who has worked in acute, subacute, transitional, skilled nursing and palliative care settings. Joosten-Hagye works to empower each individual she treats to make their own choices surrounding the end of life experience. This can mean everything from working with individuals and their families to ensure that the end of life process complies with religious or cultural beliefs to making sure individuals know and understand all of their end of life health care options.
"As an end of life care professional," Joosten-Hagye said. "I'm responsible for making sure the individual's rights are honored, and that their dignity and quality of life is supported in the decisions they make."
The Role of Social Workers in End of Life Care
When physicians and specialists have no miracle cures to offer patients suffering from chronic illnesses, social workers step in to aid in the end of life process. Elizabeth Semenova, who received her MSW from USC in 2017, has worked as a social worker within the hospice world for several years.
"We're creating comprehensive palliative care for patients and families at home who are dealing with things that aren't covered or addressed in the medical system as it stands," Semenova said. "We're really trying to establish new expectations and new models of care."
In addition to offering end of life services to ailing individuals, social workers also guide families who have lost loved ones—or who are in the process of losing a loved one—through the grief and bereavement process.
"Loss isn't strictly the physical end of life, but the whole process of anticipatory grief," Semenova continued. "There is loss of independence in people with dementia, the deterioration of relationships due to the loss of cognitive ability. There are a lot of aspects of loss that we deal with during this whole later life stage leading up to death that I think are really important to address in the health care system."
There's Always an Option B
Social workers who specialize in end of life care offer unique insight into the end of life process, something that general physicians may not be able to offer their patients.
"As a medical social worker, I've seen many cases where the individual's options are not presented fully by providers, whether based on their own personal, moral or discipline philosophies," Joosten-Hagye said. "For me as a social worker, it's always been my goal to be the advocate on the team, making sure the client and their family members are informed about their full range of options."
One of the options that Semenova specializes in is aid-in-dying, which is legal under California's End of Life Option Act. A terminally ill patient who chooses aid-in-dying will undergo a weeks-long process that involves ample paperwork, approvals and counseling. While aid-in-dying is still a new and somewhat controversial concept, it is an option that empowers the patient and their family to take control of the end of life process.
"Patients who choose aid-in-dying enjoy a sense of empowerment and peace of mind," Semenova said. "That naturally transmits to the family in the wake of the loss, giving them a sense of comfort and allowing them to live peacefully with the loved one's death."
Social workers play an important role in delivering palliative and end of life care, but their work goes far beyond the traditional services. Providing good end of life care means cultivating strong, trusting relationships with individuals who are nearing the end, making sure they understand all of their options for care and empowering them and their families to make informed choices during this difficult time.
To reference the work of our faculty online, we ask that you directly quote their work where possible and attribute it to "FACULTY NAME, a professor in the USC Suzanne Dworak-Peck School of Social Work" (LINK: https://dworakpeck.usc.edu)