DSW graduate receives $1 million grant to pilot gun violence-reduction program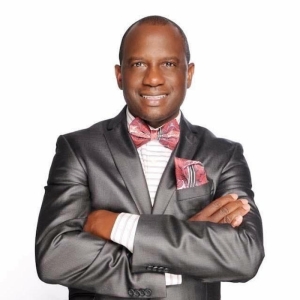 Before he even walks the stage on May 12 to receive his Doctorate of Social Work (DSW) from the USC Suzanne Dworak-Peck School of Social Work, Jonathan Spikes is already well underway on the pilot of his capstone project. Spikes launched the Affirming Youth Family Neighborhood School Partnership (AYFNSP) in January 2023 through a $1 million federal grant from the Office of Juvenile Justice and Delinquency Prevention at the U.S. Department of Justice. AYFNSP is his school-based violence-reduction project in Liberty City, Florida, one of the poorest and most violent areas in Miami-Dade County.
Spikes, a Liberty City native, is the executive director of Affirming YOUth Foundation, a community organization designed to engage youth and their families in evidence-based, culturally responsive assessment and treatment for traumatic stress and associated mental health symptoms. Following a shooting in the busy courtyard of a Liberty City apartment complex in January 2020, numerous community members, children and adults, came to Affirming YOUth seeking help. Spikes was struck by how the reaction to gun violence within the community bore similarities to other public health event. It was a ripple effect from those directly impacted or witnessing the event to individuals that those people touched, and ultimately impacted the entire community.
"Normally we would just look at the victim as the person who was shot," Spikes said. "But seeing these other people coming in helped me to conceptualize victimization on a wider continuum than just the host of the bullet."
It was clear to Spikes that the solution had to come from, and be driven by, the local community rather than outsiders presenting responses that would not meet the unique needs of Liberty City. One of the core tenets of Spikes' violence-prevention project is empowering those in the community who understand the issues of these specific streets and zip codes. He seeks to offer youth in the community a voice and the tools to process the violence that they witness or are otherwise impacted by in the concentric circles of contagion from each violent event.
Building the kind of program he needed
Spikes is now building the kind of youth-oriented violence-reduction program that he wishes had been available when he was impacted by gun violence as a 6-year-old. While taking out the trash one night, Spikes' older brother returned with a bullet in his leg. Although that brother survived, Spikes would endure another violent event when he was 21 — the murder of a different brother. Spikes witnessed his brother's body lying in the street and experienced trauma for years afterward.
"At the time of both of those experiences, my family and I never discussed it," Spikes said. "Instead, we soldiered on with our lives as if nothing ever happened."
Although he was successfully running a community-based organization addressing mental health and trauma in the community, Spikes felt he needed more of a scientific understanding and knowledge base in order to conceptualize why these violent dynamics were present in Liberty City in order to realize his vision for a violence-reduction program. The DSW program at USC is specifically designed for mid- and senior-career professionals to elevate their skills and deepen their program design abilities in a collaborative environment focused on social innovation.
"That is what fueled me to enroll in the DSW program," Spikes said. "The research backing and knowledge of theories of practices and how to work within them helped me to operationalize my ideas. To not only look at the problem within those systems, but to look at how structural inequalities are having an impact on these communities."
While many before Spikes have proposed violence-reduction projects, what sets his prevention and intervention program apart is the building of a community-driven project from the ground up that encompasses input from a wide array of local stakeholders. Spikes used the design-thinking methodology for social science research and program implementation, the core of the DSW curriculum, to bring his innovative ideas to his community. His systematic approach to stakeholder involvement included conducting over 200 interviews with a wide variety of community members and iterating his program development based on their feedback.
"He was keenly aware that other attempts have been made to address the problem in his community," said June Wiley, associate teaching professor at USC Social Work who served as capstone advisor to Spikes. "There are projects in existence, but not created with the input as robustly as he's done to engage a variety of people. He engaged the youth, yes, but also other organizations, parents and educators. He has been able to get their feelings about the extensiveness of the gun violence and what strategies and ideas could be employed to change that problem."
In addition to the funding received by the Department of Justice, Spikes has also received $1.6 million in funding from the Children's Trust of Miami-Dade County. He plans to refine and expand the program with this additional funding, continuing to keep the voices of his community at the heart of the design.
"If we do not consider the entire person within this journey, if the person is not co-creating the strategies with us, then we're telling them the solution instead of building it with them," Spikes said. "It was the DSW curriculum that really honed in on that for me."
To reference the work of our faculty online, we ask that you directly quote their work where possible and attribute it to "FACULTY NAME, a professor in the USC Suzanne Dworak-Peck School of Social Work" (LINK: https://dworakpeck.usc.edu)