DSW Candidate Improves the Patient Experience Through Palliative Care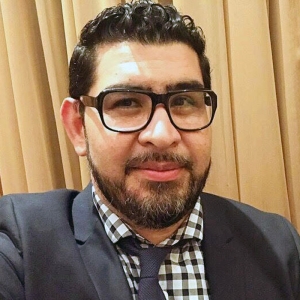 According DSW candidate Mario Espitia, addressing a patient's physical and psychological symptoms from a holistic standpoint can aid in improving their quality of life.
For medical professionals across the globe, identifying cures for chronic and potentially life-threatening illnesses is a top priority. However, in the absence of definitive cures for many chronic conditions, practitioners become responsible for addressing patients' wellbeing by improving their quality of life in other ways. Attending to the physical and psychosocial wellbeing of patients suffering from chronic conditions, such as cancer, cardiovascular disease and chronic respiratory disease, requires a holistic approach, which can be accomplished through palliative care.
Mario Espitia, a Doctor of Social Work candidate at the USC Suzanne Dworak-Peck School of Social Work and palliative care social worker, understands the vital role that palliative care -- which focuses on relieving symptoms and reducing stress -- can play in the lives of families facing some of life's greatest hurdles.
"Some of the patients we work with are undergoing treatment, while others no longer have treatment options available," he said. "In any case, I work with a team of medical practitioners to provide a holistic approach to care that seeks to improve the quality of life for all patients."
Navigating the health care system on the personal and professional levels
Espitia's interest in optimizing care for those with life-threatening or chronic conditions stemmed from his firsthand experience as a caregiver. "My father didn't have health insurance at the time he was diagnosed with a brain tumor," he said. "Despite being a social worker, I felt completely lost—I didn't know how to navigate the health care system, and it felt like a roadblock to ensuring my father was able to receive the treatment he needed."
Espitia decided to enter the health care field and, after some time working as a social worker focused on holistic care for the elderly at AltaMed Health Services, he joined integrated managed care association Kaiser Permanente as a palliative care social worker.
Within his Bellflower, California-based clinic, physicians and nurses attend to their patients' physical symptoms, such as nausea and chronic pain, while Espitia and other social workers focus on treating psychosocial and mental health issues and aid families in advanced care planning.
"I assess and provide treatments and interventions for depression, anxiety and other mental health issues that often go hand-in-hand with chronic conditions," Espitia said. "Additionally, I'm involved in advanced care planning, helping patients and their families address important and often sensitive topics like power of attorney and what types of life sustaining treatments, if any, they'd like to receive."
Palliative care as an integral part of the treatment process
Espitia hopes to see the implementation of palliative health care models on the larger scale. "Palliative health care, which integrates physical, mental, psychosocial and spiritual care, is proven to contribute to better health outcomes," he said. Research indicates that an estimated 40 million people worldwide are in need of palliative care on an annual basis.
Indeed, research suggests that palliative care can produce significant benefits for patients and their families. According to a recent study of lung cancer patients, those who received palliative care reported improvements in quality of life and mood at 12 weeks. By week 24, researchers noticed an uptick in the number of patients using adaptive coping strategies—practices that are protective to one's overall health—to help manage the emotional toll of their condition.
Additional research reinforces these findings, identifying the major benefits of palliative care as better symptom control, reduced caregiver burden, improvement in the continuity and continuation of care, fewer admissions and even improved cost-effectiveness of care.
Despite the mounting body of evidence to support these benefits, only 14 percent of the estimated 40 million people in need of palliative care currently receive it. "A lack of understanding around the value of palliative care persists within the medical community, where cure-directed treatment is, and has been, the norm for decades," Espitia said. "Combined with a lack of funding, this misunderstanding becomes among the greatest barriers to the widespread implementation of palliative care models."
Through education and policy development, palliative care teams and social workers like Espitia hope these barriers can be overcome, opening the door to integrated care for the millions of patients who need it.
Creating more leadership roles for social workers
Espitia, who plans to complete his DSW in 2020, cites his experience at USC as fundamental to the development of the macro-level leadership skills he's gained. "My understanding of micro-level, clinical approaches has been augmented by gaining a macro-level vision for improving integration within care models, which I believe is essential for catalyzing change within the industry," he said.
Espitia calls for greater levels of education within the health care community and new policy that makes palliative care models the norm.
"Closing the health gap—one of the 12 Grand Challenges for Social Work—demands that social workers take on more leadership roles in health care," he said. "Working alongside medical practitioners, social workers bring to the table a unique skill set that can improve the patient experience."
While Espitia plans to continue his work as a palliative care practitioner following graduation, he's excited to discover new applications of his skills, helping other health care organizations manage, or even launch, their own palliative care programs.
"I want to help more patients gain access to integrated care that alleviates their symptoms and improves their quality of life," Espitia said. "That's when I'll know I've reached my goals."
To reference the work of our faculty online, we ask that you directly quote their work where possible and attribute it to "FACULTY NAME, a professor in the USC Suzanne Dworak-Peck School of Social Work" (LINK: https://dworakpeck.usc.edu)