Dean Gehlert discusses the challenges of health and wellbeing in the foster care system at the JLLA 2022 Civic Leadership Forum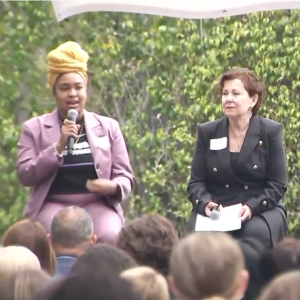 USC Social Work Dean Sarah Gehlert joined an impressive panel at this year's Junior League of Los Angeles "See Her Soar" 2022 Civic Leadership Forum (CLF) on Saturday, March 5 to discuss the challenges and opportunities to "Educate, Inspire, Transform" youth in foster care. CLF is an annual spring event that raises awareness around the foster youth system, with this year's focus on transitional age female foster youth. Joining Dean Gehlert on the panel were NASA's Janeya Griffin and Los Angeles County Supervisor Kathryn Barger. The event included virtual remarks from Governor Gavin Newsom, Representative Karen Bass, U.S. Senator Alex Padilla, and Mayor Eric Garcetti. 
The Suzanne Dworak-Peck School of Social Work is deeply involved with the issues around Los Angeles foster youth and their health and wellbeing. As the largest school of social work in the country and with an exclusive internship program with the Los Angeles County Department of Child and Family Services (DCFS), USC Social Work prepares the next generation of social workers based on both the research evidence base on foster care and direct knowledge about the experiences of youth impacted by the system. 
The school recently co-presented the documentary "Possible Selves" with Human Rights Watch and the National Foster Youth Institute, which focuses on the experience of two foster youth graduating from the system. One of the most poignant aspects of their experience as they described it was having to constantly redefine themselves as they entered setting after setting, bearing the burden of conveying who they are, and reliving their trauma as they recount it. 
"One youth talked about being in foster care for 13 years and having 30 different physicians during that time and having to explain himself and his often-painful history to each one of them," Gehlert said. "Once he exited the foster care system, he could not bring himself to go to a doctor for four years. A challenge for us is how to provide continuity for foster youth so that they do not have to face this constant redefining of themselves; it is traumatic." 
USC Social Work is focused on producing social workers of exceptional quality and effectiveness in foster care settings and beyond. Our strategy is to convey knowledge and teach skills at many levels. Not only clinical skills with individual youth and youth in groups and a strong knowledge of evidence-based practices and policies, but to also know the system and what is available and how it might be better used. At the same time, social workers need to be aware of policy and policymakers so they can keep current on legislation and help to inform it. 
Each student has a year-long field placement during their first year in our program, performing direct service in community-based settings that serve families involved with DCFS. This provides them with a second-year placement with DCFS and allows them to understand and appreciate the roles of both public and private sectors and exposure to as many perspectives as possible — lived experience, multiple disciplines, allied systems, policy makers, administrators, and direct practitioners. 
Most of all, they need to know how to listen, observe, assess, and devise astute solutions that reflect the needs of youth in foster care. The young people in "Possible Selves" make it clear that human caring is even more important than tangible assets. 
"They told us they want time and care over and above money," Gehlert said. "They want the ability to be themselves and have someone consistent to talk to who will know them and listen. We need to find ways to build in stability so that their lives are not a series of individual chapters, but a single, clear, and smooth life story." 
In addition to the panel of experts, the forum allowed participants to hear directly from youth in foster care and in transition from foster care about their lived experiences. Scholarships totally $35,000 from Janie Buss of the Los Angeles Lakers as well as the Skechers Foundation were awarded to help support the education dreams of exceptional young women transitioning out of the foster care system, including $10,000 for an aspiring neurosurgeon and track star who graduated high school with a 4.3 GPA.
To reference the work of our faculty online, we ask that you directly quote their work where possible and attribute it to "FACULTY NAME, a professor in the USC Suzanne Dworak-Peck School of Social Work" (LINK: https://dworakpeck.usc.edu)