Countertransference: Preventing Compassion Fatigue and Improving Your Practice Along the Way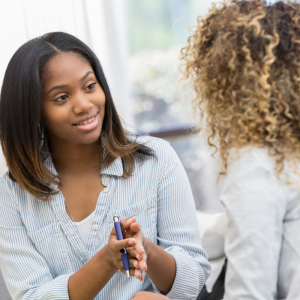 Social workers dedicate their lives to serving others, improving the wellbeing of individuals and communities across the globe on a daily basis. Committing this level of emotional commitment and energy to others is no easy task, and as such, social work has one of the highest rates of burnout, marked by physical, emotional and mental exhaustion.1
To combat this, generous alumna, Mary Mader, MSW '92, has endowed the Social Workers and Balance: Professional Skill Development, Self-Care and Resiliency program. This supportive, educational and interactive program designed exclusively for Social Work alumni explores and addresses elements that impact your practice such as compassion fatigue, burn-out, vicarious trauma and professional stressors. Claire Towle, MSW '90, LCSW, and Minerva Ruiz, MSW '10, LCSW, who co-facilitate the USC Suzanne Dworak-Peck School of Social Work program Social Workers and Balance: Professional Skill Development, Self-Care and Resiliency agree: to better serve clients and reduce burnout, social workers must prioritize their own health and wellbeing. "We won't be highly effective clinicians if we can't take care of ourselves," Towle said. 
Responding to clients' past and present trauma
Social workers are privy to highly sensitive information, some of which may stem from experiences of grief or trauma. According to Carlos Velez, MPH, MSW '17, who serves as the program manager at St. Joseph's Center, a nonprofit that works closely with the homeless community and a participant in the Social Workers and Balance program, social workers' ability to handle this information is paramount to their effectiveness and perhaps even to the longevity of their social work careers. 
"One of two things can happen when you learn of a patient's past and present trauma—you can choose to be directly impacted by it and hold onto those feelings, or you can take that information and help the client navigate it," Velez said. 
In some cases, a specific patient may remind a clinician of someone in their own life, such as a friend they're very close to or an uncle they dislike. When this happens, social workers may unconsciously project certain feelings associated with the friend or family member onto the client.2 This is called countertransference. 
While countertransference can be used to gain greater empathy and insight into a client's actions and life choices, it can also put the social worker's effectiveness in jeopardy, making it harder for them to think critically and effectively distance themselves from the patient's trauma and stress. 
Grappling with compassion fatigue
A social worker's inability to create boundaries between their clients' emotions and their own may facilitate compassion fatigue, also known as secondary trauma or secondary post traumatic stress disorder.3 Clinicians experiencing compassion fatigue may find themselves unable to stop thinking about a certain client's traumatic past or, alternatively, may purposefully avoid the subject or even feel numb toward it. 
Social workers must strive to identify compassion fatigue early on in their practice in an effort to safeguard their mental and physical wellbeing and ensure the effectiveness of their professional performance—and also to protect the organization for which they work.
"If social workers become apathetic or less alert as a result of compassion fatigue, critical client details may fall through the cracks—details that could put a patient in jeopardy or even lead to legal consequences," Ruiz said. "This makes compassion fatigue not just an issue of practitioner health and wellbeing, but a liability for organizations both large and small." 
How to protect yourself as a practitioner
There are several best practices all social workers can implement to mitigate burnout and compassion fatigue. Reaping the benefits of these habits requires that social workers remain well-attuned to their own emotions and feelings.
"Recognizing when countertransference, burnout and compassion fatigue have entered your workspace begins with a strong sense of self-awareness," Towle said. "This can be difficult for many social work professionals, who spend so much time focusing on identifying others' emotions."
To achieve a high level of emotional self-awareness, Ruiz uses what she calls a "feeling circle" with social workers. "The feeling circle is a visual tool," Ruiz said. "Participants fill in the circle with colors signifying various emotions. As they shade, it helps bring to light any anxiety, stress, grief or other emotions they may be experiencing."
Self-awareness allows you to better identify personal needs with necessary interventions, like self-care tactics. "Relaxation techniques, like yoga and reiki, as well as cognitive behavioral therapy and cognitive reframing and boundary-setting are practices we use with our clients, but rarely use for ourselves," Towle said. "If leveraged appropriately, these practices can help boost a social worker's wellbeing and overall resilience."
Both Towle and Ruiz work with professional clinicians like Velez to develop strategies for improving self-awareness and self-care through the Social Workers and Balance: Professional Skill Development, Self-Care and Resiliency program that meets monthly for one year. 
"The Social Workers and Balance program is a great opportunity to continue learning and to further your developmental and professional skills as a social worker," Velez said. "Compassion fatigue is something we are all prone to, and it's important to take every step possible to mitigate it—for the sake of our clients and ourselves."  
 
To reference the work of our faculty online, we ask that you directly quote their work where possible and attribute it to "FACULTY NAME, a professor in the USC Suzanne Dworak-Peck School of Social Work" (LINK: https://dworakpeck.usc.edu)