From Convicted Gang Member to Community Activist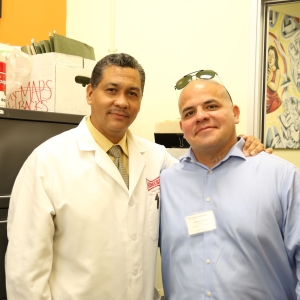 USC MSW student Adrian Reveles transformed his own experiences of trauma, substance abuse and gang involvement to become a powerful violence prevention and homeless youth advocate.
Friends, family, colleagues and classmates of Adrian Reveles know him as a firecracker of a human being: big-hearted, bright and bursting with energy. As a second-year MSW student at the USC Suzanne Dworak-Peck School of Social Work, Reveles is a passionate community activist, an advocate for Los Angeles' at-risk youth, and a dedicated partner and father. 
However, he was not always full of such optimism and drive. Through a youth fraught with instability and violence, Reveles struggled to combat the gang involvement and substance abuse that engulfed much of his community. It was only by the force of his own willpower that he was able to rise above his circumstances to become the powerful voice for change in the Los Angeles community that he is today.
Surviving a Volatile Childhood
Born in 1975 to an alcoholic father and an emotionally absent mother, Reveles grew up living in single-bedroom apartments with his mother and three siblings. 
"It was a traumatic childhood in many ways," Reveles recalled, recounting stories of verbal, emotional and physical abuse that his mother and siblings suffered at the hands of his father. "We were constantly getting kicked out of apartments by landlords and moving somewhere new. My mother spent all of her time and energy working or trying to reason with my father, who was in and out of the picture." 
With a lack of parental supervision and structure in his life, Reveles began ditching school as early as six or seven years old. Instead, he, his brothers and their friends played video games,  loitered in abandoned buildings, or wandered through liquor stores and supermarkets. 
Around this time, Reveles noticed his mother becoming increasingly anxious. "Looking back on it now, I realize she was trying to find a way to leave my father," he said. She sent his two older brothers to Mexico to stay with family members. "They were American kids, born and raised. They didn't know anything about Mexico—they were probably terrified," Reveles said.
At the same time, Reveles struggled in their absence. "More than my mother or father, these were the most constant companions in my life—and they were taken from me at a time when I needed them desperately."
Soon thereafter, Reveles moved with his mother and sister to Mexico. A number of chaotic years followed in which the family lived with an uncle in a rigid, disciplinary environment. Reveles' father made sporadic visits. Eventually, the whole family returned to Los Angeles, and Reveles was enrolled in junior high school.
"I was ready to die"
Without a clear sense of direction, Reveles found himself on the streets. He became involved in gang activity, staging small-scale robberies as well as breaking into and stealing cars. "Becoming a gang member was my attempt at finding a semblance of belonging that I'd never received from my family," he said. 
However, Reveles became increasingly reckless—he and his brother were soon charged with grand theft auto and sent to a juvenile detention center. After his release, he became a father at the age of 15. "My daughter made me want to better my life," he remembered, "but I didn't know how to care for a child when I was still a child myself." 
Reveles began working full-time to provide for his daughter and his girlfriend, with whom he had another child at the age of 19. However, a number of run-ins with law enforcement did not deter him from his continued engagement in criminal activity. At 20, he was convicted on robbery charges, resulting in a four-year stint in state prison. 
Reveles describes the time that followed as turbulent and wrought with mental health challenges. "My girlfriend and I had separated. I became isolated and increasingly lost in my addictions to alcohol and drugs," he recalled. "What resulted was a deep depression that rendered me apathetic toward life. I attempted suicide once, and when it failed, became even more impulsive." 
Reveles recalled performing solo robberies with little to no forethought and entering the territories of enemy gangs late at night, calling out insults in hopes of garnering attention. "I think those were suicide missions of sorts," he said. "I was ready to die."
The Breaking Point
Arrested again on bank robbery charges, Reveles served a number of years in the federal prison system, transferred frequently to different correctional facilities. Upon his paroled release, Reveles was traveling through New Mexico en route to Los Angeles when he became involved in a drug trafficking scheme by gang members in Albuquerque. He served two years in a New Mexico state penitentiary, only to receive additional federal sentencing for breaking the terms of his original parole agreement. 
In total, Reveles spent six years in Security Housing Unit (SHU) programs. Inmates in these programs reside in isolation from other prisoners, endure 23-hour-per-day lockdown and are denied all visitation privileges. Near the end of his time in federal correctional facilities, Reveles had a single transformational experience. 
"I was pinned as the instigator of a riot that broke out in the prison yard—and as a result, I was transported to a solitary confinement unit," he recalled. "For two or three days, I was alone with nothing but a pocket Bible that someone had left behind in the cell. I'll never forget reading the 17th chapter of the gospel of John." 
Reveles claims he was overwhelmed by the love that was depicted in Jesus' relationship to his disciples: "It was unconditional. It was the love I had been looking for my whole life. I was no longer angry at the world, my parents, my friends or my circumstances. I began sobbing because I felt overwhelmed by both a feeling of unfettered freedom and a desire to right my wrongs."
Laying the Groundwork for a New Future
Reveles resolved to change his life for the better. He participated in process groups run by social workers available to inmates at his facility, and when it came time for his release, he requested placement in a transitional program. In the program, he received comprehensive services that included mental health care, professional development services, as well as affordable housing and insurance resources.
"I loved the program," Reveles said. "It was the first time in my life that others expressed interest in who I am as a person and not what I might be able to do for them." 
Employees of the rehabilitation program saw his enthusiastic and committed involvement in the program and offered him a job. After working as both a transportation and house manager for the organization, he decided it was time to move on. "I remember sitting on the edge of my bed reading one day when it hit me: I can achieve so much more than I am achieving now," he said. 
Becoming an Agent for Change Within the Community
Though he had only a 6th- or 7th-grade education, Reveles took a series of placement tests at Los Angeles Harbor College. Aside from mathematics, all of his skills met college-level requirements. He forwent his GED to pursue his associate's degree, transferring to East Los Angeles College. He finished the degree with a soaring GPA and enrolled at California State University, Los Angeles, graduating magna cum laude with a bachelor's degree in sociology. 
Meanwhile, Reveles had rekindled a relationship with his 7th-grade girlfriend, Mayte, whom he credits with being "a pillar of my journey." He began working at The People Concern, a multi-service transitional agency, where he managed a caseload of homeless, HIV-positive transitional-age youth.
Still, he wasn't satisfied. "I knew that if I continued to pursue my education, I could become a better agent for change in the community," he said. 
When Reveles applied for the full-time MSW program at the USC Suzanne Dworak-Peck School of Social Work, he promised himself he would "lay it all out on the table." In his personal statement, he told the story of his life and rehabilitation. When Reveles received a phone call confirming his admission, he was driving a client to the hospital for a check-up. 
"I had to pull the car over because I started crying with joy," he recalled. "It was the culmination of all of my efforts and the validation of everything I had endured—all of the trauma, heartache and pain." According to Reveles, the first person he called with the good news was his sister, who had been the only one of his siblings to stand with him through all of his tribulations. 
In his first-year internship—a pivotal element of the curriculum at the USC Suzanne Dworak-Peck School of Social Work—Reveles worked with Brotherhood Crusade, a grassroots nonprofit meeting the needs of underserved populations throughout Los Angeles County. Through a partnership between Brotherhood Crusade and the Gang Reduction Youth Development (GRYD) Foundation, an initiative of the City of Los Angeles, he worked to create effective interventions for young residents of the city at risk for gang involvement. 
The team at Brotherhood Crusade took such a liking to Reveles that they kept him on part-time as a youth gang violence prevention advocate through the summer, fall and winter after his internship ended. "I feel like family at Brotherhood Crusade," Reveles said. "I don't have as much free time anymore, but I still volunteer there as much as possible, because I have such a special bond with many of the staff, the youth and their families."
As a second-year MSW student, Reveles is set to graduate in May. He is currently completing his second-year internship in the special patients' clinic at the Herman Ostrow School of Dentistry of USC. He also works part-time as a clinical counselor for Los Angeles Centers for Alcohol and Drug Abuse (LA CADA), and will begin working for the organization full-time after he graduates.
Reveles' partner recently gave birth to his third child, a baby boy named Damian Levi. "He has amplified the amount of love in my life and reminded me daily of my insatiable desire to help others," he said. 
Reveles plans to pursue a PhD in social work in the coming years and is dedicated to continuing his work as a youth advocate and violence prevention activist in the Los Angeles community. "I want to spend my whole life trying to make the world a safer, more compassionate place," he said. "It fills my soul."
To reference the work of our faculty online, we ask that you directly quote their work where possible and attribute it to "FACULTY NAME, a professor in the USC Suzanne Dworak-Peck School of Social Work" (LINK: https://dworakpeck.usc.edu)