Change at Home Base: Nurse Practitioner Student Advocates for Her Military Family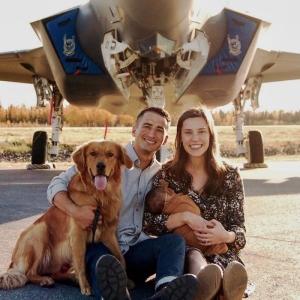 In September 2020, Caris Berndt, a Master of Science in Nursing (MSN) student at the USC Suzanne Dworak-Peck School of Social Work, found herself at Eielson Air Force Base located 25 miles outside Fairbanks, Alaska. Her husband, an elite F-35 pilot, was stationed there in the 355th fighter squadron of the U.S. Air Force. Berndt and her family were proud to be part of the mission at Eielson, but the remoteness of the base, frigid winter temperatures and a lack of sunlight being so far North made the transition difficult.
Soon after her arrival at Eielson, Berndt, a critical care nurse, began work at Fairbanks Memorial Hospital in the post-anesthesia care unit (PACU). Around the same time, she also began the MSN program at USC. One of her early assignments for the required Professional Issues in Advanced Nursing course taught by Cynthia Sanchez, associate teaching professor in the Department of Nursing, was to identify a health issue in her local community that needed improvement and then write a letter to a government representative about it, advocating for change.
"Being in Alaska, this felt like a pretty easy topic to write about," Berndt said. "It's a really unique experience living at Eielson, but it came with many hardships. We're honored to be part of the military but sometimes you live in very remote places that present challenges."
The effects of no sunlight
Berndt composed her assigned letter to U.S. Senator Dan Sullivan of Alaska, and focused it on what she perceived to be an issue for many residents in the area: seasonal depression. She described the reality of living in remote Alaska where the temperature dips to negative 40 degrees Fahrenheit in the winter with only about four hours of very dim sunlight each day. She wrote about the difficulties of five-year assignments for military families who are not used to these challenging conditions, and her concern from a health professional's perspective that action was needed to prevent a suicide crisis. Berndt noted in her letter that another nearby military base, Fort Wainwright, was already on the tipping point of such a crisis, and their facilities and environment were superior to those at Eielson.
"Throughout the winter months, you're pretty much in darkness most of the day which limits your vitamin D exposure and is really hard on your mood," Berndt said.
Berndt continued her letter describing how the isolation also contributes to acute mental health conditions, particularly for new mothers. Childcare is extremely difficult to find, and even the childcare development center at Eielson has a long wait list. Access to outdoor exercise on the base is limited, and the nearest off-base jobs, grocery stores, restaurants and winter exercise trails are at least 25 miles away. Travel to visit family in the contiguous 48 states is very difficult due to expense, so many service members and their families are not able to regularly connect with loved ones.
"Having lived here two winters, I have struggled with seasonal affective disorder, and I know this is the experience of many stationed at Eielson," Berndt wrote in her letter.
Her proposal to Sen. Sullivan for improvement was additional funding for updated housing, updated base facilities such as the commissary, additional housing, increased recreation equipment and trails, and shortening the length of assignments for service members.
Senator Sullivan responds
A few months later, Berndt received a response to her letter from Sen. Sullivan, who put her in contact with the lieutenant general serving as commander of the Alaskan Command, as well as the chief master sergeant, senior enlisted leader of the Alaskan NORAD region and the colonel serving as commander of Eielson Air Force Base. In spring 2023, Berndt was invited to meet with all of these officers to discuss her concerns and recommendations, and she learned of initiatives that were in progress that would address some of the issues she raised to improve life at Eielson.
Ultimately, many of the improvements Berndt proposed will come down to funding, and Eielson is a small base which makes resources even more limited. However, she learned the Air Force is working on increasing housing availability and the dislocation allowance – supplemental income for additional, necessary living expenses unique to residing in Alaska. Further, she learned of a new program available, Operation Ride Home, for junior enlisted military families to apply for a paid winter trip home to visit family for the holidays.
The initiative Berndt was most passionate about discussing with leadership was increasing accessibility to outdoor recreation activities on the base. As the options for this are limited, she proposed cross country skiing which would get people out of their homes, provide the benefits of exercise and vitamin D exposure, and create opportunities for service members and families to socialize.
Graduation and beyond
Berndt and her family are now stationed at Luke Air Force Base in Surprise, Arizona. She expects to complete her MSN studies December 2023, and hopes to work as a nurse practitioner in a family practice or primary care clinic after graduation.
"The MSN program at USC really emphasizes the role of nurse practitioners in the community," Berndt said. "It really focuses on identifying community health issues, getting involved and using your role as a nurse practitioner to better the community, better your patients and hopefully better policy as well."
Berndt is grateful for the confidence she gained in the MSN program, and if she is presented with an issue that needs advocacy she is ready to speak up about it and work toward a solution.
"I've already thought of several other issues that I'd like to write to a representative about!" Berndt said.
To reference the work of our faculty online, we ask that you directly quote their work where possible and attribute it to "FACULTY NAME, a professor in the USC Suzanne Dworak-Peck School of Social Work" (LINK: https://dworakpeck.usc.edu)