Battered but Not Broken: USC Social Work Helps Philippines Disaster Recovery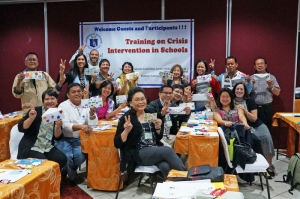 The dampness just wouldn't go away.
"We spent three and a half days in a typhoon. You couldn't see 10 feet in front of you," said Marleen Wong, clinical professor and associate dean of field education at the USC School of Social Work. "The air was so full of moisture that my shoes never dried out, and the linens in our rooms were moist."
Wong was in Typhoon Hagupit, which hit the Philippines last month. Hagupit means "lash" in the Filipino language, and lash it did. At times, Hagupit achieved super typhoon status, with winds up to 150 mph, destroying nearly 1,000 homes and killing at least 25 people.
Even though that's a far cry from the destruction of 2013's Typhoon Haiyan, which killed more than 6,000, experiencing even a small part of a typhoon while providing trauma response training created a "heightened sense of urgency," Wong said.
Wong, along with Clinical Associate Professor of Field Education Vivien Villaverde and Clinical Professor of Field Education Steve Hydon, as well as clinical psychologist Robin Gurwitch of Duke University, traveled to Tagaytay and Cebu in the Philippines last month to provide psycho-social intervention training for children in schools, especially as it relates to trauma in the wake of disasters such as a typhoon.
This was the second time a USC School of Social Work-led team visited the Philippines to assist in disaster recovery. In late 2013, in the wake of deadly Haiyan, Wong, Villaverde and other faculty, administrators and alumni spent a week touring ravaged areas of the Philippines offering training in disaster response and recovery for multiple populations, from children to the elderly.
This time, at the request of the Philippine Department of Education, Wong and team focused its efforts on schools, developing and providing multiple two-day training sessions for representatives from all 17 administrative regions of the Philippines. The goal was to train the trainers – key support services personnel and disaster coordinators – who could then take the skills learned back to their home regions and pass them on to others, including teachers.
"From our experience with Typhoon Haiyan, we observed that schools were impacted the most. Not only do schools house children during the day, but they also serve as emergency shelters at night," said Villaverde, who specializes in school social work. "The Philippine Department of Education saw the relevance of the training we provided last time, so they asked us to help them train their educators."
Out with the old
Through interactive lectures, role play, group exercises and hands-on activities, the team taught the Filipino delegation a range of skills, from Psychological First Aid – a school-based universal prevention intervention for educators and school staff to use in supporting students after crises or disasters, developed by Wong and Gurwitch for the U.S. Department of Education – to assessing and treating secondary trauma, as well as ways to heal long after the initial disaster.
USC brought the latest in disaster recovery research to this training, updating many of the practices currently in place in Philippine schools. For example, instead of simply hearing someone out and hoping the child feels better for expressing his or her feelings, the USC team showed how to validate and respond to what is being said, taking the interaction a step further in a trauma-informed intervention.
"The Philippine Department of Education is really encouraging service providers to have trauma-informed practice skills," Villaverde said. "We could only give a brief understanding in two days, but we left them with basic skills so they won't be afraid to engage in these conversations. That includes physical activities they can do with kids that will equip children with coping strategies so they feel more empowered. We wanted to connect this training to some of the work being done at our school."
Juan Araojo Jr., assistant director of the Health and Nutrition Center within the Philippine Department of Education, expressed satisfaction with the training, even suggesting that they, as the new trainers, hold a special session for their regional directors.
"With the skills and knowledge given to us as trainers, [we can move forward] capable enough to share these experiences with teachers, office workers, students and even our superiors," he said. "We were trained on how to show empathy. It's something we should keep on practicing. We are very grateful."
Going with the flow
Of course, cultural sensitivities were an important part of the training and necessitated some adjustments and flexibility. When demonstrating the making of dreamcatchers, a Native American spiritual object, as part of an activity to be performed with children, it became clear this idea needed to be worked into the Catholicism so prevalent in the Philippines. So some people chose to include Christian crosses on their dreamcatchers. Also, some of the training participants came from rural areas where materials such as crayons and yarn are not readily available. Not only did the USC team give them these items, they helped come up with other options that could be used in the future.
"We had to think about alternative supplies, like using leaves instead of yarn," Villaverde said. "We in the United States take a lot of things for granted."
At the end of the two-day trainings, representatives from each region created action plans for disaster recovery and asked the USC team to critique each one.
"They were on target. There is such accountability there," Villaverde said.
The USC team plans to maintain its relationship with the Philippine government and humanitarian nongovernmental organizations. The Philippines and certain developing countries that are routinely and increasingly battered by violent storms will need to continue to contend with the effects, both physical and mental, that can last for years. Backed by environmental change research by USC School of Social Work researchers Wong, Lawrence Palinkas, the Frances L. and Albert G. Feldman Professor of Social Policy and Health, and Iris Chi, the Chinese-American Golden Age Association/Dr. Frances Wu Chair for the Chinese Elderly, among others--that has been accepted as a concept by the American Academy for Social Work & Social Welfare's Grand Challenges for Social Work Initiative--the USC team sees helping other countries as a social obligation. 
"We have the privilege of having the resources and access to cutting-edge information, research and knowledge that enhances intervention responses to human needs and increases others' capacity," Villaverde said. "If we have that luxury, it's important for us to share it. If we can make it easier for others to digest and implement, it's one of the most important things we can do."
To reference the work of our faculty online, we ask that you directly quote their work where possible and attribute it to "FACULTY NAME, a professor in the USC Suzanne Dworak-Peck School of Social Work" (LINK: https://dworakpeck.usc.edu)