Annual Awards Ceremony Honors Outstanding Contributions to Social Welfare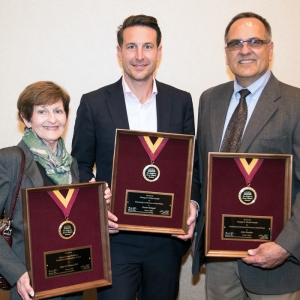 A journalist with a mission, a champion of child protective services, and an innovative advocate for the professionalization of social work were all recognized for their significant contributions to society at the 32nd Annual Awards Reception of the California Social Welfare Archives, held March 7, 2018, at the Radisson Hotel Los Angeles at USC.
The three honorees lauded during the evening were, respectively, keynote speaker Daniel Heimpel, who received the George D. Nickel Award for Outstanding Contributions to Social Welfare; Alex Morales, MSW '74, recipient of the George D. Nickel Award for Outstanding Professional Services by a Social Worker; and Tena Nelson, PhD '90, who was honored with the Frances Lomas Feldman Excellence in Education Award. In addition, the Madeleine Stoner and Ralph Fertig CSWA Social Work Scholar Award was presented to USC graduate student Alma Guevara for her research effort on outcome disparities among Latino clients in outpatient substance abuse treatment centers in Los Angeles County, as well as the effects of the Affordable Care Act on these treatment centers' organizational capacity.
In his keynote remarks, titled "Journalism in the Best Interest of the Child," Heimpel discussed his evolution toward becoming a journalist who "is really focused on trying to tell the stories of vulnerable children and vulnerable populations." A self-described "journalist gone rogue," Heimpel, founder and executive director of the nonprofit news organization Fostering Media Connections (FMC), has devoted his career to changing the public narrative around this issue.
It All Started on the Lacrosse Field
In 2006, while a graduate student in journalism at USC, Heimpel first encountered the foster care system as a volunteer lacrosse coach in South Los Angeles. After an episode in which he had to deal with an angry player, Heimpel learned that several of the students on the team lived in a group home. Visiting that home had a profound effect on the budding journalist, who then became a mentor for two of the boys and began to dig deeply into the realities of life as a foster child in urban Los Angeles.
In his speech, Heimpel noted that the public perception that "the system that serves these vulnerable children is broken" has not only hurt children but has also affected the morale of the workers trying to help them. In his own work as a journalist, he said, he looks to social workers to help him "understand the way these systems work, to understand how to find solutions to the problems that these children face," and to give him the nuanced perspective that lets him and his colleagues tell the "full story of what these systems are in a humane way and with transparency."
Heimpel described his early interactions with the child welfare system, whose resistance to talking to him, he said, made him more aggressive in his coverage. In 2007, the unintended consequence of a story he published in the LA Weekly was the termination of an L.A. County mentoring unit.
"That was a real telling moment for me. The words we put into newspapers have real power," Heimpel said.
"If the system can afford transparency and the media can respect the lives of the people they cover, I think you can have a chance at journalism that does the best for the children in the system. I think that's what we're going to need if we're going to engender the kind of political will sufficient to meet what is a very big issue, especially given the wide dispersion of child abuse."
Heimpel described what can happen when such transparency is in place. In 2012, the state of California was implementing an extension of foster care from age 18 to age 21. But because the change was to be phased in, over 2,000 young people who turned 19 that year were still going to lose the benefits of the system. Although Heimpel and other reporters were barred from a Bay Area courtroom, a Los Angeles County judge (Michael Nash, who was in attendance at the awards ceremony) had just opened court access to reporters. The resulting coverage helped lead to changes in the phase-in that allowed those young adults to benefit from the new rules.
"It wasn't about 'stinging' the system," Heimpel said. "It was about showing what is really happening."
As he explained, "the bigger stories are not the ones that always garner the headlines. The bigger stories often are about the everyday work that social workers are doing and the everyday lives that these young people are leading."
In presenting Heimpel with his award, Wendy Smith, an advocate for foster children and USC Suzanne Dworak-Peck School of Social Work Board of Councilors member, described her response to reading his work: "I recognized immediately that it had been written by someone with unusual knowledge, insight and passion," adding that Heimpel "has moved child welfare to the top of the publishing agenda, and taught students and other journalists how to make that a life's work. He is unique in the worlds of both journalism and child welfare. We depend on journalists to keep the truth on the front page – Daniel does that."
Three Decades of Dedication
Alex Morales, honored with the George D. Nickel Award for Outstanding Professional Services by a Social Worker, retired in January as CEO of Children's Bureau Los Angeles after 30 years of dynamic leadership. In her introduction, Jacquelyn McCroskey, the John Milner Professor in Child Welfare at the USC Suzanne Dworak-Peck School of Social Work, described Morales as "the consummate social worker." Calling him a visionary, she lauded Morales' leadership of Children's Bureau, his creation of the Magnolia Family Center, and his godfathering of the Magnolia Community Initiative. "He is also very humble," she noted, and "a fabulous team leader."
In accepting the award, Morales movingly described the pivotal moment when his job as a social worker became his career and his "ministry." In April 1992, when neighborhoods across Los Angeles were on fire during the civil unrest, he felt "the insidious presence of racism and racial injustice" on a deep level. He wrote down four goals he has reflected on every day since that time: "One, related to the kind of parent I wanted to be; two, the kind of father I wanted to be; three, the kind of person I wanted to be; and four, the kind of difference I wanted to contribute to."
After that epiphany, Morales said he learned to listen not only to what his clients said but to their unspoken pleas for a better life. He noted that our society treats social problems after the fact, rather than focusing on prevention. "We need a new strategy. We need innovation. We need new ways to approach prevention and to get to the scale of the problem under the limitations of those financial resources from government and philanthropy," he said.
"People spend most of their lives trying to be successful," Morales concluded. "Social work allows you to be significant."
Stirring the Pot
Tena Nelson, recipient of the Frances Lomas Feldman Excellence in Education Award, was introduced via video by Susan von Zabern, director of the Riverside Department of Public Social Services, who thanked Nelson for her untiring devotion to the field of social work, calling her "truly an inspiration."
Nelson, who has had a long and distinguished career as a clinical supervisor, practitioner, field instructor and university teacher, began as a case-carrying social worker in the Inland Empire community of Corona, California, where she launched the agency's first group work program. Nelson and her late husband, Festus O. Webley, were staunch advocates for the improvement and professionalization of social work practice in the public sector. In 1980, they established a clinical licensure program, which is now recognized as the standard in Riverside, San Bernardino and Los Angeles counties, and which has been responsible for improved retention of social work staff. She has also maintained a private practice and taught courses at Chapman College, the University of LaVerne and USC, among other schools.
In her remarks, Nelson explained that she had been cooking when she received the call telling her she was to receive the award. "When [CSWA board president] Esther called, I was in the kitchen stirring a pot," she said. She reflected on the accomplishments of social work leader Frances Lomas Feldman, for whom the award was named, and her extraordinary effectiveness at stirring the pot. "It occurs to me, that's what social workers do. They stir the pot."
Nelson elaborated on the metaphor: "Stirring the pot means you're challenging people to strive for excellence. Stirring the pot means to stir for social reform. ... And above all, stirring the pot means perseverance. Those are the things that social workers do."
Historical Perspective
For close to 40 years, the California Social Welfare Archives has documented the development of social welfare in California for educators, scholars and researchers by preserving and making available materials of historical significance and publishing oral history interviews with social work pioneers. Its California Social Work Hall of Distinction honors exceptional contributors to social welfare and the social work profession and supports curricula in social work programs throughout the state. Visit the CSWA playlist on YouTube to see a video of the keynote address and award presentation.
To reference the work of our faculty online, we ask that you directly quote their work where possible and attribute it to "FACULTY NAME, a professor in the USC Suzanne Dworak-Peck School of Social Work" (LINK: https://dworakpeck.usc.edu)