Alums Breaking Ground in Government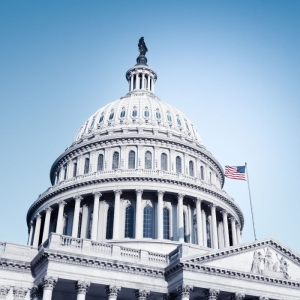 Social workers in government, using their skills to influence policy and create change on a macro level, are becoming increasingly important for society. There are currently 42 members of Congress who are social workers. The daughter of President Joe Biden and First Lady Jill Biden is a social worker. The value of social work and what it can contribute to local, state and national politics is on the rise.
From California to New Hampshire to the White House, graduates of the USC Suzanne Dworak-Peck School of Social Work are breaking new ground in the political arena.
Joining forces
Rory Brosius, MSW '13, describes herself as an outcomes-focused leader. She began her career in nonprofit management and development before becoming deputy director of Joining Forces – the initiative created by First Lady Michelle Obama and then-Second Lady Jill Biden to support services members, veterans and military families. The focus of Brosius' work was the development and implementation of the wellness pillar of the initiative, including mental health and caregiving. Over the past four years, Brosius continued to work with the Bidens as military families advisor for their foundation.
In January 2021, Brosius was named executive director of the Joining Forces initiative, which was revived by First Lady Jill Biden as a main focus of her White House agenda. As the wife of a Marine Corps veteran, the community supported by Joining Forces "is the community that I'm part of," Brosius said in an interview with the Associated Press prior to beginning her new role. "Military families still need support. We'll be spending the next few months listening and learning."
When Dr. Jill Biden announced her new executive director for Joining Forces via social media, she stated that Brosius "will be a tremendous asset to my office as we continue the honor of serving and supporting military families."
Making history in Culver City, California
In 2018, Doctorate of Social Work (DSW) student Daniel Lee became the first Black member elected to the Culver City Council in its over 100-year history. As Vice Mayor for Culver City, Lee has championed mental health, police accountability and environmental racism, and spoken publicly about the need to address poverty in relation to violence, incarceration and the residual effects of those formerly incarcerated.
His local efforts have also included the development and implementation of civil rights curriculum for the Culver City Teen Center and volunteer participation in an artists and communication program with El Rincon Elementary School.
"I see politics and the adept administration of government as really a venue for macro social work," Lee said.
The pandemic shifted the work of local government in Culver City to focus on ensuring that seniors and children received food and other resources they needed. "I think providing this level of communal support should be the purpose of government rather than being a tool to facilitate business and business transactions," Lee said. "People should be the primary focus of government expenditures. The betterment of the largest amount of people's lives should be the goal."
Lee, who holds a Master of Social Work degree as well as currently pursuing his DSW, finds that his social work skills are an asset to his role as vice mayor in everything from writing and reading reports to running meetings and drafting policy. "Being able to identify what people value is essential in the context of negotiations," he said.
A state run in 2022
Before attending USC, Sara Dillingham, MSW '19, was introverted, took a back seat in discussions and did not believe in the value of her own voice. But a policy class during her Master of Social Work studies boosted her confidence.
"I actually feel like I can make a difference in the world on these really big, systemic multi-intersectional issues," Dillingham said. "I don't think if I had gone anywhere else that I would have been that amped up to go out and do something about it and feel like I had the knowledge and the wisdom from my classes at USC to be able to back me up."
In 2019, Dillingham ran for state representative in Salem, New Hampshire — a republican stronghold that has not voted a democrat into any of its nine seats since the 1970s. Although unsuccessful in her initial campaign, she plans to run again in 2022. "I was the most diverse candidate on the ballot because I'm young and I ran authentically as an openly gay woman and a social worker."
The campaign afforded her the opportunity to meet incredible women she has looked up to for years — Senators Jeanne Shaheen, Amy Klobuchar and Elizabeth Warren, and Representative Annie Custer. They affirmed her belief that women need to be at the table. "This isn't a boys' game anymore," she said.
Dillingham believes there is a need for social workers in politics to highlight and elevate the voices of the individuals they serve. "Because we work closely with families and individuals on the ground, our insight and voice are invaluable when it comes to the legislative process," she said. "I never thought that I would run for office and now that I have it's kind of opened my eyes to a lot of things. When people come together, regardless of their political ideologies, their religions or their backgrounds, and they're able to meet on common ground, there's just something beautiful about that."
To reference the work of our faculty online, we ask that you directly quote their work where possible and attribute it to "FACULTY NAME, a professor in the USC Suzanne Dworak-Peck School of Social Work" (LINK: https://dworakpeck.usc.edu)