Alumnus Commits Himself to Freeing Psyches of Inmates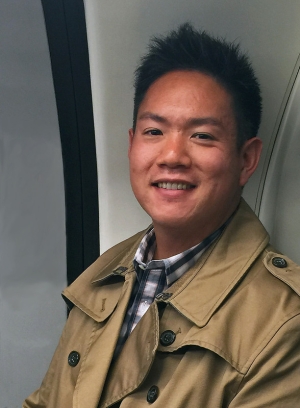 Steven Su sits at his desk as an inmate pounds his knuckles against it, yelling he wishes he could kill someone, anyone.
In a confidential, one-on-one setting, Su often worries about his patients' violent reactions.
Su, MSW '13, goes to a maximum-security prison every day. As a clinical social worker for the California Institution for Men, a 2,500-acre state prison located in Chino, California, he works with patients with psychosis, bipolar disorder and schizophrenia, among other mental illnesses.
"They have the worst lives. Almost everybody has some sort of trauma. If you want to see the most oppressed and worst-off folks, I'd say go to prison," he said. "These people are so marginalized; they have no control over their lives. Granted, they are there for a reason, but they have nothing. If they are in there for life, they have nothing to live for."
Working directly with inmates, Su treats them for suicide and crisis intervention, major depressive disorders, transgender issues, drug/controlled substance problems and general issues related to their incarceration. By fostering meaningful bonds and serving as a reliable contact, Su is helping transform a devalued population.
"I worked in other fields – retail management and the entertainment industry – and those are very luxurious, but it wasn't fulfilling me to the potential that I saw in myself," he said. "So social work became a clear field. I want to help people, and I want to do it in a positive way that creates a ripple effect."
Su heard about the job at the prison through his connections at USC Telehealth, where he performed his field placement, and knew it was the right path to achieving his goal. Fresh out of USC and with various unfulfilling work experiences under his belt, Su longed for the job at the prison more than anything else.
Never a dull moment
At the prison, Su mostly does individual psychotherapy and LGBTQ group therapy sessions. Every day is different. Although he usually has patients scheduled, unpredictable lockdowns can disrupt his therapy sessions.  Lockdowns can happen because of anything from routine vaccinations to medical problems and even to missing inmates. Because lockdowns cause prison movement to halt completely, Su often has to change his game plan and venture out to prisoners' cells to conduct sessions. This poses obstacles in terms of treatment.
"It's different because it's not confidential – you are talking to someone in their cell. There are just more people watching and more people around, and they all know I'm from the psych department. It exposes the inmates to the system," he said. 
Because most of the inmates don't have healthy, meaningful contact with other people, Su often finds himself the recipient of their rage and sadness. Although the work gets challenging, Su enjoys being able to make a difference in prisoners' lives by acting as the only reliable source of trust they have.
"They have so much instability in their lives. Just showing them you are not going to abandon them or take their anger personally [really helps]," he said.
Learning the ropes
Su's work ethic that makes him such a dependable social worker at the prison was shaped by his experiences as an MSW student at USC. He praises USC Telehealth Clinical Director Nadia Islam  for inspiring him to hone his skills as a social worker and sharpen his self-awareness so he can make conscious decisions about his clients.
"The work that we do in social work can hit very close to home, and we may begin to do things automatically without looking at the purpose," she said. "That self-awareness is what I most focused on [in teaching]."
She said Su's hard work demonstrated self-determination and conscientiousness that allowed him to develop skills during his internship that he would then transfer to his job at the prison.
"His work is driven by social work values and social justice," Islam said. "He has a strong sense of what we call clinical curiosity, and that is very important in the work that he does."
Su said that what ultimately prepared him for working with such a challenging population was the rigorous MSW program at USC.
"It pushed you to not just do what is expected of you but also exceed expectations. It pushed you to be above average from other people in social work," he said.
Rewards of the job
Although his long-term goals are not necessarily prison-based – he hopes to one day open his own private practice or work with the U.S. Department of State – Su is working on some short-term goals to make a difference in his inmate clients' lives. He would like to teach his LGBTQ group how to cope with discrimination and foster acceptance, and he wants to reduce his psychotherapy patients' suicidal ideations. Su said his work is a win-win situation from which he benefits as much as his patients do.
"I spend eight hours a day behind bars, but I get to leave at the end of the day," he said. "[This job] makes me more grateful for what I have. It has made me more appreciative of what we have day to day."
To reference the work of our faculty online, we ask that you directly quote their work where possible and attribute it to "FACULTY NAME, a professor in the USC Suzanne Dworak-Peck School of Social Work" (LINK: https://dworakpeck.usc.edu)