Native American Immersion Program Builds Relationships in South Dakota
August 02, 2017
Social work students had the opportunity to connect with the Lakota people through a new cultural immersion program in South Dakota.
In honor of International Day of the World's Indigenous People on August 9, clinical associate professors Terence Fitzgerald and Ruth Supranovich discuss how the USC Suzanne Dworak-Peck School of Social Work began a Native American immersion program in which students spent time with the Lakota people on the Cheyenne River Sioux Tribe Reservation, and how they hope the program will continue to build relationships between the two cultures.
Why South Dakota?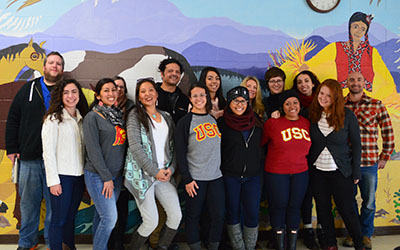 Fitzgerald received an email that the YMCA on the Cheyenne River Sioux Tribe Reservation was offering volunteer opportunities. He brought this information to the attention of Supranovich, who was leading an effort to develop an elective curriculum around Native American culture. Upon further discussion, they realized that while USC had established multiple immersion programs focused on social issues around the world, there had been few opportunities offered for students to address the issues that exist within the United States.
They contacted the YMCA about the possibility of turning their volunteer needs into an immersion program, with one specific caveat: while many universities come and do research or grant-related work and then leave the communities much the same as when they arrived, the purpose of USC's program would be to lay the foundations for a strong community partnership between the Lakota and USC.
"What can our students learn and what can they contribute to the community, but more so, how can we continue this relationship after the immersion is over?" Fitzgerald said. "The purpose of the program was not to be a group that came, looked, saw, and went. The hope was to really engage in the community at a deeper level."
The inaugural Native American immersion in South Dakota occurred in March 2017, with 15 students participating. In addition to Fitzgerald and Supranovich, the group was also joined by Dr. Claradina Soto, an assistant professor at the Keck School of Medicine of USC and a Pueblo Native American. Soto was instrumental in helping the students connect what they were learning from the community in South Dakota to the issues facing Native Americans in Los Angeles, the largest urban Native American population in the U.S.
What's Next?
The Native American immersion program was very successful in inspiring students to take action. One student who participated now lives in Sacramento, and hopes to soon start work in the behavioral health program on a Native American reservation. Another student saw a need for dental practitioners and equipment on the reservation, and is exploring opportunities to partner with a dentist to increase access to dental care for the Lakota community in South Dakota.
Both Fitzgerald and Supranovich feel it is vital that the immersion program continues to keep its connection and commitment to the Lakota community, and solidify the Native American immersion as an annual program.
"This first immersion was in many ways an exploratory visit," Supranovich said. "The goal now is to build deeper relationships so we can better support the community and their efforts to build a more positive future for members of the tribe."