March is Women's History Month and Social Work Month
March 24, 2017
We Celebrate These 5 Female Trailblazers in Social Work
These five women have paved the way for the social workers of today.
We spend March celebrating the importance of social work and the amazing women who have pioneered (and continue to pioneer) major strides in the field.
Though a list of five is hardly comprehensive, the women below represent the constant striving and commitment to service we can all aspire to and celebrate year-round.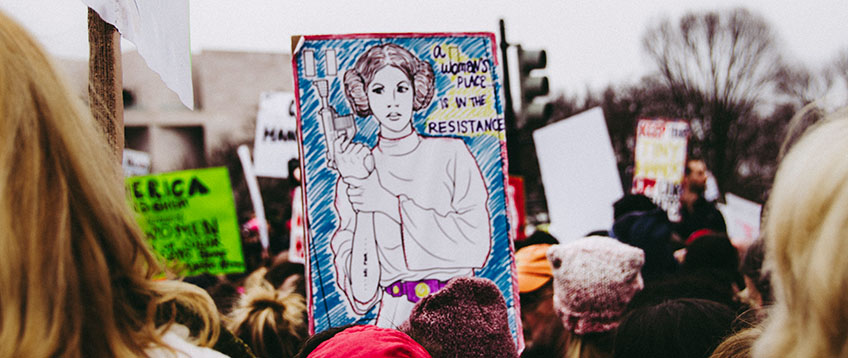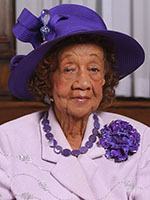 1. Dorothy Irene Height
Christened the "Godmother of the Civil Rights movement," Dorothy Height (1912-2010) dedicated her life to gender, economic and racial equality. Height's ascendance began when a $1,000 prize for oratorical skill allowed her to enroll at New York University. There, she would earn a Bachelor of Science in Education and a master's degree in educational psychology.
As her career advanced, Height became involved with the Young Women's Christian Association (YWCA) and the National Council of Negro Women (NCNW). Later, she took her passion abroad, working closely with like-minded groups in India and South Africa. A Congressional Gold Medal recipient and member of the Democracy Hall of Fame, Height's life and work are perhaps best summed up by this simple accolade: she was a "true role model for everyone."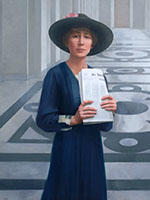 2. Jeannette Rankin
Jeannette Picking Rankin (1880-1973) cemented her place in history when, elected to the House of Representatives in 1916, she became the first woman to hold national office in the United States. Her work, of course, did not stop there.
A dedicated pacifist, Rep. Rankin distinguished herself from her peers by voting against U.S. involvement in both World War I and World War II. Her influence was instrumental in the creation and passage of the 19th Amendment, which prohibited the states or federal government from denying the right to vote based on gender.
Rankin's fight for equality and human rights was invigorated, rather than diminished, by the passage of time. In 1968, just five years before her death, she led a coalition of women's advocacy groups in a march against the Vietnam War; it was the largest march by women's organizations since Rankin's first great struggle for women's suffrage.
Her famous prescient statement upon winning office in 1916: "I may be the first woman member of Congress, but I won't be the last."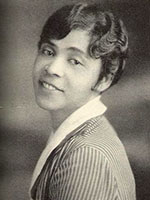 3. Thyra J. Edwards
Dubbed the embodiment of "The Spirit Of Aframerican Womanhood" by a Houston newspaper in 1938, Thyra J. Edwards (1897-1953) devoted her energy and talents to the advancement of labor rights and child welfare, even founding a children's shelter later in life.
She rose to international prominence in the 1930s and 1940s as a newspaper correspondent and columnist for various African-American newspapers. With an anti-imperial bent, her work brought to life Jewish refugee camps in Italy, the unrest of post-civil war Spain, and other hotbeds of early 20th century struggle.
Outside of her capacity as a journalist, Edwards organized women's labor movements and acted as a publicist for unions, both at home and abroad. Her strong advocacy for equality and labor rights led to an association with prominent American civil rights activists, as well as the communist party, which she saw as an ally of racial diversity and the working class.
4. Nazneen Sada Mayadas
Nazneen Sada Mayadas (1933-2015) was born in India, but like other women on this list, took her ambitions abroad. Her work focused on the betterment of refugees and took her to more than 150 countries throughout her life and career.
In a capacity that was rare at the time for social workers, Mayadas served as the chief of social services for the Office of the United Nations High Commissioner for Refugees in Geneva during the mid-1980s. Rather than merely vocalizing her advocacy, Mayadas constantly visited and worked in refugee camps, actively fighting for better living conditions and empowerment for the displaced residents.
In the 1970s and 1980s, Mayadas pioneered the use of video in clinical training for counselors, which has served as a model for many techniques still in use today. Her innovations in practice and hands-on approach to refugee empowerment and advocacy serve as wonderful examples of an impactful, engaged and compassionate life.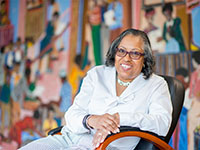 5. Ruby Gourdine
Born in 1948, Ruby Morton Gourdine has long been an innovative champion of racial equality in the workplace, both for customers and employees. Her formative experiences with social justice came as a probation officer in the Juvenile and Domestic Relations Court of Richmond, Virginia, and later, as a child welfare worker. This exposure to systemic inequity led her directly to her own higher education: a Master's in Social Work from the Atlanta University School of Social Work.
Her fight for ethical standards and systematic reform of youth services has made Gourdine a stalwart for adoption programs and special education. In the latter case, she has been especially vigilant, not only in advocacy for children with learning or other disabilities, but in educating social workers as to how they can best advocate for the children under their care.
Since the early 1990s, Gourdine has served as chair of Direct Sequence Practice in the School of Social Work at Howard University.