Interprofessional Coordination is the Key to Effective Teamwork in Health Care
April 26, 2017
To honor National Interprofessional Health Care Month, we discussed the importance of collaborative care with two preeminent nursing professionals at the USC Suzanne Dworak-Peck School of Social Work.
National Interprofessional Health Care Month is a time to reflect on how collaboration between members of seemingly disparate disciplines can yield more impactful results for patients.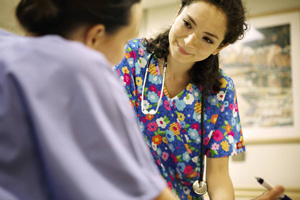 Ellen Olshansky, professor and chair, and Sharon O'Neill, clinical associate professor and vice chair, of the Department of Nursing at the USC Suzanne Dworak-Peck School of Social Work, shared how their own varied professional backgrounds have impacted their approaches to nursing as well as the strides being made at USC to enhance seamless collaboration across disciplines, particularly nursing and social work.
USC Dworak-Peck School of Social Work: How did the Department of Nursing function before its integration into the USC Suzanne Dworak-Peck School of Social Work?
Ellen Olshansky: Previously, there was no dedicated nursing department or school. There was previously a bachelor's and master's program in nursing, but for ten years or more there has been no nursing educational program at USC.
Sharon O'Neill: The only nursing program that remained from the original program was the nurse anesthetist program, which was housed in the Keck School of Medicine of USC and had approximately 30 students.
USC: Where did you work before, and how has that transition been?
EO: I have always been interested in interprofessional work, specifically bringing nursing and social work together. I have a bachelor's degree in social welfare from the University of California, Berkeley, and then got a bachelor's in nursing, master's in women's health and PhD in nursing science from the University of California, San Francisco. I have worked in nursing my whole adult life. I came to USC from the University of California, Irvine where I was the founding director of the Program in Nursing Science.
SO: I have been a nurse for more than 35 years. I started out in a diploma program associated with hospitals, most of which have since closed. I then got my bachelor's in nursing science at the Notre Dame of Maryland University, followed by my master's at the University of Pennsylvania. I worked as a clinical specialist in pediatrics at Johns Hopkins, and left to go to law school after that.
I practiced law in Washington for a year and a half, but I always loved being a nurse and decided to go back to the profession. I received my certification as a pediatric nurse practitioner and then as a family nurse practitioner, caring for children with sickle cell anemia who had no one to follow their progress into adulthood. I ended up teaching at Johns Hopkins for 12 years and practiced law part-time for the Kennedy-Krieger Institute for 14 years. I joined USC in November 2015.
USC: How have your unique past experiences informed your approach to nursing?
EO: My diverse professional background has informed my approach to nursing in that I've always been interested in the social issues of health. What are the social factors that influence health, like homelessness, poverty, and the environment? These have been a concern to me as a nurse, and that's what we aim to promote in this program.
While we primarily focus on the interprofessional collaboration between nursing and social work, that's not all we do. For example, we also work with the Keck School of Medicine of USC and the USC Dornsife College of Letters, Arts and Sciences. We really believe in an interprofessional collaboration at large.
USC: How does cross-departmental collaboration play out in your day-to-day work, along with that of nursing students, professors, and practitioners?
SO: I run the family nurse practitioner program, which is an online program offering a combination of both pre-recorded and live lessons. One unit in our program that is taught by social work faculty is on motivational interviewing — a technique in which the patient is at the center of the decision-making process.
The social work faculty is fantastic, and we're getting ready to have them back for our second semester. I even taught a unit in one of the courses that related to chronic illness, because I have a lot of experience with children and adults battling chronic illnesses. Cross-departmental collaboration is also essential to a variety of other projects I'm working on and articles I've written.
EO: I am currently working on two research projects with social work faculty. One is through a partnership that we have with the Los Angeles Fire Department (LAFD) on why people call 911, a project which arose because the vast majority of callers don't need emergency care and the LAFD uses nurse practitioners to go out on these calls. This will help us explore new models of care.
The other project I'm working on will look at how nurse practitioner students and master's level social work students perceive the social determinants of health. My collaborator on this project is a member of the social work faculty who is also nurse.
Additionally, I frequently collaborate with the three other department chairs. There are four departments at the USC Suzanne Dworak-Peck School of Social Work: three are dedicated to social work, and one to nursing. The other chairs of these departments and I frequently discuss ways we can be more collaborative and innovative. I have also done a guest lecture for one of the social work courses, as has Sharon. Nursing students are required to take two social work courses, and we are trying to revise the academic policy so that social work students will be required to take nursing courses too.
SO: As our program grows, we are planning to place nurse practitioner students in the same courses as social work students. We want to achieve a true model of interprofessional collaboration, breaking down the silos that currently divide students of different disciplines and encourage constant interaction.