Formerly Homeless MSW Alumna Giving Back to L.A.'s Homeless
December 07, 2017
Katie Jay, MSW '16, experienced homelessness as a child. She now helps the homeless find permanent housing and access to mental health services.
A Bay Area native, Katie did not have a traditional journey to the USC Suzanne Dworak-Peck School of Social Work. After her parents divorced, Katie lived with her mother. At the age of 10, they were evicted from their home, forcing Katie to sleep on couches and bounce between several homeless shelters. Finally, at 16, she was taken in by an aunt in Oakland. Despite attending 32 different schools, Katie received her high school diploma in 2003. Thanks to help from the East Bay College Fund, she went on to college and eventually pursued her Master of Social Work (MSW).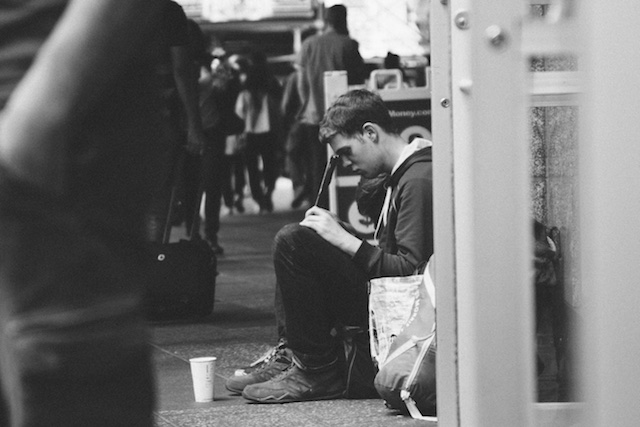 Katie spoke with us about her experience as a homeless youth and survivor of domestic violence, how she came to USC and her current work at a downtown Los Angeles emergency shelter.
USC Suzanne Dworak-Peck School of Social Work: You lived in several homeless shelters during your adolescence. What was that experience like? What did you learn about the shelter system?
Katie Jay: Looking back now, those shelters were definitely inadequate. What they provided was limited to "shelter" itself. Iin the late 1990s, when I was living in shelters, there weren't many policies in place to address the physical, social and emotional needs of the people who found themselves there.
USC: What sort of policies have been put in place since then?
KJ: They're largely related to domestic violence (DV) issues. My mother and I are both survivors of DV, and that's one of the main areas where I've seen a change. We lived together in three or four DV shelters, and from my recollection, there was no screening process, despite the fact that a lot of people were coming into these programs after having suffered really traumatic experiences.
Over the years, I've seen the difference in how the shelters are run. They're very careful about who they screen, and they require that you have a restraining order in place. Back then that wasn't the case. A lot of people — not to say that they were making up stories — knew how to get into the system and gain the resources they needed. If that meant calling a DV shelter and saying you were just beaten up by your boyfriend, well, some people would resort to that in order to get in.
USC: Was there an issue with overcrowding?
KJ: No, there wasn't. The situation was not nearly as bad as it is now. That may have been due to a lack of overall services available during that time — there are more shelters in place now, and more people are using them.
One of the biggest things I've seen is that a lot of the transitional programs for homeless individuals have lost their funding. Another is a lack of long-term housing. There are shelters in place, but as far as permanent housing, there aren't a lot of resources available.
USC: What influenced or inspired you to pursue your Master of Social Work?
KJ: I knew that I wanted to do something different than what was going on around me. I grew up in Oakland, and that's where I spent most of my life. The area was very poverty-stricken during my youth. I knew that there had to be a better way, and I wanted to take whatever avenue I could find to get out of that environment.
I was awarded a scholarship to complete my undergraduate degree at San Jose State, but without the East Bay College Fund providing me with a scholarship, I would not have been able to finance my higher education.
USC: Did you go straight into the MSW program at USC after undergrad?
KJ: Not right away — there was a lot in-between. I graduated from San Jose State in 2008 and relocated to Los Angeles to complete a post-baccalaureate in premedicine. I was accepted into Charles Drew University of Medicine and Science and completed one year. Before moving to LA, I had been working in residential programs with homeless individuals, runaway and foster youth. When I moved to LA, I started doing the same type of work and that experience motivated me to leave Charles Drew and pursue my MSW.
USC: What kind of work do you do with the homeless population in downtown LA?
KJ: I've always been passionate about helping the less fortunate, especially those in shelters because that was my own experience. I work for the Good Shepherd Center, which is an emergency center and a program of Catholic Charities of LA. I'm a case manager with a caseload of 30 clients. My clients come from all walks of life — most of them are receiving services from the Department of Mental Health, and many are survivors of DV.
When they come here, the first thing I make sure of is that they have some sort of income, whether that means showing them how to apply for government assistance or just linking them to services in the community. From there we get to work on securing permanent housing. Of course it's really hard to find permanent housing within 90 days, but it's not impossible. With the collective efforts of service providers available now, matching individuals to housing is a much more seamless process than it was in the 1990s.
USC: How do the people you work with find your services?
KJ: Many of my clients are referred by a case manager who works within the same area. Otherwise, there's also a direct number you can call: 211. That's where all the community resources are located. Usually an individual in need of help will contact 211, speak to a live operator and let them know which services they are seeking. Then they are linked up with someone who can help with their particular needs.
USC: You mentioned working with the younger homeless population. How old are some of your clients?
KJ: My clients range in age from 18 to 74.
USC: Are there any programs or services for the homeless that you think need more attention in the future?
KJ: I think one of the most important things is ensuring access to housing resources. There have been a lot of cutbacks in program funding for individuals suffering from mental health issues and domestic violence. There are also many individuals who don't fall into those categories but are still suffering. Not a lot of programs exist for those who don't have any mental health issues or who have never been exposed to domestic violence, so there's definitely a need for that as well. We need to work on making resources available to all individuals in need.