Our Team
The Center for LGBT Health Equity is led by Jeremy Goldbach, whose research has primarily focused on the behavioral health needs of LGBT adolescents and young adults.
The Cener has four core areas of support:
The Administrative Core is responsible for oversight of the Center, organizing meetings, grant and conference submissions, invited symposiums and other core oversight activities, as well as collaborating with the other core areas as appropriate to facilitate educational and writing opportunities.
The Methods Core houses two scientific workgroups on qualitative and quantitative research methodologies.
The Community Engagement Core is primarily responsible for organizing both the community and research advisory boards.
The Populations Core organizes focused workgroups for special populations including children and youth, homelessness, adults and aging and military service.
The Center's mission is supported by faculty, staff and students interested in promoting and leading research within the initiative.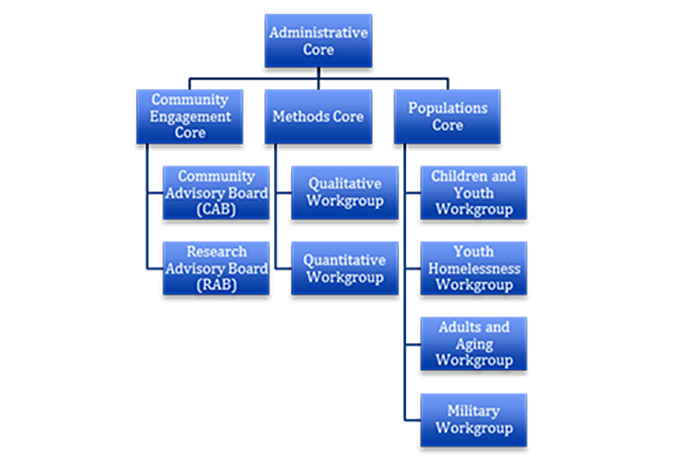 Toggle

Faculty Affiliates
Mary Rose Mamey, PhD, MA
mmamey@usc.chla.edu
The senior biostatistician for the Division of Hospital Medicine at Children's Hospital Los Angeles whose work focuses on the use of advanced statistical and methodological techniques and procedures. Mamey completed her PhD in Experimental Psychology with an emphasis in Quantitative Research in Health Sciences, and is an expert in longitudinal structural equation modeling (e.g., latent growth curve models) and psychometrics (e.g., item response theory). Her research is currently concentrated in both understanding stress in sexual and gender minority adolescents and risk factors in children's medicine.
Harmony Rhoades, PhD, MS
hrhoades@usc.edu
As a research assistant professor in the USC Suzanne Dworak-Peck School of Social Work, Rhoades collaborates with several prominent faculty exploring a wide range of research endeavors focused on improving the health of vulnerable populations. She holds a PhD in Sociology and an MS in Epidemiology, and her research interests include HIV prevention, sexual health, homelessness, sexual and gender minority populations, and suicide prevention.
Sheree M. Schrager, PhD, MS CHLA Research Director
Harmony Rhoades, Ph.D. Social Work Assistant Professor
Doni P. Whitsett, PhD Social Work Professor
Eric Rice, Ph.D. Social Work Associate Professor
Kristen Lorene Zaleski, PhD, LCSW Social Work Assistant Professor
Tyan Parker Dominguez, PhD Social Work Associate Professor
Erik Max Schott, MSW, Ed.D Social Work Associate Professor
Ellen F. Iverson, MPH Pediatrics Assistant Professor
Anna C. Gay, MD Pediatrics Assistant Professor
Carolyn F. Wong, PhD Pediatrics Assistant Professor
Michele Diane Kipke, PhD Pediatrics Professor
Marvin E. Belzer, MD Pediatrics Professor
Johanna Olson, MD Pediatrics Assistant Professor
Joyce Javier, MD, MPH, CHLA/USC Pediatrics Assistant Professor
Purnima Mandal, MD Assistant Professor, CHLA Pediatrics
Toggle

Student Affiliates
Cary Klemmer, MSW, PhD Student
cklemmer@usc.edu
Klemmer's research looks at the associations of victimization, discrimination, gender identity and gender expression on behavioral health outcomes including anxiety, depression and substance use. He hopes to promote understanding of human gender diversity, and influence social policy to accept and support LGBTQ people so that all can live well. Before entering doctoral studies, Klemmer was a prevention counselor and health educator in San Diego, California, focused on service provision to LGBTQ populations. He is a practitioner and certified instructor of yoga, and is interested in mindfulness in both clinical social work practice and within his personal life.
Jeremy J. Gibbs, LCSW, PhD Candidate
jeremyjg@usc.edu
His research uses innovative recruitment methodologies to investigate the psychosocial determinants of behavioral health (i.e., mental health and substance use) for sexual minority youth. His National Institute on Drug Abuse (NIDA) R36 dissertation study, Substance Use and Technology: Testing an Innovative Method for YMSM Recruitment, explores the use of geosocial networking application technology (e.g., Grindr) for recruitment of samples of 18- to 24-year-old sexual minority men. He intends to expand this work to focus on the development of new virtual interventions that can identify and recruit youth across the globe in more tailored ways, linking geospatial network location data to national data (e.g., U.S. census data) to identify systems-level factors that contribute to behavioral health disparities (e.g., poverty level, rate of hate crimes against LGBT people per capita). In addition to his research, Gibbs has eight years of mental health and substance abuse experience which he uses to guide intervention development and as an asset in the classroom.
Dan Green, LCSW, PhD Student
greendc@usc.edu
Green's work focuses on health care access and service utilization among older sexual minority adults. Prior to doctoral studies, Dan worked as the director of case management at a federally qualified health center in Philadelphia, Pennsylvania. Since joining USC, he has focused on the impact of minority stress on the health and well-being of older gay men.
Katie McNamara, MA, LCSW, PhD Student
kamcnama@usc.edu
Her current research explores the workplace climate and associated work and health-related outcomes for sexual and gender minority military members. She also researches between-group differences among subgroups of lesbian, gay, bisexual, and other minority sexual identities. McNamara is a licensed clinical social worker in the U.S. Air Force and advocates for prejudice reduction among military populations in order to achieve the optimal workplace environment for unit cohesion and mission completion.
Garrett Weskamp, B.S., Project Specialist
weskamp@usc.edu
After graduating from the University of Southern California with a degree in health promotion and disease prevention in May 2017, Garrett became the project specialist on the Train Your Brain collaborative study between USC CIR and Tel Aviv University. His research interests vary from behavioral health of LGBT adolescents to neurofeedback regulation in veterans with PTSD, and he hopes to continue research with these populations after getting his medical degree.
Jack Senese, MSW Candidate
senese@usc.edu
Senese works on research that looks at the intersection of mental health and health behavior in sexual minority males, along with a study utilizing neurofeedback-based modalities for the treatment of PTSD in returning combat veterans. His research interests span from gender expression and its associated stress to behavioral neuroscience, especially when related to the impact trauma has on the development of sexual minority youth.
Joshua A. Rusow, MSW, PhD Student
rusow@usc.edu
His research focuses on understanding factors that contribute to sexual health disparities faced by sexual and gender minority youth. Prior to graduate school, he worked at a community research center that worked to eliminate the spread of HIV among gay and bisexual men, and transgender women. Since joining USC, Rusow has focused on understanding where LGBT young people access information regarding sexual health, as well as LGBT youth suicidality, homelessness, and experiences of homonegativity.
Shannon L. Dunlap, MSW, PhD Candidate,
UCLA Luskin School of Public Affairs, Department of Social Welfare
shandunlap@ucla.edu
Dunlap's research focuses on transgender adolescent psychological functioning and family stress and support. Specifically, her research uses a dyadic and mixed-method approach to explore transgender adolescent and parent perceptions of adolescent minority stress, adolescent-parent stress and support processes and assess correlations with adolescent psychological functioning. Through her current and future research, she hopes to use evidence to: (1) identify potential benefits of involving parents/family within transgender adolescent specific research and behavioral health interventions; (2) promote inclusivity within mainstream parenting and developmental literature; and (3) identify ways to improve social justice oriented policies that promote well-being for transgender adolescents and families.
Ankur Srivastava, MSW, PhD Student
ankursri@usc.edu
Srivastava's research is broadly focused on issues of identity, sexual behaviour, mental health and stigma among LGBTQ population. Prior to his PhD, he worked with the research unit of a community-based organization in Mumbai, India, where he was involved in various research projects, including social and sexual networks of married homosexual men, health care stigma faced by men who have sex with men and male-to-female transgender individuals, and feminization among transgender individuals. His current work is invested in examining the relationships among gender congruity, transitioning and minority stress as they relate with behavioral health outcomes among gender non-conforming adolescents over a period of time.
Toggle

Research Advisory Board
Edward Alessi, PhD
An assistant professor at Rutgers University whose research investigates the effects of traumatic stress on the mental health of sexual and gender minorities.
David J. Brennan, PhD
An associate professor at the University of Toronto, holder of the Ontario HIV Treatment Network Applied HIV Research Chair in Gay and Bisexual Men's Health, and director of CRUISElab whose work focuses on the health and well-being of sexual minorities.
Shelley Craig, PhD
An associate professor at the University of Toronto whose research and clinical work focuses on LGBTQ youth.
Michael Marshal, PhD
An associate professor of psychiatry and pediatrics at the University of Pittsburgh whose academic work focuses on mental health disparities among LGBT youth.
Johanna Olson, MD
An adolescent medicine physician specializing in the care of gender non-conforming children and transgender youth. Board certified in pediatrics and adolescent medicine, she is an assistant professor at Children's Hospital Los Angeles.
Sheree M. Schrager, PhD, MS
sheree.schrager@csun.edu
The managing director of research and sponsored programs at California State University, Northridge, and a former research director at Children's Hospital Los Angeles. Her research examines the behavioral health and risk outcomes of sexual and gender minority youth and young adults, with an emphasis on the role of minority stress over the course of adolescence and early adulthood. Schrager also oversees The Methods Core for the HEI.
Toggle

Community Advisory Board
Kevin McCloskey, LGBT Center of Los Angeles
David Bond, LCSW
Joel Gemino, LGBT Center of Long Beach
Dave Reynolds, Anti-Defamation League of America