Our Team
The Center for LGBTQ+ Health Equity is led by John R. Blosnich, whose primary area of expertise is disparities in suicide risk and prevention among LGBTQ+ individuals, with a specific emphasis on social determinants of health
The Center has four core areas of support:
The Administrative Core is responsible for oversight of the Center, organizing meetings, grant and conference submissions, invited symposiums and other core oversight activities, as well as collaborating with the other core areas as appropriate to facilitate educational and writing opportunities.
The Methods Core houses two scientific workgroups on qualitative and quantitative research methodologies.
The Community Engagement Core is primarily responsible for organizing both the community and research advisory boards.
The Populations Core organizes focused workgroups for special populations including children and youth, homelessness, adults and aging and military service.
The Center's mission is supported by faculty, staff and students interested in promoting and leading research within the initiative.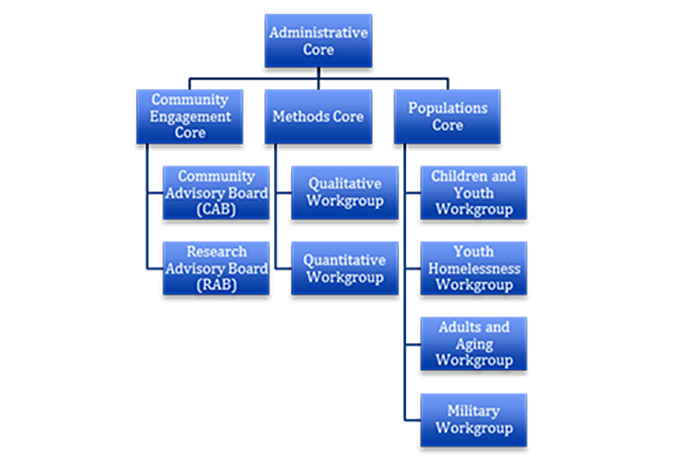 Toggle

Faculty and Staff Affiliates
Andrew Lopez, MA
Pronouns: he/him
alopez23@usc.edu
Andrew is the Data Management Specialist for the Center for LGBTQ+ Health Equity.  He received a Master's of Arts in American Studies with an emphasis on the gender and sexuality perspectives commonly held within American culture and represented through the media, public policy, and everyday life.  Before joining our team Andrew was the Director of Programs for a non-profit research-based community center in Hollywood that focused primarily on a harm-reduction approach for those most severely impacted by HIV.  Andrew has also held a Fellowship with the California HIV/AIDS Research Policy Center in California and served as a Commission Member on the Los Angeles County Commission on HIV.
Mary Rose Mamey, PhD, MA
Pronouns: she/her
mmamey@usc.chla.edu
Mamey is a Research Professor in the USC Suzanne Dworak-Peck School of Social Works whose work focuses on the use of advanced statistical and methodological techniques and procedures. She completed her PhD in Experimental Psychology with an emphasis in Quantitative Research in Health Sciences and has worked previously as a senior biostatistician for the Division of Hospital Medicine at Children's Hospital Medicine at Children's Hospital Los Angeles. Mamey is an expert in longitudinal structural equation modeling (e.g., latent growth curve models) and psychometrics (e.g., item response theory). Her research is currently concentrated in both understanding stress in sexual and gender minority adolescents and risk factors in children's medicine.
Luis Armando Parra, PhD, MS
Pronouns: he/him
luis.parra@usc.edu
Luis is a Provost Postdoctoral Scholar for Faculty Diversity in the Suzanne Dworak-Peck School of Social Work at the University of Southern California. Luis was trained as a developmental scientist at the University of California, Davis and applies an intersectionality lens to further contextualize the lived experiences of adolescents and emerging adults who belong to multiple marginalized social groups. He studies the effects of heterosexism, racism, and social support from family and peers, as sources of stress and resilience, on neurobiological and immunological regulation, affective forecasting, and behavioral health (e.g., anxiety, depression, suicidal ideation).
Harmony Rhoades, PhD
Pronouns: she/her
hrhoades@usc.edu
Harmony is a Research Associate Professor at the USC Suzanne Dworak-Peck School of Social Work. Rhoades collaborates with several prominent faculty exploring a wide range of research endeavors focused on improving the health of vulnerable populations. She holds a PhD in Sociology and an MS in Epidemiology, and her research interests include HIV prevention, sexual health, homelessness, sexual and gender minority populations, and suicide prevention.
Sheree M. Schrager, PhD, MS
Pronouns: she/her
sheree.schrager@usc.edu
Although her primary appointment is in university administration at California State University, Northridge, Sheree also maintains an adjunct Research Professor position in the USC Suzanne Dworak-Peck School of Social Work, where she is the Director of the Methods Core for the Center for LGBT Health Equity. She holds Master's degrees in statistics and psychology and a PhD in psychology from the University of Wisconsin-Madison. An expert in quantitative human subjects research methods, her work focuses on the role of minority stress in understanding the behavioral health and risk outcomes of sexual and gender minority youth.
Jack Senese IV, MSW
Pronouns: he/him
senese@usc.edu
Senese is a Project Administrator working in two domains. One domain focuses on the prevention and treatment of health disparities among LGBTQ youth. The other looks at using a novel, neurofeedback-based intervention for the treatment of PTSD. Jack's research interests vary from body-image concerns of gay men and LGBTQ youth to the treatment and prevention of chronic trauma. Jack was trained as a clinician at the LGBTQ Center of Long Beach and is working on earning his LCSW.

Eric Rice, PhD, Social Work Associate Professor
Tyan Parker Dominguez, PhD, Social Work Associate Professor
Erik Max Schott, MSW, EdD, Social Work Associate Professor
Ellen F. Iverson, MPH, Pediatrics Assistant Professor
Anna C. Gay, MD, Pediatrics Assistant Professor
Carolyn F. Wong, PhD, Pediatrics Assistant Professor
Michele Diane Kipke, PhD, Pediatrics Professor
Marvin E. Belzer, MD, Pediatrics Professor
Johanna Olson, MD, Pediatrics Assistant Professor
Joyce Javier, MD, MPH, CHLA/USC, Pediatrics Assistant Professor
Purnima Mandal, MD, Assistant Professor, CHLA Pediatrics
Toggle

Student Affiliates
Cary Klemmer, MSW, PhD Student
Pronouns: he/they
cklemmer@usc.edu
Klemmer's research looks at the associations of victimization, discrimination, gender identity and gender expression on behavioral health outcomes including anxiety, depression and substance use. He hopes to promote understanding of human gender diversity, and influence social policy to accept and support LGBTQ people so that all can live well. Before entering doctoral studies, Klemmer was a prevention counselor and health educator in San Diego, California, focused on service provision to LGBTQ populations. He is a practitioner and certified instructor of yoga, and is interested in mindfulness in both clinical social work practice and within his personal life.
Rory P. O'Brien, MSW, MPH, PhD Student
Pronouns: they/them
rpobrien@usc.edu
Rory's research focuses on LGBTQ, and especially trans and nonbinary, youth health, violence, and access to reproductive health education and care. Rory focuses on organizational and policy structures that shape youth experiences of violence, reproductive health, and sexuality in the hopes of informing policy and advocacy for LGBTQ youth health and wellbeing. Before starting their doctoral studies, Rory has worked as an advocate and program coordinator at local, state, and federal levels on a variety of initiatives related to LGBTQ mental health, human trafficking, abortion access, and sexual health education. Rory holds a Master of Social Work and Master of Public Health from Washington University in St. Louis.
Daniel C. Green, MSW, LCSW, PhD Student
Pronouns: he/him
greendc@usc.edu
Daniel's work focuses on access to health services among sexual minority adults with an emphasis on the role of minority stress. Additional areas of interest include social work education and clinical social work practice.  Prior to doctoral studies, Daniel worked as the director of case management at a federally qualified health center in Philadelphia, Pennsylvania. Daniel holds a Bachelor of Social Work from McDaniel College and a Master of Social Work from the University of Maryland School of Social Work.
Joshua A. Rusow, MSW, PhD Candidate
Pronouns: he/him
rusow@usc.edu
Joshua's work primarily focuses on sexual and gender minority youth, and understanding the experiences of minority-related stress on relationships, behavior, and mental, physical, and sexual health. His dissertation research highlights the occurrence of teen dating violence and sexual assault among sexual minority adolescents in different contexts throughout the United States. His work employs longitudinal modeling to identify correlates before and after physical and sexual violence experiences to understand the mechanisms that may contribute to the well-established relationship violence and health disparities observed in sexual minority adolescent populations. Rusow holds an MSW in Social Work from the University of Southern California, and a BA in Psychology from the University of California at Los Angeles (UCLA).
Shannon L. Dunlap, MSW, PhD Candidate,
UCLA Luskin School of Public Affairs, Department of Social Welfare
shandunlap@ucla.edu
Dunlap's research focuses on transgender adolescent psychological functioning and family stress and support. Specifically, her research uses a dyadic and mixed-method approach to explore transgender adolescent and parent perceptions of adolescent minority stress, adolescent-parent stress and support processes and assess correlations with adolescent psychological functioning. Through her current and future research, she hopes to use evidence to: (1) identify potential benefits of involving parents/family within transgender adolescent specific research and behavioral health interventions; (2) promote inclusivity within mainstream parenting and developmental literature; and (3) identify ways to improve social justice oriented policies that promote well-being for transgender adolescents and families.
Ankur Srivastava, MPhil, MSW, PhD Candidate
Pronouns: he/him
ankursri@usc.edu
Ankur's research is invested in identifying and examining socio-psychological and cultural factors related to minority stress among LGBTQ youth and their associated impact on mental well-being. His dissertation research aims at examining how fluidity in sexual identity among youth is associated with changes in behavioral health outcomes. He also intends to continue with his international work, further understanding gender transition among Hijras in Mumbai, and understanding the experiences of sex workers in India. Additionally, he is a part of an international consortium of social scientists working on sexuality research in US, UK, Canada and Mexico.
Toggle

Research Advisory Board
Edward Alessi, PhD
An assistant professor at Rutgers University whose research investigates the effects of traumatic stress on the mental health of sexual and gender minorities.
David J. Brennan, PhD
An associate professor at the University of Toronto, holder of the Ontario HIV Treatment Network Applied HIV Research Chair in Gay and Bisexual Men's Health, and director of CRUISElab whose work focuses on the health and well-being of sexual minorities.
Shelley Craig, PhD
An associate professor at the University of Toronto whose research and clinical work focuses on LGBTQ youth.
Johanna Olson, MD
An adolescent medicine physician specializing in the care of gender non-conforming children and transgender youth. Board certified in pediatrics and adolescent medicine, she is an assistant professor at Children's Hospital Los Angeles.
Sheree M. Schrager, PhD, MS
sheree.schrager@csun.edu
The managing director of research and sponsored programs at California State University, Northridge, and a former research director at Children's Hospital Los Angeles. Her research examines the behavioral health and risk outcomes of sexual and gender minority youth and young adults, with an emphasis on the role of minority stress over the course of adolescence and early adulthood. Schrager also oversees The Methods Core for the HEI.