Life-changing internship allows social work grad to help the next generation of trans youth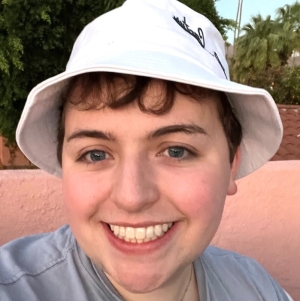 Jacob Cepollina came into the Master of Social Work (MSW) program at the USC Suzanne Dworak-Peck School of Social Work very clear on what they wanted to do: be the kind of advocate for the next generation of trans youth that they wished they had in childhood.
"As a trans person who didn't have anyone to work with when I was growing up, I really wanted to work with trans youth. I went to an all-boys Catholic school, which was really rough for me. I didn't have anyone to look up to, so I wanted to make sure that there was someone there for other kids who were in that position."
That goal is coming true far faster than Cepollina could have dreamed. Before even graduating with their MSW in May 2022, Cepollina was named Director of Mental Health for the Gender Health Center in Sacramento, California, a community center serving trans youth where they worked for their field placement. Three weeks after Cepollina began their internship, the Director of Mental Health at the time resigned. Cepollina and the other interns worked hard to create a seamless transition for their clients so they could continue to serve their community. Cepollina's exceptional performance and commitment to the trans and nonbinary population earned them a permanent position at the center.
Cepollina chose the USC MSW program in part because of the faculty actively engaged in LGBTQ+ research and advocacy, in particular Clinical Associate Professor Erik Schott, whose LGTBQ+ course and mentorship were very influential. Cepollina is also grateful for their USC Social Work field placement coordinator, Matthew Rogacki, who knew they wanted to work with trans youth and suggested the Gender Health Center, close to Cepollina's current location in Davis, California.
"The program made it easy. They found an organization that serves the population I want to focus on that I didn't even know existed," Cepollina said. "That was a huge thing. If I hadn't gone to USC, I wouldn't be in this job."
Comprehensive support for an underserved population
In their new position as Director of Mental Health, Cepollina supports and assists with navigating the medical system, writing surgery letters for adults and hormone letters for youth, as well as working with parents who want to know how to support their trans children. Cepollina also works with neurodivergent and other disabled trans youth, bringing their social work training and their personal background to the intersectional experience. As a young trans person, Cepollina faced not only the difficulty of gender identification but also a physical disability that caused chronic pain and made it hard to be taken seriously compared to peers.
"My community members really enjoy having a trans person in the session with them," Cepollina said. "I'm knowledgeable, I've been through some of it and, while still maintaining boundaries, I can speak to the experience. I also know that we're up against a lot in the system that's trying to prevent us from getting care, often transphobic and homophobic. We're trying to reduce barriers and attack the 'medical gatekeeping' model. I tell them, 'I'm here to fight for you, to advocate for you and get you what you need.'"
In addition to providing individual and family support services, the Gender Health Center also does educational outreach to local health and community organizations to train them on how to work with the trans population. Most recently, Cepollina designed and delivered a training to 120 University of California, Davis health center providers and staff on eliciting information sensitively from patients in a primary care setting when asking about issues related to pronouns, gender identity and sexuality.
"I'm finding I'm really passionate about macro work as well," Cepollina said. "You can see yourself, hopefully, making big change for a lot of folks at the same time."
In April, Cepollina's experience came full circle as they filled out the authorization to recertify the Gender Health Center and welcome another USC social work student for field placement next year.
"Just a year ago I was in this position and now I'm able to make sure another USC student can have the same opportunity," Cepollina said.
If you are a person who identifies as trans or nonbinary and you need help, including mental health, healthcare, advocacy or respite, please contact the Gender Health Center at frontdesk@ghcmail.org or 916-455-2391.
To reference the work of our faculty online, we ask that you directly quote their work where possible and attribute it to "FACULTY NAME, a professor in the USC Suzanne Dworak-Peck School of Social Work" (LINK: https://dworakpeck.usc.edu)