6 Issues Social Workers Should Consider This Election Year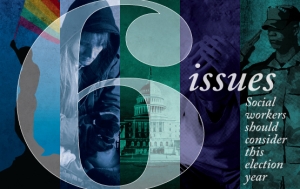 Although U.S. primary voting is coming to an end, our election season is far from over. This fall, voters will decide everything from who will represent them at the local level to who will occupy the Oval Office as the next president of the United States.
We asked faculty at the USC School of Social Work about the issues they thought social workers should be considering when going to the polls. Here are six topics our social workers thought should be top-of-mind:
1. Treatment of LGBTQ individuals
Senior Lecturer Shane'a Thomas would like social workers to think about how social justice works for people who identify as lesbian, gay, bisexual, transgender or queer (LGBTQ) beyond the legalization of gay marriage.
"We now have to dig more into how much queer communities are affected in other ways," she said. "Incarceration of LGBTQ individuals and treatment in jails and prisons; killing of trans women of color has become an epidemic; lack of employment opportunities; discrimination laws around gender and gender expression; school bullying; and lack of safe spaces are ways that oppression negatively affects the community outside of marriage. We must remember, as social workers, the importance of recognizing intersectionality in these communities."
Thomas says that social workers should be asking questions such as: How are LGBTQ people conceptualized to the candidate? Are the only issues they are speaking about pertaining to marriage? What does equality for LGBTQ people look like to the candidate?
"We must make sure we are keeping ourselves accountable in the work that we are doing, whether this is further educating ourselves or finding ways to speak up about LGBTQ folks to help advocate for the things our clients need," she says. "Change will be slow, but steadily bringing light gives more room for understanding, whether that be for ourselves or the world."
2. Stigmatization of mental illness
Adjunct Lecturer Gabriel Crenshaw, who is also a psychologist, doesn't want social workers to get caught in the crossfire between mental health and mental instability, and how they relate to gun control.
"Correlation does not equal causation. We should not rush to judgment. We're in the mental health profession; it would be silly for us to say that everyone with a mental health problem is going to be violent," he said. "We need to be the leading voice in saying this as mental health professionals."
Crenshaw says social workers need to advocate for counseling and mental health services funding with legislators.
"Look to see what their [political candidates] record is and that this is not just the most recent jumping on the bandwagon. Have them articulate a plan. A lot of this funding has to come from a state agency," he said. "Ask questions such as, 'Is there a group of advisers in place? Do you have a mental health expert to help you make that funding decision?"
3. More social workers in political office
Adjunct Associate Professor Kristie Holmes, who serves on the board of United Nations Women U.S. National Committee, would like to see more social workers hold elected office. She points to the leadership Rep. Barbara Lee has exhibited with the Congressional Research Institute for Social Work and Policy to support social workers and their ability to be heard on Capitol Hill through channels such as the Congressional Social Work Caucus. However, there is more to be done.
"If there are not social workers in Congress or the Senate, our interests are less likely to be heard or funded," she said. "Social workers tend to lack the one thing that wields the most power in politics: money. However, we do have nearly a million of us in the United States. If we start networking as a power bloc of voters – and not just ourselves but influencing our communities to also show up at the polls – there is a great deal of changing power to be had. This way we won't just be dealing with election outcomes and budget cuts; we will be influencing and lobbying for increased funding and accountability."
Holmes also encourages social workers to pay close attention to candidates running for local office, not just for president.
"Those are the impacts that will touch them, their clients and communities most directly," she says. "Who's running for state offices, school boards, measures on the ballot, what judges are up for re-election…What most go in to the voting booth having not read much about is where the power to change things is often hiding."
How can social workers make an even bigger impact? Make sure public officials hear your voice.
"Almost all representatives use an official Twitter address now and are likely to answer you publicly as it is Google-searchable," she says. "And rarely does anyone call up their offices these days, so if there is something on your mind, you should call and place your concern. It will get tallied."
4. Feminization of poverty
Clinical Associate Professor Ruth White's view on poverty is one that disproportionately affects women, who are also more often the recipients of social services.
"Poverty is primarily a female issue because economic and social disparities in income and gender roles put an undue burden of caregiving – of children, ill family members and elder family members – on women," she says. "Women's autonomy is important for control over their lives, and [that includes] the ability to control reproduction, which significantly impacts the ability to achieve their goals."
White says social workers should be aware of this trend, since women are more likely to seek help for behavioral health issues and social welfare assistance, and that social workers should consider how a candidate's policies might affect these clients.
"The ability of young women to prevent unwanted births helps them achieve their personal and professional goals and reduce the psychological and emotional impacts of abortion and parenthood for which they are not psychologically, emotionally or economically prepared," she says.
5. Support for veterans
For Clinical Associate Professor Eugenia Weiss, social workers have an ethical and professional responsibility toward cultural competence, especially when it comes to understanding the lives of those impacted by military service, including service members, veterans, their families and support networks. Social workers are the primary mental health providers in the country, and the Department of Veterans Affairs is the United States' largest employer of social workers.
"Social justice is at stake here – with the recent scandals at U.S. medical centers serving veterans, where patient wait times have been falsified due to the increasing waves of Iraq and Afghanistan veterans seeking services for both their visible and invisible injuries, and Vietnam War-era veterans aging and needing health care," she said.
Weiss says social workers should keep some things in mind when choosing a candidate.
"Social workers must inform themselves as responsible voters and look at each candidate's record of service toward veterans, including their voting records; funding support or lack thereof with regard to veterans' benefits; initiatives to improve care at the VA level and the Department of Defense; budgeting support for medical and mental health research; and military and foreign policy experience and track record," she said.
6. Homelessness
Assistant Professor Ben Henwood, who focuses his research on issues related to homelessness, says social workers need to examine the root causes that lead to people finding themselves without a home.
"Inequality is an important issue for the profession that some candidates have taken up. That said, there has been little discussion on the impact of extreme inequality that has left so many Americans homeless," he said.

Because social workers deal with the effects of inequality through their clients, Henwood says social workers should be asking how candidates propose to address basic needs, including affordable housing and a living wage.
"Social workers often work downstream to address the consequences of structural inequalities. Yet the need can be overwhelming, and we need upstream solutions," he said.
To reference the work of our faculty online, we ask that you directly quote their work where possible and attribute it to "FACULTY NAME, a professor in the USC Suzanne Dworak-Peck School of Social Work" (LINK: https://dworakpeck.usc.edu)