PhD in Social Work
Attention MSW/PhD applicants for fall 2021: The USC Suzanne Dworak-Peck School of Social Work is suspending admissions to the PhD program for the 2021-2022 academic year. For more information, please review this memo from Dean Gehlert. 
The dual MSW/PhD degree program is offered to exemplary students seeking advanced research-based study in social work. Typically, the program attracts applicants without a master's degree in social work or with a master's degree in another field and prepares them for academic research and teaching careers.

Prospective students must meet both the MSW and PhD admission requirements to be considered for admission to the dual-degree program.

To enroll in the MSW/PhD dual degree program, you must apply separately and be admitted to both the MSW and PhD programs. We strongly recommend that you apply to both programs at the same time, even though the application processes are completely separate and may have different timelines and requirements.

You must complete both Part I and Part II for both the MSW and PhD application process (the PhD program must receive all application materials by December 1 to be considered priority applications), in addition to the following special instructions:
Online Graduate Admission Application
You must create and submit two online applications to USC (one for each program). However, you only need to pay the application fee once - for whichever application is submitted first. For the application submitted second, you may waive the application fee in the "Application Information" section (question 11), by selecting the "I am applying to a dual degree program" option.

Transcript(s)
You do not need to submit academic records directly to the USC Suzanne Dworak-Peck School of Social Work; we have access to the documents you send to the USC Graduate Admission Office. Applicants for the MSW/PhD dual degree should submit two online applications -- one to the MSW program and one to the PhD program.
Once admitted and before the fall semester of their first year, students will develop an individualized study plan with their mentor to identify courses they plan to take in their first and second years. Students also will create a second plan with their mentor in the spring semester of their second year to identify courses and tutorials they will take in their third and fourth years. A total of 90 units is required for the dual degree (exclusive of SOWK 794 Doctoral Dissertation). The program can be completed within four years, and students may choose any of the school's departments of study. 

Degree Requirements
42 units: MSW Program
48 units: PhD in Social Work Program
Course Requirements
Adult Mental Health and Wellness
Children, Youth and Families
Social Change and Innovation
USC Suzanne Dworak-Peck School of Social Work
PhD Program Office of Admission
669 W. 34th Street, Suite 214
Los Angeles, CA 90089-0411
213.821.7657
applyphdsw@usc.edu
Malinda Sampson
PhD Program Manager
213.821.7657
msampson@usc.edu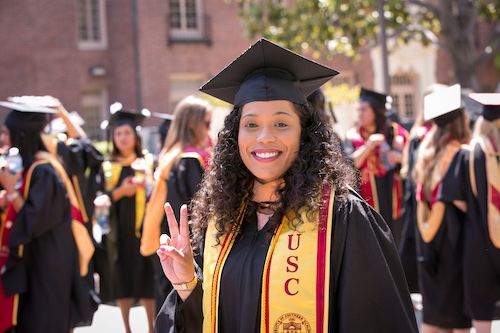 Drive Meaningful Change With Your MSW
Ready to chart a new path forward? View application instructions for MSW dual degree programs.